Forecast fine for Garmin-Sharp without Ryder Hesjedal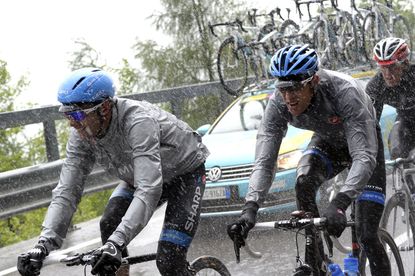 Ryder Hesjedal has hit back at observations he was "soft" for abandoning the Giro d'Italia as his Garmin-Sharp team prepares to enter the final week with re-evaluated goals.
"If not continuing in the worlds toughest bike race because of a respiratory infection makes me soft then I would rather be soft not stupid (sic)," the 2012 champion published on his Twitter page overnight.
The Canadian, after a strong showing in the early stages, conceded any shot at overall on stage 10, which doubled as the first summit finish of the tour, losing more than 20 minutes to his rivals.
Hesjedal's health seemed to worsen as the race progressed in un-seasonal conditions. However, he did what he could the next day for teammate Ramunas Navardauskas - supplying the Lithuanian with bottles - before his break eventually escaped and the 25-year-old went on to win the stage.
Hesjedal had identified the Giro, along with the Tour de France, as a season objective. He raced the soaking wet 12th flat stage to Treviso before announcing his retirement the next morning along with Bradley Wiggins (Sky). It was a hard decision to make.
"I think that my role in a situation like that is to try to provide him with the perspective that maybe he doesn't have as an elite athlete," Garmin-Sharp sports director Charly Wegelius told Cycling Weekly today.
"Because they're so focused on things - and that's how they become successful, by being incredibly focused - sometimes they need help from someone to see the broader picture, and to see things that aren't just in front of their nose.
"You have a guy who is not feeling well, and his body isn't reacting well. I basically said to him, 'OK, you can't see a reality in which you're going to feel better in three or four days, but think four days back, you never thought you could get this bad so quickly so it can turnaround.' But that's a big challenge. At the end of the day, in Ryder's case, his body just wasn't functioning the way it needed to.
"The plus thing is he's had that objective in his mind since December, and it's a bit like a jolted lover. You have someone who has lost a girlfriend, and you can say there are all kinds of different fish in the ocean but it's not easy to get that message through at all times."
With Hesjedal's exit, Garmin-Sharp has had to transform from a team with a general classification focus to an opportunistic one. Wegelius has been impressed with his squad's ability to adapt and is optimistic ahead of the final week of the Giro, which, after today's second rest period, continues tomorrow with a 238km medium stage stage from Valloire to Ivrea.
"I was really, really surprised and quite proud of the way they reacted because they didn't drag their feet around for long at all. They weren't riding around like headless chickens," Wegelius said. "To get [Navardauskas] in the break the whole team [contributed] to that. I think that was a really positive reaction. Him winning so quickly after Ryder's crisis nipped any risk of morale going down."
Thank you for reading 20 articles this month* Join now for unlimited access
Enjoy your first month for just £1 / $1 / €1
*Read 5 free articles per month without a subscription
Join now for unlimited access
Try first month for just £1 / $1 / €1