'Freight Trains of Fun': Pace groups are now a thing in bike racing
The Gorge Gravel Grinder introduces pace groups to create an inclusive, supportive riding environment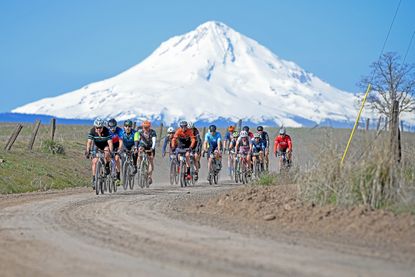 (Image credit: Adam Lapierre // Gorge Gravel Grinder)
The experience of gravel racing is often likened to running a marathon. As a mass start event, the front end of the pack is an all-out race contested by professionals. For the rest of us in the middle and back of the pack, the event is a personal challenge.
Today, gravel racing is becoming even closer to that marathon experience with the introduction of pace groups at the upcoming Gorge Gravel Grinder race in Dufur, Oregon In April.
A first in gravel racing, pace groups help participants stay on track to reach a specific finish time. These groups are led by experienced athletes, called pacers, who will maintain an even tempo throughout the course to get the group to the finish line at their desired time.
According to the race organizers from Breakaway Promotions, the pace groups are being introduced to "help take the nerves out of gravel riding and racing by offering an inviting and inclusive, beginner-friendly supportive riding environment while promoting the camaraderie that makes the gravel community so spectacular."
These pace groups, dubbed "freight trains of fun" will have an Engine and a Caboose, two experienced riders tasked with keeping the group together and moving along at the designated speed while offering guidance, some cheering and course knowledge along the way.
Like the children's tale of the Little Engine That Could these freight trains will instill participants with the value of optimism, teamwork and some "'I think I can" confidence.
The Gorge Gravel Grinder will introduce six pace groups for riders of various levels to ensure participants complete the course and meet their goals. The organizers also hope that these groups will help them get closer to their own goal of 50% female ridership.
The Gorge Gravel Grinder, formerly known as the Gorge Roubaix, is a one-day, sanctioned gravel race that's part of the state-wide Oregon Gravel Grinder Series. It has yet to be announced if pace groups will be offered in the remainder of the race series or whether this could be something we'll see more of at other events as well.
Taking place on April 23, 2023, the Gorge Gravel Grinder is held in The Dalles region, which with its moderate climate and miles of low-trafficked, unpaved roads has long been an escape for Pacific Northwest cyclists seeking drier surfaces after a wet winter and spring.
The state-wide series consists of the Cascade Gravel Grinder, the multi-day Oregon Trail Gravel Grinder and the Ochoco Gravel Grinder.
Thank you for reading 20 articles this month* Join now for unlimited access
Enjoy your first month for just £1 / $1 / €1
*Read 5 free articles per month without a subscription
Join now for unlimited access
Try first month for just £1 / $1 / €1