'Get Britain Cycling' jeopardised by Prime Minister David Cameron's refusal to provide Cabinet backing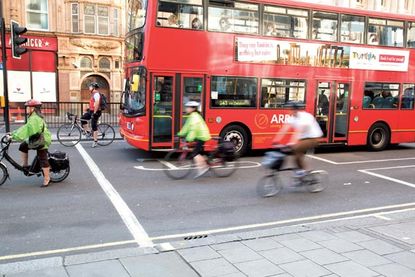 Get The Leadout Newsletter
The latest race content, interviews, features, reviews and expert buying guides, direct to your inbox!
Thank you for signing up to The Pick. You will receive a verification email shortly.
There was a problem. Please refresh the page and try again.
Leading transport commentator Christian Wolmar says it will be an "utter cop-out" if Prime Minister David Cameron's refusal to provide Cabinet backing for the report 'Get Britain Cycling' - when it was published in April - sees cycling development left to Local Authorities.
Now, less than a month to go before the e-petition to trigger a parliamentary debate - which is still short of the 100,000 signatures this requires - I asked Wolmar, CTC Ambassador and a candidate for Mayor of London, what this report needs.
"It needs a lead from central government to take responsibility, to provide inspiration and initiative," he replied.
"We need a strong government impetus behind this. When Holland changed its policy and went over to encourage cycle use that was a national policy brought about by protests about death in the 1970s. [Now 27 per cent of all journeys are by bike in Holland, compared to less than two per cent in Britain - Ed]
"You really need a government to draw out strong guidelines for the LA's to channel money in the right direction. A lot of these levers are in government hands.
"I think it is an utter cop-out to leave to LA's. The tone and rules are set by government."
However, CTC Campaigns Chief Roger Geffen says don't give up on the 'Get Britain Cycling' report yet.
The CTC has had high-level talks with Transport Secretary Patrick McLoughlin, building the economic case for substantial investment for cycling in George Osborne's forthcoming Comprehensive Spending Review.
Geffen says, "The DfT's cycling team are working on getting other government departments to line up behind it, and (hopefully) securing backing from No. 10."
Geffen, however, was concerned that the on-line petition would net the 100,000 signatures required to force a parliamentary debate and secure this funding.
He says, "We need cycle industry to mobilise their customer data bases."
Bring back 'Cycling England'
Wolmar mourns the loss of Cycling England and would like it reinstated. Cycling England was killed off by the Tory government along with a host of other quangos. This was the government financed body created under Labour to put flesh on the National Cycling Strategy launched by the Tories with no money and therefore no muscle in 1996.
Cycling England began on a low budget of £5m, which expanded to £60m within a few years and during its short life created over 20 cycling demonstration towns and Bikeability training in schools. It was a small but significant beginning. It was, says Wolmer, proof that cycling development must be government led.
The Get Britain Cycling Report makes 18 recommendations, among, to get cycling levels up 10 per cent by 2025 - the current level is barely two per cent, whereas in Holland it is 27 per cent.
This means government increasing its current spending on cycling from the current £2 per head of population to £12.50 per person over the next decade. The Dutch spend £24 per person per year.
The money would be spent on redesigning roads including junctions to be cycling-friendly, lower speed limits on country roads and placing cycle training on the school curriculum for secondary as well as primary schools.
The report was inspired by The Times "Cities Fit for Cycling" campaign, launched over a year ago after one of their reporters, Mary Bowers was seriously brain damaged when injured by a lorry in London.
To sign the e-petition, go online to: http://epetitions.direct.gov.uk/petitions/49196
Thank you for reading 20 articles this month* Join now for unlimited access
Enjoy your first month for just £1 / $1 / €1
*Read 5 free articles per month without a subscription
Join now for unlimited access
Try first month for just £1 / $1 / €1
Get The Leadout Newsletter
The latest race content, interviews, features, reviews and expert buying guides, direct to your inbox!
Keith Bingham joined the Cycling Weekly team in the summer of 1971, and retired in 2011. During his time, he covered numerous Tours de France, Milk Races and everything in-between. He was well known for his long-running 'Bikewatch' column, and played a pivotal role in fighting for the future of once at-threat cycling venues such as Hog Hill and Herne Hill Velodrome.