Gino Mäder to be honoured by Swiss Cycling tribute ride
Ceremony and ride to be held at Oerlikon Velodrome in Zurich this Saturday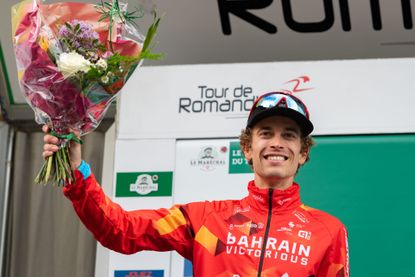 (Image credit: Getty Images)
The memory of Gino Mäder is to be honoured through a tribute ride and a ceremony in Zurich this Saturday, organised by Swiss Cycling.
Mäder died last week after a high-speed crash at the Tour de Suisse on stage five. At the time, his Bahrain-Victorious team said: "Gino was an extraordinary athlete, an example of determination, a valued member of our team and the whole cycling community. His talent, dedication, and passion for the sport has inspired us all."
To honour Mäder, who died aged 26, Swiss Cycling will host a memorial ride open to all and a public ceremony at the Oerlikon Velodrome in Zurich, the site of the Swiss National Road Championships, on Saturday. The time trial, which was due to take place on Thursday, has been postponed to later in 2023.
A statement from Swiss Cycling on the TT read: "The competitions would have been set up by Cycling Unlimited, which also organises the Tour de Suisse and the Tour de Suisse Women. The team needs a break after these extremely physically and mentally taxing days. Athletes also need time to digest these events. It is planned to crown the national champions in the second part of the season. The new date will be announced as soon as it is known."
Saturday's memorial events are detailed on Swiss Cycling's website; both require registration, and there is also information on how to donate in Mäder's memory. The money donated will be passed to environmental and animal causes.
"This ceremony is open to the public," the information reads. "Everyone who feels connected in one way or another to Gino, his family and his partner are welcome.
"Knowing the traces left by Gino in this historic velodrome, it will serve as a place to cry, to smile... This event will therefore be an opportunity to remember memories together. A place to pay homage to Gino. It is not necessary to dress in black. A condolence book will be available and all guests will be able to say goodbye to Gino in a very personal way."
As for the memorial ride: "In honour of Gino, Swiss Cycling will organise a Memorial Ride open to all in collaboration with Swiss road cycling professionals. The approximately 25 km route will join Wetzikon to the Zurich Oerlikon open velodrome.
"This Memorial Ride will set off at 1.30 p.m. from the start and finish site of the Swiss Road Championships which will take place this weekend, on Spitalstrasse, on the outskirts of Wetzikon. The route will be secure."
Tributes have continued to come in for Mäder over the past few days.
On Instagram, his former teammate Jack Haig wrote: "I had the privilege of spending a significant amount of time with you over the past two and a half years as teammates, and during that time, I came to know you not only as a fantastic and hardworking cyclist, but also as a wonderfully intelligent person with a deep curiosity for everything around you.

"I was incredibly excited to see what your future was going to become both as a cyclist and but also as a person because I believe great things were going to happen.

"I will miss you as a roommate, a team mate, a friend and a great person."
Thank you for reading 20 articles this month* Join now for unlimited access
Enjoy your first month for just £1 / $1 / €1
*Read 5 free articles per month without a subscription
Join now for unlimited access
Try first month for just £1 / $1 / €1