Hannah Barnes reinstated as winner of IG London Nocturne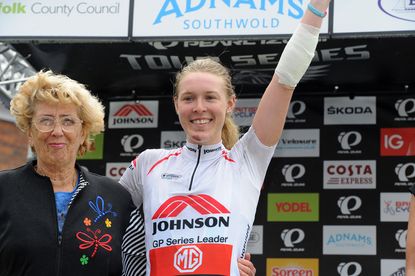 Hannah Barnes has been reinstated as winner of last weekend's IG London Nocturne Elite Women's Criterium after a review by the British Cycling Race Commissaires panel.
Laura Trott (Wiggle-Honda) was announced as the race's winner on the night, but subsequently pictures emerged of Barnes crossing the line ahead of Trott. On Thursday, organiser of the event, Face Partnership, put out a statement saying that Barnes had been relegated to second behind Trott after she "contested the sprint dangerously" by raising her arms in celebration.
A public outcry ensued, with British international sprinter Mark Cavendish commenting via Twitter: "Reading about [Hannah Barnes] getting demoted to 2nd in that #IGNocturne race. Is it true it was for celebrating the win?! Disgraceful if so".
Barnes told Cycling Weekly on Friday, before the decision was reversed: "Honestly, people make mistakes. It's life. How we've ended up in this situation, I don't know. It is not great, but what has happened has happened. I'm not angry about the situation."
Barnes' MG-Maxifuel team lodged an appeal with British Cycling, and the review was concluded in their favour.
"Race officials have reviewed the sanction imposed on Hannah Barnes. The sanction has been moderated from relegation to a reprimand," said a statement issued by Face on Saturday. "The Elite Women's Criterium photofinish result therefore stands: 1st Hannah Barnes; 2nd Laura Trott."
MG Maxifuel added: "Hannah and the team are truly touched by the huge support they have received from fans everywhere on this matter and would like to thank the officials involved, the event organisers Face Partnership and British Cycling for their support."
Rochelle Gimore of Trott's Wiggle-Honda squad said: "We were delighted with what we understood was a narrow win for Laura Trott, but on discovering that Hannah Barnes had crossed the line first, we felt the decision to relegate her was harsh. We totally accept the reversal of this decision and offer our full and sincere congratulations to Hannah for an excellent win."
Related links
Barnes insists she's not angry as Nocturne fall-out continues
Who really won the women's Nocturne at Smithfield
External link
Thank you for reading 20 articles this month* Join now for unlimited access
Enjoy your first month for just £1 / $1 / €1
*Read 5 free articles per month without a subscription
Join now for unlimited access
Try first month for just £1 / $1 / €1