Hunter wins Mumbai race, McEvoy leads British charge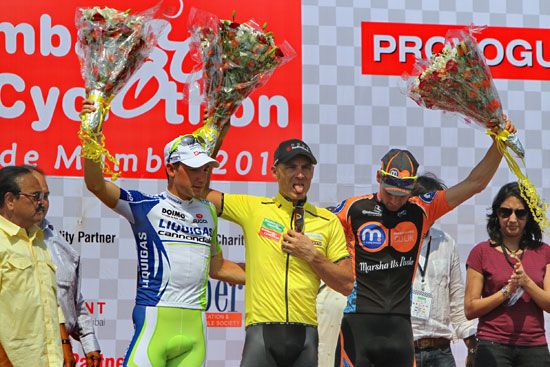 South African Robert Hunter won the second and final stage of the Tour de Mumbai today. He sprinted ahead of stage one winner, Italian Elia Viviani and Brit Jon McEvoy of team Motorpoint.
"It turned out good," said team RadioShack's Hunter. "I was in the right position in the last corner. I was on Viviani's wheel and I think he kicked too late. There was a lot of headwind. We both kicked at the same time. I just had more power than him on the day."
His team-mate Robbie McEwen finished second to team Liquigas' Viviani on Friday, but today McEwen was held back by a last-minute tyre puncture.
Hunter won a stage at the Tour de France in 2007. Today, he led the charge along Mumbai's Mahim Bay after 79 kilometres.
"I followed Robbie Hunter as much as I could. It was a massive fight with Liquigas and RadioShack," said 21-year-old McEvoy.
"It is good, but it is not a win. It gives me a bit of confidence I can mix it with the pros, however. Hopefully, it is a start of a good season."
McEvoy led a British sweep, taking places third through fifth with Endura Racing's Ian Wilkinson in fourth ahead of McEvoy's Motorpoint team-mate, Ian Bibby in fifth.
Wilkinson, fifth on Friday in Nashik, anticipated the sprint after the final U-Turn at 300 metres to race.
Hunter sprints to win Sunday's race in Mumbai
"It was just about 25 metres too far for me. After Scott [Thwaites] led, I saw I had to go. I dropped a few gears and started the sprint as the others were starting to charge. I thought I had third, but one or two pipped me.
"Endura rode very professionally today. They used the wind and the other teams [to its advantage]. We analysed the race well, exceeded the plan well. It is great."
The second edition of the Mumbai race was a hot dog circuit. It ran along the Mahim Bay and over the Bandra Worli Sealink bridge, with the Arabian Sea in the horizon and Mumbai's skyscrapers.
Motorpoint and Endura Racing both had a man in an early escape group of nine: James Sampson and Jamie Moss, respectively. The escape, however, dissolved into the group led by the race's only first division teams, RadioShack and Liquigas, in the final 7.2-kilometre circuit.
Endura Racing went to the front and led for Wilkinson
"We showed off the jersey well," said Wilkinson's team-mate, Rob Hayles. "I took it through the bend. I wanted to continue afterwards, but Liquigas went on the right. 'Wilko' had Scott, who led him as long as possible."
Fans and local photographers delayed Wilkinson's sprint and the race. After racing the first of the original circuits, race director, David McQuaid decided to neutralise the race.
"It was best," said McQuaid. "I'd rather wait and run the race perfectly than have any blurbs."
Police cleared the bridge of fans and photographers and McQuaid decided to cut out a risky section through the local slums.
Results
1 Robert Hunter (RSA) RadioShack
2 Elia Viviani (Ita) Liquigas-Cannondale
3 Jonathan McEvoy (GB) Motorpoint
4 Ian Wilkinson (GB) Endura Racing
5 Ian Bibby (GB) Motorpoint
General Classification
1 Elia Viviani (Ita) Liquigas-Cannondale
Related links
McEwen and Motorpoint transfer to Mumbai for India's tour