I challenged Olympic champion Ed Clancy to an e-bike race… and lost comically
'It wasn't my most famous victory, but it's one of my finest,' says three-time gold medallist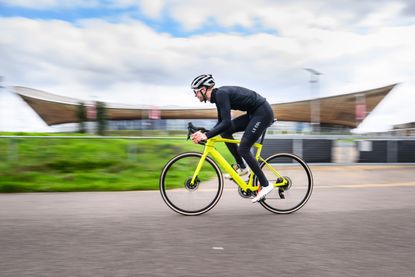 (Image credit: EBK/Whistle Group)
Get The Leadout Newsletter
The latest race content, interviews, features, reviews and expert buying guides, direct to your inbox!
Thank you for signing up to The Pick. You will receive a verification email shortly.
There was a problem. Please refresh the page and try again.
It's a perfect spring morning and I'm in East London, killing time under the shadow of the Pringles-shaped dome that is the Lee Valley Velodrome.
I've come to meet Ed Clancy, a three-time Olympic team pursuit champion with Team GB and now ambassador of a new e-road bike racing series - the EBK. He doesn't know it yet, but in about half an hour, I'm going to ambush him with a proposition: a straightforward, two-up bike race.
I've been thinking about it all morning. The EBK press officer told me I'd get a "one-to-one" e-bike ride-out with Clancy, which I chose to read more as a one v one. When I turn up, I'm raring to go. I've even got a skintight, bright pink race jersey in my rucksack.
Clancy and I chitchat as we tinker with my saddle height. From what I can make out, the bike they've given me is a BMC Roadmachine AMP Two, an e-road bike with power assistance restricted at 25km/h. It's the most expensive thing I've ever ridden, by a factor of three.
We roll out onto the lumpy, one-mile-long road track next to the velodrome used for the 2012 London Olympics. After I warm up and figure out how to downshift, I turn to Clancy. Let's have a bit of fun, I say. His face lights up. We agree that, on the next passing of the line, we'll race one lap of the circuit, dicing through its tight hairpins and down the straight run-in to the finish.
It's at this point that I realise I should've come with a race tactic. Clancy is a six-time track world champion, former national criterium champion and, as I discovered the night before, a stage winner at the 2011 Tour de Korea. My best result is 36th in a local hill-climb competition.
When we cross the start line, I panic and start whirring up a big gear. My plan, it would seem, is to spring a long one on him, perhaps in the hope that his Olympic legs have suffered severe atrophy since his retirement, and I'm on the best day of my life.
It quickly transpires that neither is true. Clancy latches onto my wheel, and as the road dips slightly, he leaps ahead, rounds a corner and puts three bike lengths into me.
The chase is on. I tuck my elbows in and stare down at my top tube to check turbo mode is activated. It is. Sadly, though, the power assist is useless at these speeds, and I kick through the pedals in desperation.
When I look up, Clancy is no closer. He's soft-pedalling. I'm gasping. The dry air catches my throat, and my eyes start to water. To those onlooking, I'm beaten, but I've watched enough hours of bike racing to know it's not truly over until one of us reaches the line.
At the circuit's halfway point, Clancy sits up in his saddle and checks over his shoulder. I can't tell whether he feels sorry or simply wants to toy with me, but he eases up and waits for me to regain contact.
I know what to do. We come into a short uphill, side by side, and as we crest the summit, I dip onto the inside line and attack again. This is it, I think to myself, the race-winning move, but when I look back beneath my armpit, Clancy's on my wheel once more. It's coming down to a sprint.
I don't want to lead him out, so I let him through with 50m to go. This proves a fatal mistake. Seated, Clancy powers ahead, dealing me a cheeky smile as he steers clear and off into the horizon. The ease with which he dispatches me is comical. I don't know what I was expecting, but it's nothing less than I deserve - a humbling at the hands of an Olympic legend.
"It wasn't my most famous victory, but it's one of my finest," Clancy tells me afterwards, chuckling. "Your tactics are on point, I think you just didn't have the grim determination needed to take me on in that sprint.
"The bikes are fun, they're punchy out the corners. I enjoyed the race, so thanks for that."
Thank you for reading 20 articles this month* Join now for unlimited access
Enjoy your first month for just £1 / $1 / €1
*Read 5 free articles per month without a subscription
Join now for unlimited access
Try first month for just £1 / $1 / €1
Get The Leadout Newsletter
The latest race content, interviews, features, reviews and expert buying guides, direct to your inbox!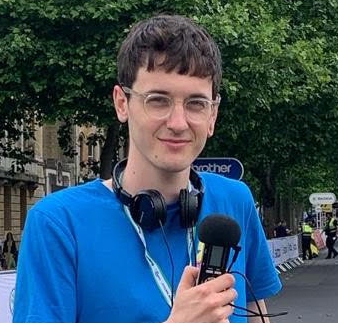 Tom joined Cycling Weekly as a news and features writer in the summer of 2022, having previously contributed as a freelancer. He is the host of The TT Podcast, which covers both the men's and women's pelotons and has featured a number of prominent British riders.
An enthusiastic cyclist himself, Tom likes it most when the road goes uphill and actively seeks out double-figure gradients on his rides.
He's also fluent in French and Spanish and holds a master's degree in International Journalism.