'I went straight through the boarding and broke my back': From horror crash to Olympic hopeful
Philip Heijnen has battled physical and mental challenges to be on the track today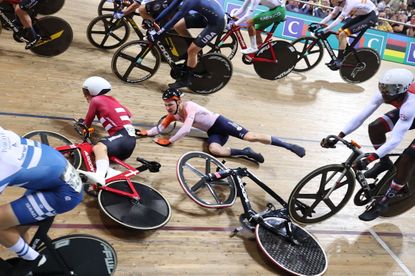 (Image credit: Getty Images)
A little over a year ago, Philip Heijnen took a photo that almost changed his life.
The Dutchman had spent four days in a hospital bed, twisting and turning with four broken bones in his spine. From his phone, he watched as his track team-mates lived out their dreams - his dreams, too. The time gave him space to think, and cycling, he decided, was no longer for him.
"Why would I take the risk that I could never walk again or be in a wheelchair?" he tells Cycling Weekly.
"I was like, 'Yeah, maybe I'll sell my bike and quit cycling'. So I took photos of the bike, but then in the end I didn't have the balls."
In a parallel universe, that would have been the end of Heijnen's career. He would have found a buyer online, handed over the bike, and landed himself another job, one where he wears a shirt and has a company phone.
Instead, he's brushing shoulders with the world's best at the UCI Track Champions League, his sights set on rainbow bands and Olympic medals.
A crash last April marked the start of a dark period for the Dutchman. Racing at an event in Ghent, Belgium, he fell hard in the Omnium, and left the velodrome in an ambulance.
"I tried to steer down [in the race] and two guys crashed in front of me," he recalls. "I decided to send it to the inside, then I crashed and went straight through the boarding and broke my back.
"I was put in a kind of bag, with air. They couldn't really move me. Then I was brought to the hospital and they did some scans."
The scans revealed four broken vertebrae in Heijnen's lower spine, L1 through L4. Over the ensuing days, he spent all but a handful of hours in bed, before the "mental setback" took hold.
"I was thinking all the time about the worst case," he says. "What could have happened, but never happened."
The crash brought back memories of a few months prior, when, in December 2021, Heijnen was on a training ride with the Dutch national team and SD Worx rider Amy Pieters crashed.
Pieters was airlifted to hospital, placed in an induced coma, and didn't regain consciousness for four months. An update in April this year said that she was still unable to talk.
"That could have happened to me," Heijnen says, but the tone of his voice suggests that, still today, he doesn't want to think about it.
To help combat his fear, Heijnen decided to see a therapist. "She said, 'Crashes happen. You can misstep on the stairs and fall down and break your back and be in a wheelchair. It's a risk you take, but it can also happen in your normal day life'", he explains.
Cycling, he thought, was a risk worth taking. He got back on the turbo trainer and remembered why he had fallen in love with the sport: the speed, the motion, the thrill of the bunch.
Within six weeks of his crash, the Dutchman was back on the track. Within three months, he was under-23 European champion in the Madison.
"In the end, I'm proud of the journey," he says. "It was hard, but it made me the person I am now. I keep fighting, keep going and never give up."
Does he have any lasting injuries? "My body feels like 10 years older," Heijnen laughs. He sees a physio every two weeks and is particularly wary of his set-up and positioning. "I'm just thankful that I can still ride," he adds.
Now the pictures Heijnen takes of his bike are at competitions. He hops across continents with it, hunting for medals, and will be in London this weekend racing in the finale of this season's Track Champions League.
"I just hope to grow and get better and better," he says. The thought of packing it in is now a distant memory.
Thank you for reading 20 articles this month* Join now for unlimited access
Enjoy your first month for just £1 / $1 / €1
*Read 5 free articles per month without a subscription
Join now for unlimited access
Try first month for just £1 / $1 / €1