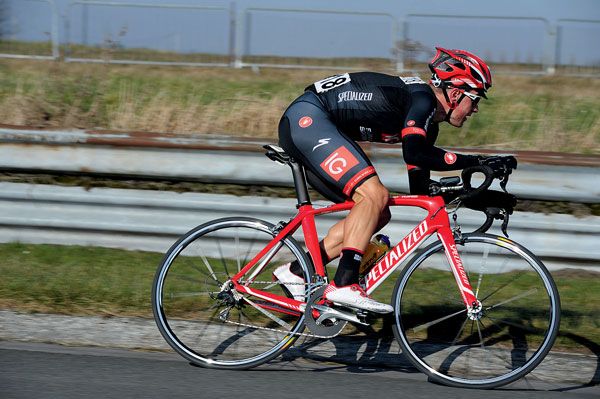 2012 was a difficult year for IG-Sigma Sport. The good feeling which stemmed from IG Markets coming on board as a title sponsor soon waned, directeur sportif Matt Stephens left in April and illness and injury stacked up at the expense of results.
Unsurprisingly, sweeping changes have been made for 2013, with new management taking charge and only four riders remaining from last season. New DS Simon Howes has over 30 years' experience in the sport and will be assisted by former professional Dan Lloyd.
The roster looks remarkably coherent given its much-changed nature as the team attempts to remove the 'plucky triers' label which still surrounds them.
New signings Ross Edgar - silver medallist in the 2008 Olympic keirin - and former British Cycling Olympic Development Programme rider Chris Whorrall should give the team some additional bite come the Tour Series.
A prolific winner of time trials in the junior category, Ryan Mullen was reportedly a target for Rapha-Condor-JLT, while Pete Williams (one of three riders to join from Node4-Giordana) won the sprints competition at last year's Tour of Britain.
Everybody likes a wildcard, so here's CW's tip: Pete Hawkins. After all, the Irishman finished fourth overall in last year's Premier Calendar.
IG has a big vision for the team, and it appears that they now have everything in place to make the disappointment of last year but a distant memory. They are yet to win a Tour Series round, and their last Premier Calendar race victory came in March 2010. Rectifying at least one of these will mark a significant improvement over 2012.
Jack of all trades
Not content with being one of Britain's best cycling teams, IG-Sigma Sport's riders are rather handy off their bikes too. Andrew Griffiths - studying plumbing at college. Pete Hawkins - played the drums on Irish singer's Jason Clarke album. Maths degree at Newcastle University. James Moss BSc (Hons) MRICS - degree in estate management, qualified chartered surveyor. Wouter Sybrandy - former city worker, and even worked for IG Markets for a short time four years ago. Chris Whorrall - DJ. Dan Lloyd - rider turned presenter/reporter.
| | | |
| --- | --- | --- |
| Matt Cronshaw | 24 | Node4-Giordana |
| Ross Edgar | 30 | GB Cycling Team |
| Andrew Griffiths | 24 | IG-Sigma Sport |
| Pete Hawkins (Irl) | 27 | IG-Sigma Sport |
| Jake Hales | 21 | IG-Sigma Sport |
| Matt Jones | 23 | Corley Cycles |
| James Moss | 28 | Node4-Giordana |
| Ryan Mullen (Irl) | 18 | Planet X |
| Joe Perrett | 22 | PCA-Ciclos Uno |
| Wouter Sybrandy (Ned) | 28 | IG-Sigma Sport |
| Chris Whorrall | 21 | Team Manx Telecom |
| Pete Williams | 26 | Node4-Giordana |
>>> Back to 2013 British Team Guide home page >>>