Interview: Bristol's Mayor George Ferguson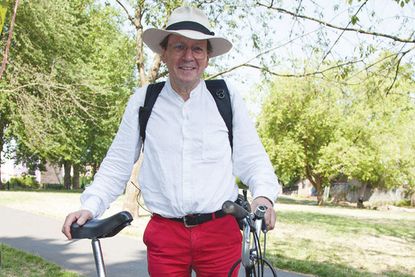 George Ferguson is Bristol's first elected mayor, and one doing great things for cyclists, with his aim to double cycling in Bristol, from its current seven per cent of journeys, by 2020.



An architect by trade, Ferguson was RIBA president and founding member of both sustainable transport charity Sustrans and the Academy of Urbanism, promoting more people-friendly cities.
He is also owner-entrepreneur of Bristol's Tobacco Factory, a former disused factory which is now a mix of businesses and homes, referred to as a "model of urban regeneration".
When Bristol was named European Green Capital in 2015, Ferguson's trademark red trousers were green for a week.
A lot of cities are dabbling in cycling but you seem to be on the cutting edge in Bristol. GF:
Maybe it's a mayoral thing. Funnily enough, I don't rate myself as a cyclist, I'm somebody who uses a bike for the practical purposes of getting around, and I rather distinguish between those who are heads down, Lycra-clad, speedy get-to-work cyclists and the rest of us who may be a bit more sedate about it.
It's great that the Olympics inspired people to use bikes, but I think if we're to have a culture change, then cycling has got to be seen by the public as normal and, above all, respectful.
How do you get young people and older people, who may be frightened, on bikes? GF:
I think we have to concentrate on safe routes to school. It is an absolute menace that so many people drive their children to school on the pretext that it's safer, making it unsafe for others.
There's no silver bullet, but I think it's a mixture of physical provision, education, working with schools and good transport planning.
Bristol is lucky: you started from a good cycling base, and you have considerate drivers... GF:

I can't remember the last time I felt threatened by a driver. I think they now recognise that they need to give cyclists room, and I think that's a matter of education.
You say we're lucky; in 2001 we were had a pretty low cycling base. We doubled that within 10 years, and it's my intention to double it again in 10 years, or by 2020. That would be the great aim, to get up to about 30,000 people cycling to school and work.
Does having a mayor make a difference? GF:
Yes. I provide leadership and I'm recognised. We've previously not had very recognised leadership in this city, and I do make a point of cycling. I recognise that public transport is really important, but I think cycling and walking are the most reliable ways of knowing how long it's going to take to get from point A to point B.
Do you find there's any resistance to cycling from Bristol City Council? GF:
No, and I think there's a real mood to encourage cycling within the council. There is a slightly aggressive car lobby.
I'm not anti-car per se, but I'm very anti vehicles that contribute to poor air quality. That's something every city has to tackle - Bristol no less than any other city - and as European Green Capital in 2015, it's absolutely essential that we lead by example.
There's a small hardcore of councillors that seem to align themselves to [Communities and Local Government minister] Eric Pickles. He's an absolute menace in terms of encouraging car use. I believe that civilised cities need to reduce the amount of congestion and the effect that has on people's health and wellbeing - and cycling is one of the best answers.
Is Eric Pickles holding cycling back? GF:

I think he is; he shows himself to be of another age. He seems to be intent on working against our cities at the moment rather than for them. He's doing everything he can to restrict our funding and he's discouraging charging for parking which is an absolute necessity if we are to improve our local areas.
Residents' parking areashave been a success, despite local doubts... GF:
Absolutely, and it's a battle for me. The reality is where residents' parking has been installed it has created far more civilised residential areas; it has reduced the amount of anarchic parking and made it easier for cyclists and pedestrians to get around. It's essential as part of a much bigger plan, as are 20mph residential speed limits.


What is central government's support or otherwise for cycling? GF:
Even though this government claimed it wanted to be the greenest one ever, I'm afraid it's still strongly influenced by the car lobby.
I'm delighted, though, that we've been successful with the Cycle City Ambition Fund recently. I think the biggest thing that comes out of that are the north/south links across the river, as that has traditionally been a barrier.
Is it enough? GF:
It's never enough! Over the next two years it meets my ambition of exceeding the level of £10 per head of population in terms of investment in cycling, but I think that needs continuing over the next 10 years.
I am also going to appoint a cycling champion on the city council. I think it's good to have a councillor who's absolutely focused on cycling provision and pedestrian provision, because I think the two go hand in hand.
You've made a few controversial decisions to reallocate space away from cars, like those city centre closures... GF:
People don't own the road and they don't own their car spaces and I think we need a greater understanding of that. Our residential streets have been stolen from our children and I feel very strongly that the streets are a community space on which cars are tolerated, not the other way around.
What did you learn as an architect from looking at other cities? GF:
In Ferrara in Italy, and in many of the university cities, there's a great sense of sharing space, and very few cycling terrorists, which I do intend to clamp down on.
What about bad drivers? GF:
I think drivers need to be a lot more vigilant and a lot of injuries and deaths have been as a result of drivers' blind spots. Every death on the roads is a personal tragedy, but it's also a stepbackwards when trying to encourage people to cycle.
This article was first published in the October 10 issue of Cycling Weekly. Read Cycling Weekly magazine on the day of release where ever you are in the world International digital edition, UK digital edition. And if you like us, rate us!
Thank you for reading 10 articles this month* Join now for unlimited access
Enjoy your first month for just £1 / $1 / €1
*Read 5 free articles per month without a subscription
Join now for unlimited access
Try first month for just £1 / $1 / €1