'I've always been a daredevil' - Cyclist tries to beat 144km/h record after facing paralysis during last attempt
Last month, François Pervis tried to become the fastest person ever on two wheels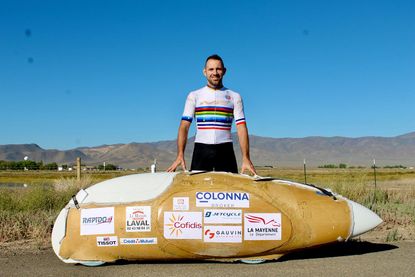 (Image credit: François Pervis)
François Pervis has always been transfixed by speed. "Do you know what a casse-cou is?" he asks. "That's what I am."
It is what has helped the Frenchman to seven world titles and an Olympic bronze medal as a track sprinter. Translated literally, casse-cou means break-neck, but in English, the term is daredevil.
"I've always been a daredevil, ever since I was young," Pervis tells Cycling Weekly. "I like adrenaline. I like speed. Putting yourself in danger is exciting. It makes you feel alive, and that's amazing."
Last month, this fearless attitude led the 38-year-old to his wildest challenge yet - attempting to break the human-powered speed record on a recumbent bicycle.
Since 2016, the record has been held by a Canadian aero engineer called Todd Reichert, who reached 144.1km/h in the Nevada desert. Pervis travelled to the same open plain last month, ready to roar down the same flat road, in a bid to beat it.
"There are no hazards," the kilo world record holder says of the location. "No posts, no trees, no fences for cow fields."
Still, the last time Pervis attempted the speed record, he almost ended up paralysed.
"Last year, I crashed," he says. "I had an accident."
The Frenchman was travelling at 130km/h in September 2022 when a slow puncture derailed his effort. "I was like a spinning top. I spun round and round, then the bike hit the sand at the side of the road and I started doing barrel rolls," he says.
"The little roof of the bike came off and I started to get ejected. That's when my head hit the ground."
Pervis suffered a spinal fracture that left him millimetres away from never walking again. The experience initially made him "a little bit" scared, he says, but he built his confidence back up, dedicated himself to a season of road riding, and returned to the Nevada desert with even more determination to break the record.
The conditions this time round, however, were against him. "We had a headwind every day. We were gutted. It was extremely frustrating. One day, I had an 11km/h headwind, and that really took its toll."
Faced with a headwind, why not ride in the other direction? "Everyone keeps asking me that," Pervis says. "We couldn't, because the timing zones are fixed in one place. People have been attempting world records there for 25 years, and we wanted to respect those before us by keeping the same rules."
The Frenchman tried four times down the 8km-long stretch. On his third attempt, he stopped pedalling with 200m to go, mistaking a marker to be the finish sign, and maxed out at 139.05km/h.
Sadly, he would not make up the extra 5km/h. Pervis recorded 139.88km/h on his fourth and final go, a new European record, but still shy of Reichert's benchmark.
"I would have liked to be the fastest in the world," he says. "Not the second."
Afterwards, Pervis and his team of 10 engineers calculated that he would have broken the record if he had had a 4km/h tailwind like Reichert seven years before. "It's infuriating," he says looking back.
Even though the record eluded him, Pervis still hit speeds he had never experienced before, piercing through the desert in a slick, carbon hull.
"When you go at 140km/h with nothing around you, no visual reference points, you don't get the impression of going that fast," he explains. "I felt the bike vibrating. That's what made me feel like I was going fast.
"Inside the bike, the sound was deafening. It was vibrating a lot, and I could hear it whistling through the air."
Although he was only inside the recumbent for 10 minutes at a time, the heat grew unbearable. "I was soaked with sweat. I mean, absolutely soaked," he says.
The disc brakes, too, raised the temperature. "They really warmed up my calves. I had to brake for two seconds, then release for five seconds. Brake for two seconds, release for five. Again and again, so they didn't get too hot," he says.
For now, Pervis has no plans to travel back to Nevada and reattempt the record. Instead, he has shifted his focus to a new challenge, and will compete as a 'cyclor' - a cross between a cyclist and a sailor - at next year's America's Cup sailing competition. It's a challenge once again fuelled by his need for speed.
"The boat goes with the wind, but we pedal to provide power to move the sail," he says. "They can go around 100km/h to 105km/h."
From track bike, to recumbent, to souped-up pedalo, Pervis is a daredevil through and through. A casse-cou, as he would say, and proudly, too.
Thank you for reading 20 articles this month* Join now for unlimited access
Enjoy your first month for just £1 / $1 / €1
*Read 5 free articles per month without a subscription
Join now for unlimited access
Try first month for just £1 / $1 / €1