I've recently become a 'cyclist' - here's what needs to change for cycling to be more inclusive
'Dyed in the wool' cyclists sometimes need a reality check when it comes to enticing beginners into the sport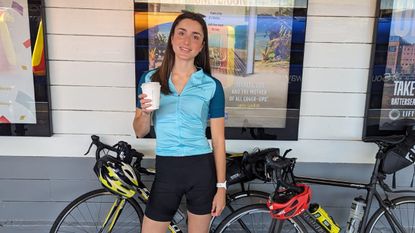 (Image credit: Ellie Donnell)
Cycling is for everyone. Or, at least, it should be. The reality is that there are a wealth of people who feel like cycling doesn't want them.
As a 20-something-year-old female riding in a bike lane that is 90 percent male, I can relate. Cycling is an overwhelmingly male sport, and it took a while to accept that I belong in that cycle lane just as much as the next lycra-clad man.
Statistics show there are a multitude of reasons why people choose not to cycle, from safety concerns to lack of representation to inadequate storage. So, where do we go from here? How can we get more bodies on bikes?
As a new convert to cycling, and therefore, the owner of a relatively fresh pair of eyes, here are my key suggestions…
Representation in cycling clubs is crucial to opening up the sport
Cycling has a diversity problem - that's not a secret. Studies show that cycling is predominantly male and predominantly white. A 2022 report by TFL noted that "white people remain over-represented in cycling" compared to black and Asian communities, while men and those aged 25-44 make up a higher proportion of the cycling population.
Wayne Francis, founder of Together We Ride, is trying to change that. Like so many, he discovered cycling during the pandemic, only to find a distinct lack of diversity within cycling clubs in London. "I believe that cycling is a sport for everyone, regardless of their background, experience, or ability", he explains. "TWR is committed to creating a welcoming and inclusive environment where everyone feels safe and supported. We offer a variety of rides and events to accommodate all levels of cyclists, and we encourage everyone to join us as we celebrate the diversity and beauty of the cycling community."
The group promotes inclusivity in numerous ways, from empowering new cyclists with knowledge and skills through workshops and training sessions, to connecting with underrepresented communities via outreach programs with schools and local organisations. ''We believe that cycling is a powerful force for good in the world, and we are committed to making the sport more accessible to everyone.''
Andy Edwards, founder and author of Diversity in Cycling, notes that diversity in cycling has come a long way since the pandemic. "Four years ago, diversity was hardly talked about at all in cycling circles, and that has changed massively." There is, however, still a long way to go.
"Race and gender are rightly getting a lot of attention, but I also want to see more support for the LGBTQ+ community and for those with disabilities, including people like me who are neurodiverse", he says.
Cycling clubs are the lifeblood of the cycling community, and Ward has a number of recommendations for those with the power to enact change within them. These range from promoting visibility through website photos and social media, to challenging all forms of prejudice.
"I would say be clear about your values, and then communicate those values", says Andy. "If your club is open and inclusive, say so. Many cycling clubs include diversity statements on their websites and make sure that images are reflective of their club membership, to signpost to prospective members that they are welcome," Ward advised.
Representation is "first base [...] demonstrating that you are open to people from all backgrounds. But people also need to feel welcome, comfortable, and connected. It is a two-way communication process," he says.
Cycling clothing brands need to rethink their styles and sizes
It might not seem like it if you've spent years surrounded by friends and family in lycra, but for most people, cycling apparel can be incredibly alienating.
A diversity survey published by the Bicycle Association included one respondent stating that "the cycle industry is intolerant of people who don't want to wear Lycra kit and ride racing bikes." So no, not everyone wants to wear tight-fitting, head-to-toe lycra, and brands need to be aware of that.
I bought my first cycling jersey three years after I started cycling, firstly, because I didn't really feel the need to wear one as a beginner, but I also felt an element of imposter syndrome that came with wearing an item of clothing that I only associated with professionals. At that point, I didn't feel like a 'real' cyclist, which now I realise stems from the common misconception that 'real cyclists wear lycra'.
For those who do want to wear lycra, the issue is that most cycling clothing brands simply don't cater for all body types. For Marley Blonsky, co-founder of size-inclusive cycling movement All Bodies on Bikes, not being able to find the right apparel was an isolating experience.
"When you can't find cycling clothing that fits - which is the case for many people, especially those with larger bodies, it can leave you feeling like you don't belong or aren't included," she explains.
"Even now, as a sponsored athlete, finding clothing that fits is a huge challenge. I can't find protective knee pads for mountain biking, and it's nearly impossible to shop in any bike store."
Blonsky urges brands to "seriously re-evaluate their size charts" and to "align them with the needs of our bodies". The issue of representation comes into play here too. "Brands need to hire more fat models, athletes and influencers", says Marley. People are far more likely to take up the sport if they see themselves represented within the cycling community.
Towns and cities need properly secure storage
Inadequate bike storage is a major culprit when it comes to making cycling less accessible. Often, people are forced to lock their bike around railings or lamp posts due to lack of storage, while many will choose not to cycle altogether if they know they're unable to store their bike in a safe place. These days, I hardly ever lock my bike in a public area for fear of it being nicked - especially not my new, carbon machine.
Indeed, fear of bikes being stolen is also a huge problem. There were over 77,000 reported bike thefts in 2022, including in the home, on the street and at work, with over 90% of cases going unsolved. One of the solutions that government and councils can take to reduce thefts is providing adequate bike storage, with a focus on better security.
Users need to trust storage facilities for them to be useful, and for that to be the case, they should be placed in communal areas and surrounded by decent lighting, rather than tucked away on quiet streets where it's much easier for someone to commit a theft.
Better infrastructure is needed to make roads a safer place
According to a 2020 survey by The National Travel Attitudes, 66% of adults choose not to cycle due to safety concerns - and that number is even higher for women (71%). I get it - when I first started cycling, having to navigate major roads and fast traffic was a major learning curve. Even in London, where there are cycle lanes pretty much everywhere, getting to a point where I felt confident to try a new route took time and experience. And you have to be willing to put in the time to build that confidence, which isn't overly appealing when you're a new rider.
Pop-up cycle lanes have been a pioneering step in the right direction. However, many set up during Covid have since been removed. Any new infrastructure needs to be fully supported by local planners - so that it stays in place - and to a high standard to ensure that it boosts participation. The UK needs more cycle lanes, that's a given, but more attention needs to be paid to exactly how these cycle lanes are constructed. On busy roads, I believe that they should be completely segregated from the main traffic using bollards or barriers, rather than just painted lines, to provide a physical barrier between cars and riders.
There's plenty more beyond this, such as installing better public lighting for at night and during the winter months, as well as creating clearer signage for those who are accessing routes for the first time. Roads aren't just for drivers, and cyclists shouldn't have to feel intimidated or unsafe.
Companies can do more to make commuting more accessible
If my employer didn't offer on-site bike storage, I wouldn't cycle to work. Simple as that. Beyond providing basic cycling facilities, companies should be actively encouraging employees to cycle to work if they can. Not only does it carry huge mental, physical and economic benefits for employees, but employers benefit by extension, with active people taking fewer sick days. At the very least, businesses need to offer secure, on-site storage for employees to lock up their bikes, while lockers and changing rooms are an added bonus.
Access to showers is another important factor. Being able to shower at the end of a ride, especially in summer, could be a deal-breaker for those considering cycling to work. And it's not just cyclists who benefit; having showers installed in the workplace can help encourage more employees to get active in their lunch hour. Finally, workplaces can offer practical advice: from highlighting key cycling routes in the area to help staff plan their trips, to encouraging people to get on their bikes through gamification and staff challenges.
We should all welcome new riders with open arms
Most of us are not in a position to overhaul the size ranges of major brands, install new cycle lanes or redesign club websites. But that doesn't mean we should sit back and do nothing. There's so much that we, as individuals, can do to enact meaningful change.
It's our role as passionate cyclists to make cycling more accessible by arming new riders with the tools they need to take up the sport. It could be as simple as offering to accompany a friend on a ride for the first time, or complimenting someone on a particularly challenging route. Not only is cycling with another person more fun and enjoyable, but it can help build confidence for new riders who are nervous about being on the road.
The more inclusive we are - as a community - the greater our numbers will be when it comes to lobbying for safer roads and better workplace facilities. And that's a no brainer for all of us, surely?
Thank you for reading 20 articles this month* Join now for unlimited access
Enjoy your first month for just £1 / $1 / €1
*Read 5 free articles per month without a subscription
Join now for unlimited access
Try first month for just £1 / $1 / €1