Watching Marley Blonsky's first century experience will motivate you to tackle your first 100-miler
In Pearl Izumi's latest film, the All Bodies on Bikes advocate tackles the 100-miler at Unbound Gravel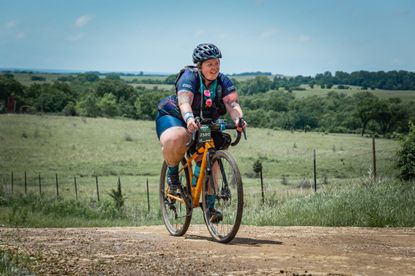 (Image credit: Marley Blonsky)
You'll never forget your first. Be it on road or gravel, in ideal weather conditions or pouring rain, alone or with a group of riding friends. Your first 100-mile bike ride is a right of passage for any avid cyclist and for a while there, All Bodies on Bikes advocate, Marley Blonsky, was feeling like an imposter for not having earned that badge.
Blonsky, 36, fell in love with cycling back in 2013 when bike commuting through the streets of Seattle turned into wanderings outside of the city in the form of bike camping and gravel riding.
The more she entered the world of cycling, the more she stood out. As a self-proclaimed "short, fat woman," Blonsky had difficulties finding cycling clothes to fit her. But rather than changing herself to conform to the cycling industry's standards, she started working to change the cycling industry.
These days Blonsky is well-known for her advocacy to get people of all shapes and sizes on bikes while changing the narrative of what a cyclist looks like. She's a professional athlete, co-founder of the All Bodies on Bikes Community and public speaker.
Yet despite her many accomplishments, completing a century still eluded her. She decided to change that in 2022, and allowed a camera crew to follow along for the experience.
"I think the century for a lot of people is the hallmark achievement of cycling. By not having dont it, I feel like an imposter. I feel like I'm missing that checkmark of cycling accomplishments like first flat, first crash, first century," she says in Pearl Izumi's latest film, A Ride of Passage, released today.
Blonksy, a budding gravel racer, didn't just tackle any old century — she chose to take on the 100-mile event at Unbound Gravel.
Unbound Gravel is a mass-start event that takes place in the Tallgrass Prairie and Flint Hills around Emporia, Kansas, in the middle of the United States. Regardless of the distance one decides to undertake, Unbound is a true test of endurance, self-sufficiency and equipment. In addition to needing to fuel and take care of oneself, the sharp flint rocks are notorious for slicing tires and dashing the day's aspirations. Along the way, riders also need to contend with the undulating terrain, exposed sun-baked roads, headwinds and, if at all wet, tire-sucking mud.
It is often considered to be the world's marquee gravel event, which is why Blonsky chose this event, albeit intimidating, to be her first century.
"Gravel is more than the actual road that you're riding on. It's the community, it's all the people that are coming out to support, it's the strength that you find going down these rural roads and having somebody pass you by and say 'oh you're doing a great job' even though they're going 10 miles an hour faster than you," Blonsky says.
"Some people's goals are to win, some people just want to get out there and ride their bike — they want to finish or, you know, they're overcoming an injury. But at the end of the day we all have our sights set on crossing that finish line whether that's a 25-mile ride or the 350. Sharing that camaraderie and realizing that everybody out there is doing their best."
The Ride of Passage short film follows Blonsky for the whole experience, including seeking advice from the community at large and expert cyclists like ex-WorldTour pro Thomas Dekker.
"You have to keep on pedaling, you have to smile, you have to eat and drink and then you're going to be at the finish," the Dutchman says.
And that she did. The on-the-bike camera captures Blonsky smiling her way through a downpour of rain, the notorious flint rocks, some mechanicals and peanut butter mud while racing against the time cutoff.
If you've yet to reach that cyclist's milestone of riding 100 miles in a row, this video may just be the motivation you need to get training.
"Yes it's painful, yes you have something go wrong in the moment but at the end of the day you have done that accomplishment you have that sense of pride for yourself," Blonsky says.
WATCH
Thank you for reading 20 articles this month* Join now for unlimited access
Enjoy your first month for just £1 / $1 / €1
*Read 5 free articles per month without a subscription
Join now for unlimited access
Try first month for just £1 / $1 / €1