Joanna Rowsell scores double gold in Manchester Track World Cup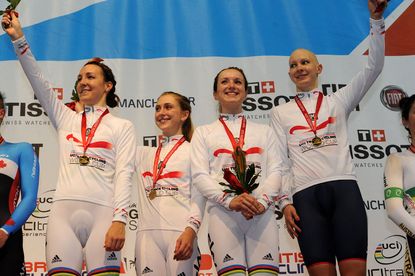 Joanna Rowsell won her second gold of the Manchester Track World Cup in the individual pursuit on Saturday, turning round what has been a nightmare summer.
Rowsell sat out the 2013 track world championships in Belarus in February as she focused on her road career for the year. "I won the national time trial which was my target, then everything went wrong. It was disaster after disaster. Setback after setback," Rowsell explained.
"I was going to race on the road to get fit for the track but that went completely out of the window after breaking my collarbone at the end of August, so I didn't really answer that question about road racing that I wanted to. I managed to get some fitness from training on the watt bike and track to come here and win two gold medals."
Two steps down from Rowsell on the podium stood 20-year-old Katie Archibald from Scotland. Two weeks ago Archibald was drafted in to the all-conquering British team pursuit squad for the European championships.
Seemingly undaunted she rode both the qualifying round and final where she came away with a gold medal and a world record, and has since done some more training with the squad. Here in Manchester she has netted a silver in the scratch and bronze in the individual pursuit.
"I was really happy to have been chosen to represent Great Britain, but it's fantastic to be able to ride for Scotland [here]. It has meant I got to do every event going." Archibald said. "I'm on the squad below the development program in a bunch of girls that all want that spot. At the moment there are four girls that are the regulars and we're all fighting for that reserve space." She said.
VIDEO: Watch Joanna Rowsell claim her second gold medal of the world cup
Ireland's Martyn Irvine produced an outstanding ride in the points race to win gold. After nine out of 12 sprints (that come every ten laps) Irvine was languishing down the field, seemingly out of contention.
Then he went on the offensive, with Spain's David Muntaner of Spain and Germanies Theo Reinhardt for company. In truth those two were little more than passengers as Irvine used his brute force to maintain a speed that would keep the trio half a lap up on the field for the remainder of the race.
Irvine rode through the line to take maximum points in each sprint, not so much sprinting but holding a speed so high the others could do nothing but sit on his wheel. "I don't sprint, I just have a high cruising speed." Irvine said.
Britain's Owain Doull was pushed out of the medal positions in the final sprint by Italian Elia Viviani. The pair were both on 12 points coming in to the last sprint, and with the Irvine led trio ahead there was just one point up for grabs. Unfortunately for Doull, Viviani, a WorldTour rider with Cannondale, beat him to it.
VIDEO: Martyn Irvine wins the points race
Becky James beat Anna Meares in the bronze medal final of the women's sprint to claim her second medal of the weekend. The Manchester world cup was Meares' first full international race since taking a five month break post London 2012.
"It's nasty how long you work to build up a level of fitness a level of strength and how quickly it goes. I lost a lot of weight on my break, and it's been a long hard slog to get back to a competitive level, my qualifying this morning was fantastic but the intensity is a real shock to the system," Meares said.
Meares is now committed for the next Olympic cycle and in that period is likely to add several more world titles to her current tally of nine. Not that she'll have it all her own way. Kristina Vogel was impressive throughout the sprint competition on her way to gold and James will be faster again next February. "I thought I'd get a break from the British after Vicky retired," Meares said. "But they just keep churning out world champions!"
VIDEO: Becky James beats Anna Meares in bronze medal final
Related links
Manchester Track World Cup day two gallery
Thank you for reading 20 articles this month* Join now for unlimited access
Enjoy your first month for just £1 / $1 / €1
*Read 5 free articles per month without a subscription
Join now for unlimited access
Try first month for just £1 / $1 / €1