John Herety: The Big Interview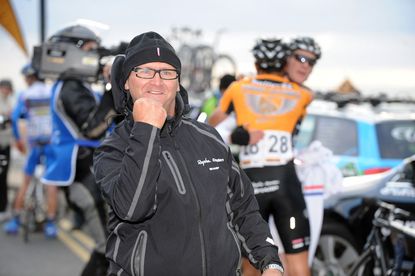 Under John Herety's leadership, Rapha-Condor-Sharp dominated the domestic racing scene in 2011.
They won the Tour Series, winning five of the eight rounds along the way, while Jonathan Tiernan Locke impressed on the way to fifth at the Tour of Britain.
There was success abroad, too, as Kristian House won the Tour of South Africa and the team took three stage victories in the Vuelta Ciclista a Leon in Spain.
While Herety could have asked for more of the same next year, the team are turning their attention to developing young talent. We asked him all about the team's new direction.
CW: After the year you've enjoyed, what's behind such a radical change in focus for 2012?
JH: There's a slight frustration that the sport isn't progressing enough in the UK right now. You could say who the hell am I to say this, and why should he come out to say it like that? First, I believe that British Cycling are doing the right thing; I've never had any doubts about that and you've only got to look at the number of riders that are in the top teams as a result.
But what was happening to the one or two riders who didn't quite make it onto the Academy? Or those who got on it and rode the track even if they didn't like it, simply because it's the only route for them to try to make it through? If they don't get on it, where do they go?
We either lose them from the sport, or they go off to Belgium and Italy to try and do something. I thought that our team must have been doing something wrong. Why weren't we attracting those riders? Are they scared of me? Were we not selling it right? I think this announcement to change has proved that part of that has been true, because I've been inundated with requests to come on board since.
How much has been drawn from your experiences starting out in the sport?
JH: This level of support never existed, but, in fairness, I had Paul Sherwen and Graham Jones helping me when I raced in France. The problem is that a lot of riders go to the Continent because they think the Belgians and French know what they're doing. The reality is that they don't. Their system is to race like hell and eventually some burn out but many others don't.
Sponsors crave success and publicity, so will it be difficult to keep them happy?
JH: Rapha and Condor want to be part of a five-year project. Sharp are on board for another year, although there's no reason why they won't be around after that. All three of them have said they understand what we're doing. What happens when we don't get the victories in 2012 that we got this year? Well, that was potentially going to be the case even if we had kept the team the same.
Also, is it good for the sport in the UK for one team to dominate? We did it with the crits, and even in the Premier Calendar - which we never rode to win overall - we won three races. The fact sponsors are helping young riders appeals to them, especially as the riders know that if they want to progress they must satisfy them.
You've got a proven record of spotting young riders and developing them. How did you find the new blood you're bringing in for 2012?
JH: In fairness, this group have been recommendations. I'd be lying if I went round saying I'd spotted these riders. Eventually once it all beds down, I'd like to get out and watch some junior racing. But in all sports, you'll find there are people with a talent to recognise young talent. Sir Alex Ferguson doesn't go out and find all of his players, for example.
For me, the number of wins will be most important, and after that, I'll look at the date of birth. If he's born in December, he's 12 months behind those born in the January. That's a big difference, especially when you're talking about 16 and 17 year olds. If you look at studies of ice hockey, for instance, all the top players have early birthdays. So I look at that too.
A handful of riders have been retained for next season. What will their role be?
JH: They're the nucleus of this whole project. They'll be charged with mentoring the younger riders while achieving the results to keep the sponsors happy, which in turn gives the new talent the breathing space to come on. It would have been very easy to clear the whole team out and just keep one rider, but you would have achieved nothing.
If you went to race abroad, you'd get your heads kicked in. Then come the next year you wouldn't get to race those events because you annoyed the organisers. It was always my intention to pick some younger riders, along with the very young riders and put them with the experienced guys.
Has the new approach reinvigorated you? What's your ultimate dream?
JH: Yes. What else could we do? Unless you get big, big money, going to Pro Continental level is not an option. All you're going to get is a load of riders who are set in their old ways. The sport has cleaned up, yes, but if you get desperate riders trying to reach the top level you're leaving yourself wide open.
It doesn't interest me at all. I think what Team Sky is doing is phenomenal, and my ultimate dream is to produce a rider that Sky take who hasn't come from the Academy.
How will you be able to quantify your team's success in the first few years of this programme?
JH: I think we'll be able to quantify it primarily by getting the invites to races. We're going to have to satisfy our current sponsors, too, and that ultimately comes by teaching the younger guys how to win bike races.
This article originally appeared in the December 1 2011 issue of Cycling Weekly magazine
Thank you for reading 20 articles this month* Join now for unlimited access
Enjoy your first month for just £1 / $1 / €1
*Read 5 free articles per month without a subscription
Join now for unlimited access
Try first month for just £1 / $1 / €1