12 great excuses for getting dropped on a group ride
No matter how good a cyclist you are, you'll get dropped from a group at one time or another. For some of us it's a pretty regular occurrence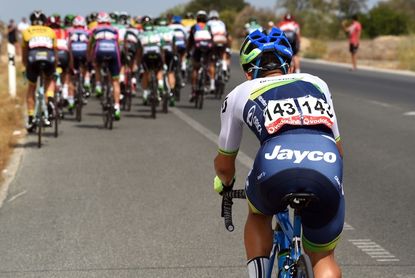 (Image credit: Watson)
Get The Leadout Newsletter
The latest race content, interviews, features, reviews and expert buying guides, direct to your inbox!
Thank you for signing up to The Pick. You will receive a verification email shortly.
There was a problem. Please refresh the page and try again.
If you're a veteran at being left behind you'll likely know every excuse under the sun, but if you're a relative novice, keep some of these lines in your jersey pocket in case you have that awkward conversation with your ride companions who've been waiting for 20 minutes for you to catch up.
I thought we turned left back there
Not knowing the route is a staple excuse for serial strugglers, even if you and your mates ride the same roads every single week.
>>> 10 excuses we make to not go out riding
Claiming not to know which turning to take is a sure-fire way to appease your grumpy friends, although they might start bringing you a map to carry in future.
I stopped to go to the toilet
It's only natural, so no-one can argue with the fact that you stopped for a comfort break. If you feel yourself struggling, sow the seeds early by telling your friends you "only went for a wee before you left" and questioning how you need to go again.
Urge them to go on and then when they're out of sight you can put your pain face on and valiantly struggle to the next stopping point on the route.
I saw some deer, so I had to take a photo of them
Strava allows users to upload photos these days, so if you have to stop, take a photo of the scenery and show your mates when you catch up. Fingers crossed you live in a naturally beautiful part of the world or you'll have to make a garden gate look arty.
I'm doing interval training today
"What's that? You're not training for a race?"
Claiming that you've got an important event coming up is a good way to make your friends think your struggles are all part of a structured training plan.
>>> 10 types of rider you'll see on every club run
Drop back from the group and when you see them stopped up the road from you put a little extra effort in so they think that was one of your two minute intervals.
There was a red light that I had to stop at
This works a treat if you live in a town or city, but if you ride predominantly in the countryside you may get called out if using the traffic light line. If you do live in the countryside, swap the 'red light' for a 'herd of cows'.
My tyre pressure isn't right today
"I only pumped them up to 90psi, instead of my usual 100psi"
It's a well-known fact that rolling resistance affects your speed. Exploit this and make people think that you know something about physics at the same time.
I only brought water with me today
Even though one of your bottles has some fancy protein/carbohydrate/electrolyte combination that gives it the consistency of syrup, claim to your riding companions that you're only drinking tap water.
I only came out to spin my legs
If you don't want to make yourself sound like a fool, apportion the blame to those around you by telling them that they're riding too fast.
>>> The 11 types of cyclist we all know
I nipped off to do a Strava segment I found
This may backfire when you upload your ride to Strava and it shows you stuck to the correct route, just riding very slowly. But, as every poor rider knows, if you struggled, just claim that Strava was down and upload your ride as 'private' so no-one can see how badly you did.
My cleats are ruined
Claiming you couldn't clip will only work a certain number of times, but if you can show that your cleats are in a terrible condition, which if you walk up enough hills they will be, then people will believe you more.
I almost got the KOM on a hill, so turned I back to do it again
Your pride and possible fame was at stake, so claim you wanted another crack at the hill that almost ruined you and was the sole reason you got dropped. Again, make sure to upload your ride as 'private' so you don't get caught out.
I must have eaten something dodgy at the cafe
Blame the chef at the cafe - that carrot cake must have been at least three weeks out of date, despite still being oven-warm. Stuff yourself with bacon sandwiches, though, and you'll have a proper excuse for being dropped.
I'm just not good enough today
Sometimes honesty is the best policy. Only sometimes, though.
Thank you for reading 20 articles this month* Join now for unlimited access
Enjoy your first month for just £1 / $1 / €1
*Read 5 free articles per month without a subscription
Join now for unlimited access
Try first month for just £1 / $1 / €1
Get The Leadout Newsletter
The latest race content, interviews, features, reviews and expert buying guides, direct to your inbox!
Stuart Clarke is a News Associates trained journalist who has worked for the likes of the British Olympic Associate, British Rowing and the England and Wales Cricket Board, and of course Cycling Weekly. His work at Cycling Weekly has focused upon professional racing, following the World Tour races and its characters.