11 types of cyclist we all know
Cyclists come in all shape and sizes, but all personalities as well. Do you love your cycling history, or keep up to date with the latest tech trends?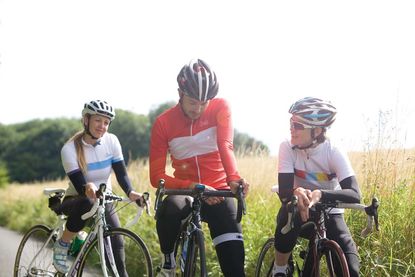 (Image credit: chris catchpole)
The Hedonist
The kind of person who bangs on about how great it is to ride a bike. The sound of rubber on asphalt, the smell of the countryside, how being on two wheels gives them a new zest for life.
Often seen riding really old or rickety bikes, because "that's the way cycling should be".
"It's great to be part of the cycling fraternity," they tell you about five times on each ride, regaling stories of how they got up at sunrise to be able to ride to the sound of birdsong.
Pipe down, son, and do your turn on the front.
The Masochist
"Doing any riding this week, John?"
"Yeah, I've signed up to a 100-mile time trial on Sunday morning."
For many mere mortals, a century ride is a thing to aspire to and will likely include several coffee stops, a lunch stop and sometimes a dinner stop. But doing it against the clock? Get out of here.
>>> Is cycling the toughest sport?
The Masochists are the type of cyclists who tell you they've spent their weekend doing hill repeats of Winnats Pass, which is at least 50 miles from their house and they took the scenic route to get there.
To the outside world their exploits seem ridiculous, but to them it's all about the challenge.
The Accumulator-of-miles
Not to be confused with The Masochists, The Accumulators take any opportunity to rack up the miles, even if it means making their life significantly harder.
The kind of person who wheels out the £7,000 Bianchi racing bike for a trip to Tescos when they need a loaf of bread. Have you ever tried to retain an air of respectability in a supermarket in full lycra and cleats?
>>> Five invaluable tips to help you step up from riding 60 to 100 miles
Of course, they Strava every little ride with detailed descriptions of their journeys. "To the shops and back - needed to pick up the wife's ointment" they write about their one mile jaunt.
"Every little helps," they tell you. It's no coincidence that's also the slogan of their favourite supermarket.
The Hoarder
"New bib shorts Jenny?"
"Yeah, I spotted them when I was buying a second pair of aero shoe covers and I couldn't resist a bargain."
Hoarders have a different kit for every month of the year, and you rarely see them wearing the same jersey twice. They've got a whole drawer in their house dedicated to their collection of knee warmers.
Arguably these riders are the easiest to buy Christmas presents for as their thirst for new kit is insatiable, although finding something they've not already got could be a challenge.
The Fairweather Cyclist
These people spend hours of their lives plotting potential routes on Strava and then never actually ride them because "the weather looks a bit iffy".
Be it meteorological problems or an unidentified niggling injury, these riders will find any excuse not to get out on their bikes.
>>> 10 excuses we make to not go out riding
Often these are the riders in your friendship group with the best bike, always cleaning it and adding new things gadgets as a motivation to use it more, before realising that the roads might be wet as it rained last Thursday, and deciding that, actually, they don't want to risk getting their bike dirty
The Tech Geek
This is the kind of person who can spot a compact FSA chainset from 30 metres off and notices immediately if you get a new headset cap.
We all love some shiny new things for our bike, but the Tech Geeks know everything there is to know about the latest trends. These riders are often too poor to buy a drink at the coffee stop because they're saving for their new gadgets.
While they know all there is to know about the technology itself, they are often completely useless at fitting it on their bike or fixing it if it goes wrong.
The Condescending Tech Geek
This is the kind of person who can spot a compact FSA chainset from 30 metres off and then berates you for the other 29 metres for your decision to purchase such an apparently terrible item with such obscene gear ratios.
>>> 11 cycling products you definitely don't need (but secretly want)
"A real man rides a 53/39," they snottily sneer at you, and they've not even started on slating your decision to plump for £300 wheels when there's better ones on the market for 'just' £500 more, like the ones they've got.
The Statistician
"If we're to climb that mountain in an hour we'll have to average 300W," they tell you, putting their calculator and power charts down.
This despite the fact they've never put out 300W in their life, let alone on a 10 per cent gradient for 60 minutes.
Anyone who uses Strava can get a little engrossed in their stats after a ride, but the Statistician will be able to recall their exact progression up that hill near their house at will, and often without prompt.
The Commuter
This is the person in the office who sits with a smug look on their face as Jean from Accounts slumps in 20 minutes late after being stuck in traffic.
When Barry from Sales comes in 10 minutes later, after suffering from a series of cancelled trains, The Commuter pipes up: "My ride to work was lovely, I was at my desk just half-an-hour after leaving my house."
>>> Nine reasons why commuting by bike is surprisingly brilliant
Usually seen slopping porridge on their keyboards and uploading the same six-mile route on Strava two times a day.
The Extreme Commuter
Similar to the above, but this is someone you know lives 30 miles from work and yet they still cycle in every day.
"You must have to leave early to get to work, Steve?"
"Not really. I was out the door at 5.30 this morning."
These are the cyclists who don't really need a bathroom in their house, because they shower as soon as they get to work.
After slopping porridge on their keyboards they then proceed to eat heavily throughout the day to replenish the calories they burned through on the way to work, and prepare their bodies for the two hour ride home.
The Historian
"That was like when Eric Vanderaerden won stage 10 of the 1984 Tour de France," The Historian chimes after they sprint past you.
They can instantly recall the result of any race in history, as well as the components used on most of the bikes used.
Like The Hedonists they're likely to ride a really old bike, maybe a replica of Giovanni Battaglin's 1979 Colnago with ridiculous gear ratios. As such they often avoid routes with major hills as they physically won't be able to get up them.
But if it was good enough for Eddy Merckx, it's good enough for them.
Thank you for reading 10 articles this month* Join now for unlimited access
Enjoy your first month for just £1 / $1 / €1
*Read 5 free articles per month without a subscription
Join now for unlimited access
Try first month for just £1 / $1 / €1
Stuart Clarke is a News Associates trained journalist who has worked for the likes of the British Olympic Associate, British Rowing and the England and Wales Cricket Board, and of course Cycling Weekly. His work at Cycling Weekly has focused upon professional racing, following the World Tour races and its characters.