12 things every cyclist has in their garage
Cyclists are great collectors of things. Nothing is too old or worn to throw away, just in case you ever need it again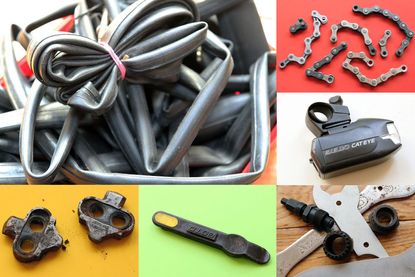 (Image credit: Nigel Wynn)
It's tough to admit it, but cyclists do have a tendency to hoard bits of old kit that are quite possibly well past their use by date.
Keeping such a collection of parts has a sound theory behind it: those worn items might just do as a back-up in an emergency, or that box of bits reserved could be used for a winter bike that hasn't quite materialised yet.
You like to think of it as more treasure trove than junk pile. Even if that isn't quite the reality.
Here is a compendium of items that we'd bet you could find in the average cyclist's garage, shed or basement to accompany their bike(s).
>>> Six things no-one tells you when you start cycling
A length of cable outer that isn't long enough for anything
You paid good money for that replacement cable set, and carefully cutting off the right length of cable outer to stop your bike looking like a mobile clothes line has meant that you have at least 75p worth of black tubing left. It could come in handy for a very tiny bike with a short cable run.
Tools for bottom bracket/headset you no longer own
Remember the days of headsets that required two spanners to tighten them up? Of those old cartridge bottom brackets? They may be obsolete tech now, but the tools you bought at great expense to service them still look good. Keep them just in case the world reverts to one-inch threaded headsets.
Half-used brake pads
You changed your brake pads because they were looking dangerously worn, to the point where your levers were all the way back to the bars and the barrel adjusters at maximum. However, what if you ever need an emergency set of brake pads with enough life for a couple of metres of braking? Sling them in a box, just in case.
Spare links left over from shortening a chain
Rather like the spare bit of outer cable we mentioned earlier, there is something upsetting about shortening a chain and being left with a few perfectly good, brand new links. Keep them somewhere safe and after a lifetime of changing chains you may have enough spare links to make a whole new one. It doesn't matter that the links will variously be eight, nine, 10, 11 and possibly 12-speed...
Old wheels with worn-out rims
What do you do with old wheels with worn-down rims? The hubs are perfectly serviceable but the whole wheelset is rendered useless by the rims being in a condition that means one more episode of hard braking and there could be disaster. You could get some new rims put on there, of course, but that would cost about as much as buying a new set of wheels. New wheels it is, then. And keep the old ones, just in case.
Worn-out cleats
Those old cleats barely stay in the pedals any more, but you can detect that there is a small amount of wear left in them. Just in case.
>>> Embarrassing cycling problems, and how to prevent them
Collection of inner tubes waiting to be fixed
Of all the items in your bike shed/garage, this is perhaps the one that creates the most guilt. You know that inner tubes can be fixed, and you will get around to it one day. For now, though, let's just pop a new one in the tyre because you're not sure that tube of patch glue is still any good. Fix them all next week.
Cassette with one less sprocket than is needed
The old cassette with one less sprocket than you need takes two forms: one is literally an old cassette where one of the vital pieces has rolled under a set of shelves never to be seen again; the other is a seven-speed cassette dating back to 1989. Kept for spares, just in case.
>>> Are you using your bike's gears efficiently?
An obsolete bike light
One of the few parts of bike technology that has truly evolved in leaps and bounds in recent years is bike lights. Modern LED lights are small, light, bright and can be recharged via the ubiquitous and convenient USB socket. The sorry old bike light that you keep - you guessed it - just in case, is dim, heavy and leaking some corrosive fluid all over your collection of rounded-off bolts.
One odd tyre lever, not part of a set
The other two were either left in a layby, fell out of your back pocket, snapped or got eaten.
Some bits of an old groupset
Whole websites are dedicated to the inter-compatibility of bicycle components (probably), but don't let that stop you keeping hold of that old front derailleur that doesn't fit your frame, the shifters that offer two gears too little and the derailleur with perfectly round jockey wheels.
Various shims, washers and adapters
Bike stuff tends to come with other stuff. And it all has to get put safely somewhere. Those extra light fixings for handlebars too thick/narrow, bike computer mounts, valve caps, Aheadset spacers, cable-end nipples, manuals, washers that you can't remember what they are for, etc must be kept. JUST IN CASE.
... And one thing you definitely don't keep in your garage
Who has room in their garage for a car?
Thank you for reading 20 articles this month* Join now for unlimited access
Enjoy your first month for just £1 / $1 / €1
*Read 5 free articles per month without a subscription
Join now for unlimited access
Try first month for just £1 / $1 / €1