Six things no-one tells you when you start cycling
Everyone's a beginner once, but some people are more prepared for what cycling's all about than others. Here's what no-one ever tells us about before we get into cycling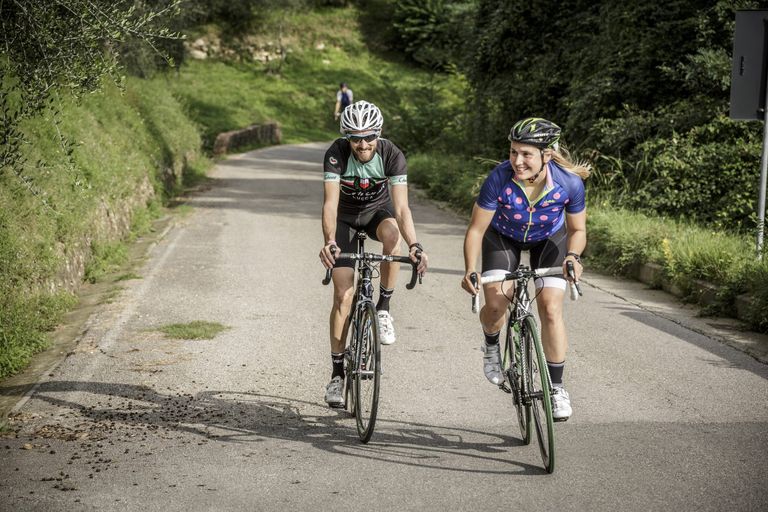 It's really hard
This one is kind of obvious, but it still comes as quite a shock just how physically demanding cycling is.
Unless you come to cycling from another sport, chances are you'll be reasonably unfit when you first sit on a road bike.
With mental images of powering to victory up Alpe d'Huez, you'll actually find yourself pouring with sweat and feeling a little bit sick within five miles of your house.
>>> Nine beginner mistakes and how to avoid them (video)
"It wasn't this hard when I used to do my paper round on a bike," you say to yourself as you struggle to hit a respectable speed in the lightest of headwinds.
The difference is, though, that when you were doing your paper round, no-one expected you to ride fast. Now you're on a flashy bike you feel the need to travel slightly faster than 10mph.
>>> Beginner cyclist: tips and tricks to get you off to the best start
The bad news is, though, that it never really gets much easier - as Greg LeMond said - you just get faster.
You can't avoid going up hills
The first time you encounter a hill on your new bike is likely the first time you consider putting your new machine straight on eBay and forgetting all about your brief love affair with cycling.
There's no greater leveller for an inexperienced rider than a slight incline and a complete lack of understanding of how to use your gears.
>>> Nine signs you need to get out on your bike more
"Take as much speed as you can into the hill," your friends will tell you. And this is good logic. Except that you can't remember how to change down a gear and you end up stuck in the big ring as the hill gets tougher.
As hard as you may try, while sitting at home looking at a map, you can't escape the hills (except if you live in Lincolnshire) and the easiest way to get over your fear of climbing is to face it head on.
>>> Are you using your bike's gears efficiently?
We've all had to do a walk of shame - pushing our bike up a hill that's defeated us in one way or another - so, in fact, there's no shame at all.
You end up buying A LOT of kit
If you're like me, you set out by buying a road bike and just learning to ride it without any of the faff of buying specific cycling kit.
Flat pedals with little reflectors on looked a bit ridiculous on my brand new Felt, and I wasn't the trendiest in regular gym shorts and a t-shirt but I wasn't prepared to turn into 'one of those guys in Lycra' just yet.
>>> 10 worst winter kit mistakes and how to avoid them
Then I found out just how uncomfortable the saddle was and I set about searching for some padded shorts.
Then came the cycling jersey, and the rain jacket and the cleats and the arm warmers and the toe warmers...you get the idea.
>>> The 25 worst pro cycling kits of all time
I now set aside half of my wardrobe space for cycling kit, but it still doesn't feel like enough. The sooner you give into the fact that you'll own more cycling gear than normal clothes, the sooner you'll become a real cyclist.
You'll become more well known at your local cafes than you are at your local pub
Cyclists like coffee and cake, there's little doubt there. Becoming a cyclist means that you'll become well known at the cafes in your area, but unlike being a regular at the pub at the end of your road, you'll only ever go to cafes that are about 30 miles away from your house.
It's strange that one of the most enjoyable things about cycling involves you not actually being on your bike, but a cafe stop has long been a ritual of cyclists of all levels, so to not stop for a cake and some caffeine after a tough slog would just be rude.
Your diet will consist of energy bars and gels
When you're not in the cafe you'll find that your diet doesn't really improve much. A bit of porridge before a ride, maybe a banana if you're feeling exotic.
But in reality, the rest of your daily intake of calories will come in the form of energy bars that are claimed to taste like apple and a bevy of gels.
Sure, they work while you're out riding, but the lesson you'll soon learn is that too many gels will turn your guts to water...and that's something no-one wants while out on a ride.
You'll end up getting addicted
There's no escaping it; cycling will take over your life. The joy of being out in the countryside, with nothing between you and the open road is something that never wears off.
>>> You know you're a cyclist when…
Even if you're the kind of rider who needs a little encouragement to get out on your bike, it's likely that you'll spend a good part of your time looking at places to ride, kit to buy, gadgets you need and ways to fix your bike.
It's inevitable, so don't fight it!
Stuart Clarke is a News Associates trained journalist who has worked for the likes of the British Olympic Associate, British Rowing and the England and Wales Cricket Board, and of course Cycling Weekly. His work at Cycling Weekly has focused upon professional racing, following the World Tour races and its characters.