I learnt how to ride a bike as an adult and you can too
If you're a new rider yourself, or know someone who is, here's all the advice we wish we'd received when we first got on the bike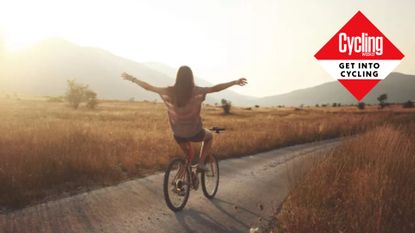 (Image credit: Getty)
"When I was a kid, I lived at the top of a steep hill. My mother was frightened that I (or my brother) would go down the hill at speed and kill or injure ourselves. And so we never learnt to ride," the now 58-year-old told Cycling Weekly.
Malcolm Waite from Exeter, Devon, UK, was 40 years old when he decided it was time to learn how to ride a bike. Up until that moment, he'd never so much as straddled a bike before.
But then, 18 years ago, Waite and his wife had just moved house and his wife, after learning her work was now just an hours' walk away, bought herself a second-hand Peugeot hybrid to start biking to work.
"She used to bike everywhere when she was a teenager, really loved it, but gave up once she met pedestrian me," Waite said. "Now that's love."
The bike wasn't a very good one, however, and his wife just couldn't get comfortable on it. After a few attempts at bike commuting, she returned to walking.
That's when Waite took his chance.
"I was at home, working on renovating our new home, and watching the new cycleways near our house being developed. I thought: 'I've got the time, I've got the bike, I live in a traffic-free road, why don't I give it a try? It can't be that difficult'," Waite recalled.
He started with simply balancing on the bike, then progressed to wobbling up the road and ultimately tried riding to work.
"Several crashes later, I managed it!" Waite said. "I bought a decent bike, and then started biking everywhere."
Waite taught himself, which he, in retrospect, admits may not have been the best way. But he took his time and learned from his three- and four-year-old neighbours.
"At the same time I was learning, there were young kids riding balance bikes up and down my road. Watching them, I thought the best place to start was by learning the feel of the bike, and trying to balance while the bike was stationary. I fell over many times but kept going, and eventually, I could take my feet off the floor and stay upright – I was amazed!" Waite shared.
"When I could stay upright for more than 30 seconds, I told my wife that I was going to try pedalling down our road. I started pedalling and wobbling down the road. I found the effort astounding! I was exhausted but I did it, and I was hooked. No books, no internet, no videos — just the inspiration of those little kids on their balance bikes."
Waite has ridden countless miles since then, often with his wife accompanying and challenging him.
"Some of my very best moments ever, have been out cycling with my wife. She started taking me out for long and hilly rides — I have loved every minute,".
How to learn to ride a bike
If Malcom's story inspires you to become a cyclist for the first time and find out how to learn to ride a bike as an adult you've come to the right place.
Every person you see on a bike was a beginner cyclist once. Regardless if that was when they were three years old and astride one of the best balance bike or well over 40 and venturing out on a borrowed or best hybrid bike or just like Malcom and found one an ideal cheap road bike.
The benefits of cycling are huge, from making you happier and fitter, and even helping to save on the fuel bills by going car free.
But knowing where to start can be a minefield. We spoke to Kirsti Grayson founder of GoVelo, a cycle activity provider and instructor in North West England, for how to learn to ride a bike as an adult.
Having grown up in Africa, before moving to the UK and raising a family, she understands that riding a bike can be more than just a great recreational activity.
"After starting out teaching children how to ride in school playgrounds and carparks, a lot of parents confessed to me that they had never leant how to ride" Says Kirsti. "it was in an area of deprivation, with a lot of small terrace houses, with no gardens and cobbled hilly streets. Then the local council installed a purpose built cycling track in the local park, which was flat, traffic free and gave the ideal space for adults to learn to ride too.
"It's wrong to assume that everyone learn to ride a bike as a child as not everyone had access to bikes, be it cost to own one, space to keep a bike, or were even allowed to learn. Some of the women in the community groups I work with now have told me that learning how to ride a bike as a adult was on their bucket list all their life after been banned from riding in their country of origin or from family members.
"Learning how to ride a bike as an adult is more than just pedalling. It's considered therapy on two wheels as it gives the learner the skill of decision making, a sense of achievement, confidence, owning a skill just for them, and the belief that you can do something just for yourself.
How to learn to ride a bike - US
In the US, there isn't a national program for teaching how to learn to ride a bike as an adult and learn to ride programming differs per community. Contact your local bike shops for classes near you, or check out the League of American Bicyclists' handy map. http://bikeleague.org/map
On this map, you can enter your location and find a list of all certified League Cycling Instructors in your area. There are often both group classes and private lessons. If there's a local cycling non-profit in your area, the map will indicate that, too.
How to learn to ride a bike - UK
The UK is really fortunate to have a national cycle training programme that supports and teaches how to learn to ride a bike for all ages. Bikeability.org.uk has a full list of accredited organisations and individuals.
Although this isn't government funded, many of the registered organisations, such as GoVelo, have been successful at securing funding to be able to offer some teaching for free or a reduced price to participants.
Even if you are a returning rider after a lengthy hiatus, Bikeability is a great place to start finding your confidence again, again with some organisations also providing bikes to get going on.
Top tips for a beginner cyclist
1) Buy your bike from a local shop
Your local bike shop will be a fountain on knowledge when it comes to ensuring that you get the right bike to start off with. If you prefer to do a bit of homework before you start shopping, ensure to read our road bike size guide to help find a frame that fits.
Even if you know your size, your local bike shop will be able to sense check your calculations and make sure the bike fits you, help you get set up on it, probably offer you a free six month service, and be there to help you out when you've got questions.
Expertise and advice now will save you cash in the long run.
If you're not sure what style of bike you want you can find all you need to know on our how to buy your first road bike page.
But if you're wondering what else is out there a quick guide is; an endurance focused road bike will suit most beginners. A cyclocross, adventure road or gravel bike may be up your street if you want to travel off road, and a hybrid bike could be an option should drop handlebars feel intimidating (though we'd encourage you to test ride a road bike first).
We've got a host of buying guides to help you out find your perfect bike
2) Get comfortable on your bike
Many pro cyclists who have been riding for decades are still tweaking their bike fit - when it comes to performance, for some riders bike fit is a never ending process of adjustment based on individual factors and goals.
However, there are some basic guidelines that can apply to all riders looking to ride in comfort and avoid injury, even if it's a DIY bike fit.
Optimum saddle height can be found by placing your heel on the pedal at its furthest away point. Our page on how to set your saddle height tells you all you need to know, but as a quick summary; your leg should be straight, so when you clip in, there's a slight bend. You want a slight bend in your elbows, too - you know the reach is right when the front wheel of the hub disappears from view under the handlebars when you are riding on the tops.
3) Learn how to fix a puncture
There's no good reason any rider should find themselves stuck in the middle of nowhere with a flat tyre and no means to fix it, even if you've only just discovered how to learn to ride a bike as an adult.
If you don't know, then read our guide on how to fix a puncture, or get someone at a bike shop, a friend, or the internet, to teach you. Then practise at home until it's easy.
You will also need other basic tools, one of the best bike pumps and the best cycling multi-tool and Allen keys as we'll as knowing how to use them to make sure you can get home if you suffer a mechanical while out on a ride.
4) Invest in a few key pieces of kit
Cycling can, at first, appear to be a rather expensive hobby. And it can become so, but it doesn't need to be. You don't need to splash out on a wardrobe that would suit a cast member of the Power Rangers movie to be comfortable.
Even before you start your journey on how to learn to ride a bike as an adult, you should consider purchasing one of the best cycling helmets. The law is mixed depending on state or country as to their legal requirement, but if you do want or need to own one, it's not an area to scrimp on.
Another important purchase is bike lights. Most laws require at night, although some may require day lights too. Legal requirement or not, we highly recommend using a pair of the best bike lights on every bike ride to keep you as visible as possible.
Even with the most secure set up, investing in one of the best bike locks acts a great deterrent to bike thieves, and some insurance companies insist on your bike being locked with a specific standard of lock every time your bike is left unattended.
Other items of apperal are essential, but will certainly make all bike rides much more comfortable year round, such as a pair of the gloves with the best winter cycling gloves keeping your hands warm in winter.
The best cycling shorts for men or perfect women's cycling shorts (or tights in winter), a base layer and best long cycling jersey will go a long way to keeping you riding.
By far the biggest must have after helmet, locks and lights however is one of the best waterproof cycling jackets. This will make a huge difference in keeping the worst of the weather out on any ride.
5) Join a cycling club
From the outside, a cycling club might look like a mass of confident, intimidating lycra clad experts. But a good cycling club will welcome you, and be there to help you out with any technical questions, mechanical difficulties or routing conundrums you have.
In the UK you can find clubs on British Cycling's handy finder. If a traditional club feels too daunting, check out Let's Ride or Breeze Rides for women. Alternatively, check out the ride groups on Cycling UK's site - there's a range of member groups and should be something on offer for riders of all abilities.
6) Don't put up with saddle discomfort
Saddle discomfort is very common, and knowing how to choose the right saddle for you can feel a little overwhelming.
If you are already feeling discomfort, listen to your body, work out where the problem area is, and look for a retailer with a test ride service to save you wasting cash on failed solutions.
Take some time to read our guides on either the best men's saddles or best women's saddles to help you work out what size or style seat would be right for you.
Teaming a great saddle with a pair of the best cycling shorts for men, or best women's cycling shorts (without underwear!) and applying chamois cream will also help, but the right saddle is key.
7) The gears are there to help you
Learning how to use your road bike gears will have a huge difference on your ride. The key is not be lazy or try to fight the terrain. Shift into a smaller chainring, and larger rear cassette cog, for easier pedalling on the hills. Use a larger chainring and smaller rear cog to pedal more smoothly and go faster on the flat.
Spend some time practising on a flat road - in time, shifting into the correct gear will feel natural.
You'll know you're in the wrong gear if you find you're spinning the cranks incredibly fast, but barely moving; or grinding your way up a hill and finding the resistance so great you're pedalling becomes slow.
8) Be confident on the road
Ride about a metre from the edge of the road - this gives you room to move around obstacles (pot holes) and it encourages other road users to give you more room when overtaking.
Make sure you are up to speed for the highway rules or code for your state or country.
Whatever country you are riding in, the guidelines published by Bikeability - are really helpful, particularly taking the Primary Position (centre of the lane) at junctions, roundabout and other areas where it's not safe for other road users to pass.
9) Practise some basic technique
Once you've learnt how to ride a bike as an adult, practice your new skills.
You don't need to go from zero to careering down the side of Alpine mountains at speed. But a few basic skills will help you to feel more confident.
Remember how to use your brakes and that your front brake is much more effective at stopping you, so get used to feathering it lightly alongside the rear, rather than grabbing a handful of lever.
When cornering, be sure to slow down to an appropriate speed before you hit the bend, this saves you braking on it. Lift up your inside knee and apply weight to the outside to maintain balance. Our page on how to corner a road bike goes in to this in a helpful step by step guide.
To learn how to be a better climber, remember that when approaching a climb, keep pedalling to help carry as much momentum as possible into the ascent and get out of the saddle regularly to stay comfy.
Going down hill is all about confidence so top yours up by refreshing your knowledge on how to be a better descender .
10) Eat and drink as you ride
While most people will appreciate a sip of a drink while working out, if you've come from another sport - like running or swimming - the idea of eating as you go may seem a little alien. But once you've learnt how to ride a bike as an adult, you too may sometimes head out for multiple hour rides so will need to fuel as you go.
If you're riding for more than 90 minutes, take a snack such as a cereal bar, and aim to eat something every hour. Cyclists usually carry water in a bottle mounted on the frame. Extracting the bottle to drink as you pedal takes practice, but it's worth it.
Cycling coach Deena Blacking tells us all about nutrition for cycling to make sure you are getting it right. It's also worth calculating calories burned cycling to make sure you suddenly don't run out of steam mid ride.
11) Don't do too much too soon
Cycling is not weight bearing - which means that amongst a host of other equally important benefits - it doesn't put a lot of strain on your joints and is a good choice if you want to get fit and lose weight.
However, do too much of anything too quickly and you can wind up feeling fatigued, getting injured, or simply sick of it.
Build up your cycling volume gradually, creating or following a cycling training plan if you've got goals you want to work towards.
Make sure you get adequate recovery, and look at the big picture - focusing on gradual improvement in pursuit of a happier, fitter, healthier you in the long term.
Thank you for reading 10 articles this month* Join now for unlimited access
Enjoy your first month for just £1 / $1 / €1
*Read 5 free articles per month without a subscription
Join now for unlimited access
Try first month for just £1 / $1 / €1
Hannah is Cycling Weekly's longest-serving tech writer, having started with the magazine back in 2011. She has covered all things technical for both print and digital over multiple seasons representing CW at spring Classics, and Grand Tours and all races in between.
Hannah was a successful road and track racer herself, competing in UCI races all over Europe as well as in China, Pakistan and New Zealand.
For fun, she's ridden LEJOG unaided, a lap of Majorca in a day, won a 24-hour mountain bike race and tackled famous mountain passes in the French Alps, Pyrenees, Dolomites and Himalayas.
She lives just outside the Peak District National Park near Manchester UK with her partner, daughter and a small but beautifully formed bike collection.