How to use your brakes properly (video)
We look at the safest and most effective way to pull on the anchors, whether you're riding alone or as part of a group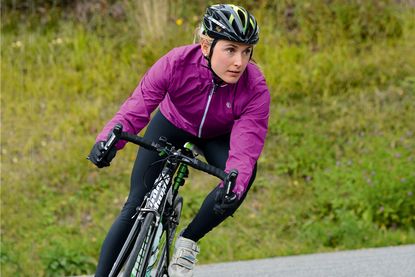 Knowing how to use those two levers on your bars is one of the most important skills you can develop as a cyclist. Dan Fleeman of Dig Deep Coaching talks us through the basics.
"A lot of people apply the brakes too hard, especially going downhill," says Fleeman. "On a road bike you never need to slam the brakes on fully; even if you're going down an Alpine descent at 100kph, the key to controlled braking is feathering the brakes."
>>> Five invaluable tips to help you step up from riding 60 to 100 miles
But which is the most important brake to use? Fleeman says: "The best thing to do is feather the front brake; that's the most powerful one and can help you control the speed better. Bias your braking towards the front and you'll get the bike under control; just feather the rear lightly."
>>> The disc brakes debate: are they necessary on road bikes?
And is shifting your weight backwards when braking down a hill a useful technique to apply? Freeman certainly recommends using your upper body, but in a slightly different way. "Everyone goes on about aerodynamics, but if you sit bolt upright you can slow yourself down by 5mph. By all means put weight over the back wheel but there's no need to hang right off."
The essentials
Don't panic!
Feather the brakes — have a light action
No sudden movements
Use your body weight, too
So, we're barrelling down a hill and are faced with a corner — what now? Fleeman advises the same whether you're descending or on the flat: "You want to be exiting the corner as quickly as possible, so gauge how much speed you need to scrub off before you get to it — get all the braking done before you tip in."
>>> How to taper for a big event
Of course, once you factor other riders into the situation, things change. "You're in very close
proximity to several other riders, and you need to control your brakes to prevent overlapping wheels," says Fleeman. "But don't go slamming them on, as that can cause a ricochet effect further back down the bunch.
"The crucial thing in a group is not to panic, and to just relax as much as possible."
>>> Cycling training plans: get fitter, ride faster and go further
Talking of panic, we've all been presented with gravel, oil and other road hazards. But should you use the brakes at all on rough, loose surfaces? Freeman says it's better to use the rear if you can't steer round. "If you notice gravel, oil, or even in the wet, often it's best not to touch the brakes. But if you're going to use them here use the rear, not the front — that way you won't wash the front end
of the bike out."
Key points
Be aware of people around you in a group riding situation, and apply only minute inputs on the brakes if you need to use them.
If you're approaching a corner, make sure that all of your braking is done before the turn, so you enter it smoothly and ready to blast out the other side.
Cover the brakes with one finger, whether you're on the hoods or the drops. Most modern brakes only need two fingers of pressure to bring you to a stop.
There's no substitute for being relaxed. A light grip on the bars and mindfulness of how much brake you need to apply for a given situation goes a long way.
If you need to use the brakes on loose road surfaces, try to leave the front brake alone and just use the rear. This lessens your chances of losing the front end of your bike and hitting the deck.
If you're travelling downhill, consider using your body as an air brake by sitting upright and putting yourself in the wind.
Thanks to Dan Fleeman of Dig Deep Coaching
The original version of this article by Marc Abbott appeared in the May 7 edition of Cycling Weekly
Thank you for reading 20 articles this month* Join now for unlimited access
Enjoy your first month for just £1 / $1 / €1
*Read 5 free articles per month without a subscription
Join now for unlimited access
Try first month for just £1 / $1 / €1