How do I get started in cycling on a budget?
We take you through the essentials you need and offer some value oriented suggestions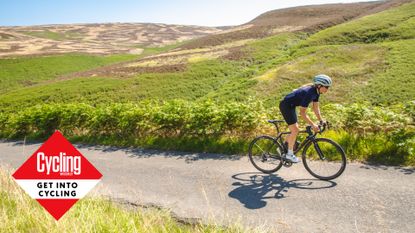 (Image credit: Future)
While the reasons for becoming interested in road or gravel cycling may vary greatly - a nudge from a friend, a desire to get fitter, inspiration gained from watching a professional bike race - the required items for getting started will not.
You'll of course need a bike - either road or gravel-specific depending on your preference. You'll then want a helmet too, alongside some cycling-specific clothing for additional comfort. Finally, you'll require a decent pump to keep you rolling.
We've put together this handy guide to highlight the five key items you need to get you started in road cycling.
Of course, there are other items you can add to this list depending on your budget. And it's likely that once you're riding with more regularity and greater confidence you'll want to expand your kit to allow you to cycle for longer and during varying weather conditions. Think waterproof jacket, lights and gloves.
But in essence, armed with a road-worthy bicycle, a helmet for safety and some appropriate clothing and you're good to go. Fortunately, these can all be bought on a budget, enabling anyone to get the wheels turning without breaking the bank - here we explain what to look for.
If you're itching to get out cycling you might also want to read our 'beginner cyclist tips' guide. Here we go into some of the ways you can really maximise your riding and keep up the motivation whilst riding alone.
The bike
Road bike
So what should you look for in an entry-level road bike on a budget?
The choice in the best cheap road bike end of the market isn't vast. If you're used to riding a flat-bar hybrid you'll also quickly discover that drop bars means 'less bang for your buck', in the common parlance. But even within this smaller pool, there are likely to be bikes that are better suited to your requirements than others.
If you're new to cycling in general, you'll want a bike with a fairly relaxed road bike geometry. This is sometimes referred to as 'endurance' geometry. This translates to a more upright riding position for comfort as well as one that allows you to see the road ahead clearly. An endurance bike is also likely to have a longer wheelbase for increased stability. Fortunately, most entry-level road bikes should fit the bill, with an intended goal of comfort over speed. As for frame material, it's almost certainly going to be aluminium. It's a great material for road bikes of all price points, being both light and durable.
While you may have disc brakes on your hybrid, you're unlikely to find them on a road bike with a budget price tag. If you're set on disc brakes you'll need to have slightly deeper pockets. But modern rim brakes provide plenty of stopping power when descending, and are also pretty easy to maintain.
It could also be worth looking for a road bike with mounts, or 'bosses', for mudguards and even a rear rack. The best road bike mudguards do a stellar job of not just keeping you clean and dry but also your bike. They can add life to its moving parts as well as saving you from having to clean your bike quite as much during the winter months. A rear rack is less essential, but if you also fancy riding your road bike to work for example, then one of the best pannier racks is a handy addition.
When it comes to the number of gears, you'll be governed by your budget. Expect a 16-speed drive chain, which is derived from a double chainset and an 8-speed cassette. At the lower end you may find bikes with a single chainring even, which does simplify matters if you're new to road bikes, removing the need to shift gear 'at the front'. If you spend a little more, that 8-speed will become a 9 and maybe even a 10-speed depending on how deep you dig. It's also likely that more of the drive chain components - front and rear derailleurs, chainset, shifters - will come from a single respected brand, most probably Shimano.
Regardless of whether you spend above or below your budget you'll certainly want a low gear to help you up the hills. Aim for a rear cassette whose largest sprocket has 30 or 32 teeth; when you're looking at a bike's specifications cassette size will list the smallest and largest sprocket, for example 11-32t.
Triban RC100 / RC120
Reasons to avoid
-
Rim brakes limit maximum tyre size
Decathlon has proven to deliver great value road bikes across its Triban and Van Rysel Decathlon ranges, with a specification and performance far exceeding the price tag. Its Triban branded RC100 and RC120 are two such examples.
The RC100 is designed as a 'first' road bike, with ease of use and comfort its priorities. It's built around an aluminium frame with sensible geometry that puts you in a more upright riding position. The bike comfort is further aided by clearance for 32mm tyres, and there's the option to fit mudguards and a rear pannier rack, which means it will work year-round and could do double duty as a commuter if required. When it comes to the gears, it's equipped with a single chainring and a bar-mounted shifter for simplicity.
For £100 more you can upgrade to the RC120. For the extra expenditure you get a carbon fork and a 2x8 drive chain that includes integrated brake and shifter levers and a very usable spread of gears for a variety of terrain. Like the RC100, the 120 uses rim brakes. If you're looking for a disc option the Triban RC120 with discs will set you back £100 more than its rim-brake namesake.
Gravel bike
While cyclists have long ridden gravel roads, a dedicated gravel bike is a relatively new creation. Being newer means that the best budget gravel bikes at an entry-level are going to be more expensive than their road equivalent, realistically by as much as £100 or more.
However, a cursory glance might suggest there is little to distinguish a drop-bar gravel bike from a road bike, but there are a few differences.
A gravel bike offers greater tyre clearance than a road bike. It's commonplace for them to have room for tyres 40mm wide and up, while a modern road bike is unlikely to allow for anything wider than 30 or 32mm at best. Even at the slicker end of the best gravel tyres, they will also have a more aggressive tread pattern than a road tyre, which will either be fully slick or with a minimal amount of tread.
The combination of width and traction makes them well suited to dealing with a range of terrain, and allows the rider to explore tracks and paths that might be less accessible, or perhaps impossible, on a road bike with slick and narrow tyres.
Gravel bikes will feature disc brakes rather than rim brakes, allowing for that extra tyre clearance as well as providing consistent stopping power across a range of conditions. The geometry is also likely to be even more relaxed than an endurance road bike, with a longer wheelbase and a slacker headtube angle to aid control on off-road tracks and trails. Other differences could include flared handlebars - bars that feature additional width in the drops are amongst the best handlebars for gravel bikes as they provide improved control - as well as extra mounts for a third water bottle or top tube bag.
If you plan on getting off the beaten path, then a gravel bike makes sense. They also work well as commuting and touring bikes; the extra tyre width translates to a comfortable, albeit slower ride, while the mounts mean you can add guards, racks and bags. However, if you're going to spend most of your time on the road, then a dedicated road bike is likely a better fit. It will be faster and more efficient - and armed with 30 or 32mm tyres you can comfortably take on some tow paths and light gravel roads too.
Triban GRVL 120
Reasons to buy
+
Gravel ready on a budget
Reasons to avoid
-
Gearing is a little low for speedier cyclists
The GRVL 120 shares many attributes with the Triban RC120 road bike, namely an aluminium frame, carbon fork and well-specced componentry. To make it suited for gravel and other off-road riding, the tyre clearance is wider still, with 38mm tyres fitted as standard.
There's mechanical disc brakes and a 1x drivetrain, which uses a single 38t chainring and a 10-speed 11-42t cassette for a wide gear range. The rear derailleur features a 'clutch' mechanism, which helps to keep the chain from jumping when riding rougher terrain. Other 'gravel-specific' components include handlebars that feature a 16-degree flare.
Helmet
After buying the bike, a specific cycle helmet is the first accessory we really recommend. While the laws in your country may not require you to wear one, it's of course sensible to do so.
If you're new to cycling, you'll be new to cycling helmets. Look for one that exceeds all safety requirements and is from a 'recognised' brand. If your budget allows for it, amongst the best cycling helmets are those that feature the Multi-Directional Impact Protection System (MIPS) which provides additional protection against rotational forces to your brain during the event of a crash.
Sizing varies from one brand to another so after measuring your head at the widest part - just above the ears and across the bump at the back - match your measurement to the brand's size guide. It's important to remember that shapes vary from model to model, with some favouring oval heads, and other round heads.
All of which means there's no substitute for trying a helmet on to see how it fits, feels and looks; after all, the most important thing is to get one that you actually like wearing. Look for pressure points as an indicator that the helmet may either be too small or not suited to your head shape. Likewise, if the helmet still moves around after you've tightened it, try the size down for comparison. Finally, you may want to try the helmet on with a cycling cap underneath, which can help to keep your head cool in the summer or warm in the winter.
Road helmets at the cheaper end tend to be well-suited to both longer rides and commuting, with comfort and safety as its primary aim. Amongst the best budget cycling helmets, some will be more compact in shape while others will have more vents, yet more reasons to shop around and try the helmet on. If you ride regularly in warm weather, look for a helmet that offers plenty of ventilation.
Specialized Align II MIPS
Reasons to avoid
-
Heavier than more expensive helmets
Specialized's Align II MIPS is affordable helmet that's definitely worth consideration - not only do you get MIPS' safety technology at a very low price, it is well made and provides a good fit too. The helmet features styling and spec associated with more expensive helmets, including the brand's 4th dimension cooling system which is designed to optimise ventilation.
Cycling shorts
While stylistically they may take some time to get used to, a pair of dedicated cycling shorts will quickly become your best friend. The longer you ride, the more essential they become, providing extra padding around the seat to keep you cushioned over long distances.
They're meant to be a snug fit, with the lycra construction allowing for ease of movement. And before you ask, you don't wear your normal underwear underneath!
There are two options here: cycling waist shorts and cycling bib shorts. Waist shorts can easily be worn under a regular pair of shorts if you don't fancy the lycra look. However, that elastic waistband can prove a little uncomfortable for some.
The best bib shorts eliminate this issue, using over the shoulder straps to keep them in place as well as providing some extra coverage for your lower back when the temperature drops. Mid-ride comfort breaks are more tricky in bibs though.
Whichever you opt for, it's the pad that's at the heart of the shorts. While you may find a pair of 'cycling' shorts for under £10 on Amazon, the pad is likely to be of poor quality, offering little padding or comfort. However, budget shorts from reputable brands will have a functional pad as well as being made from a fabric that's supportive. At an entry-level, a pad should provide plenty of comfort for rides up to two or even three long. To get a more advanced pad that's designed for all-day riding, you'll need to up your budget.
If you spend a little more fabric choices will widen too. You may get breathable mesh straps on a pair of bibs, or compression fabric in the legs. However, these are far from essential when you're just starting out, when the pad should be your area of focus.
dhb waist shorts and bib shorts
Reasons to buy
+
Cheap and much more comfortable than non-cycling specific shorts
Reasons to avoid
-
More expensive chamois are more comfortable for longer distance riding
The dhb waist shorts are available in both mens and womens models and feature all you need and nothing you don't. They use a high-quality Italian Miti stretch fabric for a supportive fit with a CyTech Elastic Interface 'Veloce' chamois pad, which dhb says will have you riding in comfort for two or three hours of fun.
The brand also makes a bib version. It offers the same material and pad as the waist short, meaning these will also be good for rides of up to three hours.
Cycling jersey
While a cycling-specific jersey isn't an absolute requirement, like the padded shorts, it aids both comfort and performance.
A good jersey is the antithesis of a cotton t-shirt; the best cycling jerseys will help to wick sweat away from your skin rather than soak it up. It will fit close to the body rather than flapping around in the wind. And it will provide both a zip and pockets for temperature regulation and storing all your bits and bobs.
So what should you look for in an entry-level jersey? You'll want it to fit snugly, however at this price point you're unlikely to get the super-tight 'race' fit that you see the pros wearing. The material will almost certainly be polyester but, from a reputable brand, will be breathable and fairly quick-drying. A zip may be full or quarter length. A full zip offers better temperature regulation when it gets warm, making it more versatile than a ¼ zip version. It's likely to cost more though.
Rear pockets allow you to bring a selection of items along for the ride; a phone, a multi-tool, a spare inner tube and tyre levers and some snacks for fuelling your ride. Most jerseys will offer two or three pockets at the rear, which if well-designed can hold a surprising amount of gear. A zipped pocket is great for storing items like keys, a bank card or cash, but probably isn't an option found on many entry-level jerseys. If you require a little extra detail, or fabrics such as a merino wool blend, then you'll need to expand your budget.
dhb 1/4 Zip Short Sleeve Jersey 2.0
Reasons to buy
+
Breathability on a budget
Reasons to avoid
-
Quarter length zip doesn't allow as much cooling as a full length option
The dhb 1/4 Zip Short Sleeve Jersey 2.0 is a great example of just how versatile a budget offering can still be. Thanks to its more relaxed cut you can wear it on a family leisure ride, for your first sportive or riding to work. The price also belies the level of detail; there are two large pockets and with a silicone gripper to help keep the jersey in place even when fully loaded and reflective logo and inserts.
For a little extra you can upgrade to dhb's Classic Jersey. Here'll you get three main pockets, not two, with one of them also featuring a zipped compartment.
Pump
The tyres on your new road or gravel bike will need inflating to keep them rolling smoothly and efficiently. Let them drop too low and you're at far greater risk of getting a puncture. The sidewall of your road or gravel tyre will provide a recommended pressure, measured in pounds per square inch (psi) and bar.
But how do you know you've inflated them to the correct pressure? Unlike a mini pump, a dedicated floor or track pump features a dial or gauge that allows you to accurately read your tyre pressure, making it an important piece of kit. Even if your tyre feels sufficiently inflated, it's good practice to check them before you go out for a ride. Having a reliable gauge also allows you to accurately adjust to your riding conditions, for example dropping pressure when it's wet for greater traction.
Apart from the gauge, a floor pump for bicycles will have a head that's designed to be used on Schrader and Presta valves - the latter being vital as the majority of road bike inner tubes use this standard meaning the pump you use for your car tyres won't cut it!
The more money you spend on getting yourself one of the best bike pumps the better quality the materials, which could translate to a more durable pump. It's also likely to be more efficient and feature a more accurate gauge. That said, I've used a 'lower-end' Bontrager track pump for a while and it performed admirably despite regular use.
As for the aforementioned mini pump, this is also a good investment. Choose one that's small enough to carry in a jersey pocket or that can be attached to your bicycle frame securely - and the good news is you can find these characteristics in the best budget mini pumps. Add a spare inner tube and some tyre levers and you'll be able to get home should you get a puncture mid-ride.
Decathlon 500 floor pump
Reasons to avoid
-
Plastic construction less durable than aluminium
There are cheaper pumps, but I'm not convinced I'd want to use them, or expect them to last that long. The 500 however is a good entry into the world of the track pump. It features an easy to read gauge, two foot rests for stability and a universal head that works with Presta, Schrader and Dunlop valve standards. As for its power, Decathlon says it will inflate up to 116 psi or 8 bar, which is more than plenty for any modern road or gravel tyre.
Thank you for reading 20 articles this month* Join now for unlimited access
Enjoy your first month for just £1 / $1 / €1
*Read 5 free articles per month without a subscription
Join now for unlimited access
Try first month for just £1 / $1 / €1