15 prime examples of badly botched bike maintenance
Readers send in their tales and photos of woeful bicycle bodging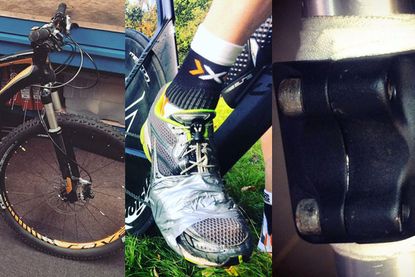 Forks on the wrong way around, stripped bottom brackets, bandages used as shims... just some of the cringe-inducing nightmares that readers have nominated as their worst example of botched bike maintenance.
Compared to, say, a Boeing 747 there aren't many complicated moving parts on a bicycle, which is what leads many to believe they can fix anything on a bike. It's not necessarily the fixing that is the issue, it's whether it stays fixed.
Here we present some of the most entertaining examples of terrible cycle maintenance, as submitted by Cycling Weekly readers.
Have you come across a particularly awful example of bike maintenance, or tried one of these 'fixes' yourself? Let us know in the comments below

>>> 11 bike maintenance mistakes and how to avoid them
A young lad brought in a bike for repair after getting the bottom bracket replaced at a nearby shop. They stripped his bottom bracket shell and pushed the new BB in using plumber's mate to keep it in place. Also had a Giant frame from them. BB stripped and they drilled a hole into the shell and inserted a screw to hold the BB.
Derek Clyde
I took my bike for a service a few weeks ago. When I picked it up and rode off, the gears were rubbing in the 9-10-11 positions. When I took it back, the fella said that's normal as you're not meant to use those gears. Needless to say, not I or any of my cycling friends have been to him since.
Lance Taylor
This... [above]
M R Dan Lippett
I once saw a bike that had eight snapped spokes on the rear wheel and the rider had simply duct-taped the snapped ones to the ones next to them and kept riding.
Michael Donnelly
Mountain bike tyre stuffed full of straw to get me home, back in the day.
Sam Bates
I'm a bicycle courier and I prefer to ride single speed bikes for work. I took my bicycle in to get some work done and the mechanic flipped my hub over to fixed gear instead of single speed. I was out in traffic before I realised it and nearly got thrown into a car when I tried to stop pedalling!
Ewok Vrtis
How about the time I forgot my bike shoes for an open 25?! [above]
Oliver Bridgewood
Flicked up a stick in my rim and got caught in the derailleur, the stick spun the derailleur 180 degrees round the gears, so I just bent it back but ended up snapping the derailleur.
Cameron Bush
Spraying WD40 on brake pads because they rubbed too much.
Robert Tracey
This one kinda takes the cake [above].
Eric Asea Rogström
Front forks backwards on internet-bought bikes!? They come with the forks facing backwards to save space in the packaging, and then the buyer simply slots in the wheels and off they go!
Iain Nussey
Classic... [above]
Greg Lancaster
I recently over-tightened a chainset, causing the bottom bracket to fail within two weeks, despite the chainset being clearly marked with torque settings.
Mark James
Watch: Secrets of the Toolbox - One Pro Cycling
A mechanic in Plymouth used a heat gun to remove a carbon crank. Needless to say, it died.
Chris Agnew
Once saw a cracked GT Zaskar frame repaired with Sellotape.
John Orbea
Thank you for reading 20 articles this month* Join now for unlimited access
Enjoy your first month for just £1 / $1 / €1
*Read 5 free articles per month without a subscription
Join now for unlimited access
Try first month for just £1 / $1 / €1