From loving tan lines to hating cycle paths: Those little things that only other cyclists will understand
There are some things that unite all cyclists, but for some reason no one else seems to understand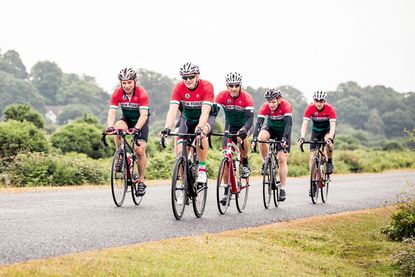 Cycling is much more than a sport or a past-time, it is a society, a club... a band of like-minded souls.
Because of this association with each other that we share through our love of two-wheeled pedalling, there are often problems and experiences that only a fellow bike rider can empathise with. Things that may remain a mystery to the 'outside' world.
Tan lines are something to be proud of
You may get a few odd looks when you head to the beach for your off-season holiday, but those golden brown forearms and pasty white shoulders have been cultivated over months of hard training, and are a sign of the level of dedication you've put into your sport.
>>> The eight best (or worst) cycling tan lines
A faulty Garmin can end a ride
You didn't get into cycling to look at numbers on your Garmin or power meter, but now you've got them, any fault in these non-essential items can ruin any ride. Garmin not picking up a GPS signal? Might as well go straight home. Power meter run out of battery? Can't do any training. It's just the way it is.
"Too many bikes" - there's no such thing
Your partner may have a different view on this, but as a cyclist the n+1 rule is something to live your life by. Race bikes, winter bikes, cross bikes, fixie bikes, gravel bikes, commuting bikes... each one has its own particular use, and, frankly, there's simply no way you can continue in life without them.
>>> 11 things every cyclist says (and what we actually mean)
Rides are planned days in advance
You rarely just walk out of your door and go for a ride (although when you do, it's normally great!) but instead plan your riding routine days in advance. That means that having to cut a ride short or, even worse, call off it off completely, can put your whole week out of kilter.
Ending your ride with three laps of the block is a normal thing to do
To outsiders there might seem little difference between a 99.3km ride and a 100km ride, but to you it means everything. In order to get your Garmin up into triple figures you have no problem doing a few seemingly pointless laps of the block, even if it means the guy washing his car outside number 32 thinks there might be a glitch in the matrix.
Having five weather apps on your phone is completely normal
When a ride can be ruined an unexpected shower, all cyclists have to be amateur meteorologists. The best way to decide whether to wear your waterproof jacket or water-resistant jersey, or ride out east or south east or east south east, is to quintuple check the outlook with multiple weather apps, then averaging the results while factoring in each apps previous weather-predicting record.
>>> The horrors of cycling in winter: cold-weather riding tales
Feeling tired is a good thing
"Aren't you tired?" your partner says to you as head out of the door for the second long ride in as many days. Yes, you are tired, and you'll be tired tomorrow too. But it's all worth it as after that you'll be in better shape... and able to ride even harder the weekend after.
Riding in the rain can be fun
When the rain's pelting down outside and everyone else is tucked up on the sofa, you can get just as much enjoyment by drilling it along in the rain. It might not be great for the first five minutes, but as long as you're warm then you won't notice the rain, you'll find yourself riding harder than ever, and you'll feel amazing when you get home with tired legs and stand for half an hour under a steaming hot shower.
>>> Cycling in the rain: how to survive it (video)
Rides sometimes take really strange routes
If you live in the middle of town, then a few traffic-free streets can be hard to come by, and if you've got some specific training to do then you can't always ride where you want. If your training plan says you've got to do a few sprints or drills, then early morning laps of an industrial estate might be the only way to do it.
Cakes are an essential dietary requirement
People might think that all cyclists are health freaks, but they don't realise the integral part that cakes play in any cyclists diet. You're not quite sure what the recommended daily allowance is, but it must be at least one slice a day. But frankly it could be three or four as you've definitely earned it with the amount of riding you've been doing.
Christmas is a time to ride your bike
For everyone else the festive period might be a time to spend quality time with the family, but for cyclists it means one thing: the Rapha Festive 500. Yes, riding 500km between Christmas Eve and New Year's Day might not seem like a good idea midway through a 130km ride in freezing conditions while everyone else is on to their second Toblerone by 11am, but it'll be worth it for the sense of achievement once you're done, plus one of those little woven badges that you'll lose behind the sofa.
There are cycle lanes, then there are cycle lanes
Some motorists might see a painted picture of a bike on the pavement and be frustrated that you're still on the road. But frankly, why should you use a cycle lane that's scattered with glass, makes you weave in and out of lamp posts, and comes to a dead end after 100 yards forcing you to go back onto the road anyway. They're just going to have to wait.
Early weekend alarms are great
Setting the alarm for 6am on a Sunday morning might not be everyone's idea of fun, but frankly there's no better time to ride a bike. Beautiful scenery at the break of dawn, quiet roads with no manic drivers to ruin your day, and you can get 60 miles in and still be back in time for lunch.
Kit choices are incredibly precise
It might not matter to most people, but there's a big difference between a drizzly 15ºC and 13ºC with proper rain, and your kit choices have to reflect this. Your wardrobe is not just jerseys, shorts, and the odd waterproof, but has something for every possible condition with an infinite combination of baselayers, overshoes, knee warmers, and skull caps to mix and match to your heart's content.
We asked Cycling Weekly readers to nominate the worst piece of cycling advice they have been given. Here are a selection of their answers.
Why the bike is more expensive than the car. The logic of it is simply incomprehensible to other humans. It's like teaching a muffin algebra.
Chris Buckley
That a full shelf in the kitchen cupboard is full of water bottles.
Phil Rush
The best sound ever is the group starting out and having dozens of cleats click into the pedals.
Braden Atkins
Panicking like mad when the traffic has come to a stop and you can't unclip your foot out your pedals.
Spencer Scott
Waking up in the middle of the street after being hit by a car and wondering if/when I'll be able to get back on the bike again. "Oh and speaking of that, how IS the bike?"
Jess Bee
That lovely achy feeling in your legs the morning after a hard ride.
Geoff Wills
Chamois cream.
Jeff Ashton
The sense of disappointment and guilt by association as you sit at a red light as another cyclist sails past you through the light.
Ben Osbourne
Your head, and even your whole ride, can fall apart because of that annoying little squeak.
Geth Shooter
Being in a foul mood the rest of the day if you don't get to go out on the Sunday club run.
Wilma Phillips
It's okay to go commando.
Joanne Evans
Scheduling your work and personal life around the ride. Dreading a party on a Saturday night because it might ruin my legs for Sunday. And forget about afternoon meetings.
Michael Smith
Why the tyre logo MUST be centrally placed in line with the inner tube valve!
Claud Newry
Hill repeats.... Why you have to go up the same hill more than once.
John Terrel
How it feels when a car passes within six inches of you.
Tom Clarke
The taste of flies.
Tom Phillipson
There's no measurement fine enough in physics to quantify the difference in the tightness of cycling shoes between 'too tight' and 'not tight enough'.
Clive Davies
Headwinds, no matter which direction you go.
Karl Hand
Thank you for reading 10 articles this month* Join now for unlimited access
Enjoy your first month for just £1 / $1 / €1
*Read 5 free articles per month without a subscription
Join now for unlimited access
Try first month for just £1 / $1 / €1
Henry Robertshaw began his time at Cycling Weekly working with the tech team, writing reviews, buying guides and appearing in videos advising on how to dress for the seasons. He later moved over to the news team, where his work focused on the professional peloton as well as legislation and provision for cycling. He's since moved his career in a new direction, with a role at the Department for Environment, Food and Rural Affairs.