The horrors of cycling in winter: cold-weather riding tales
Cycling Weekly readers tell their tales of winter riding misery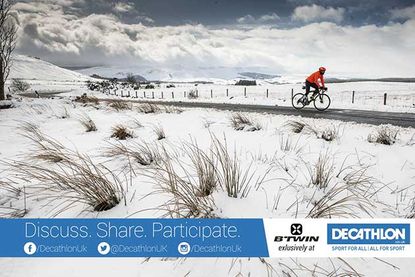 Get The Leadout Newsletter
The latest race content, interviews, features, reviews and expert buying guides, direct to your inbox!
Thank you for signing up to The Pick. You will receive a verification email shortly.
There was a problem. Please refresh the page and try again.
Most cyclists would agree that riding during the winter months isn't always a pleasant experience. Sometimes even the best laid plans go awry in the rain, snow, winds, hail and ice...
We recently asked Cycling Weekly readers to recount their horrifying tales of cycling in winter, and present a selection of their answers here in association with B'Twin.
What has been your worst winter cycling experience? Let us know in the comment section below
Riding through a puddle so deep my feet got soaked. Rather than turning around and heading home, I continued for another 60 kilometres — after which my parents had to remove me from my bike and spend the next hour slowly bringing my feet back up to temperature. Excruciating.
Simon Olney
Cycling 13 miles to work in -10°C and when I got to work (I worked on an RAF camp) I couldn't tell the gate guard my ID number because my mouth was frozen and he wasn't going to let me in!
David Shipley
>>> Winter cycling survival guide: 10 helpful tips to keep you riding
I was living in Westminster, Colorado, and working in Golden, CO. I would commute to work by bike on a daily basis. We had an overnight blizzard that dumped two feet of snow and literally paralysed the entire city and surrounding area of Denver. I decided to ride to work on my CX bike and actually got there on time. It took nearly 20 minutes for me to limber up my fingers well enough to use my key card to get into the building. No one else had shown up. I took the time to call my boss and ask him where he was. He laughed so hard I thought he was going to have a stroke. I waited a couple of hours for the temperature to warm up and rode back home. Still no one on the roads except snow ploughs and a couple of XC skiers.
Buck Libowski
Coffee stops. I've never got it. Sub-zero temperatures, then heading back out after 40 miles to do another 20 or so with sweaty, damp clothes and gloves. I still remember a Richmond Park ride I did from Kent, stopped for coffee (it was minus two at the warmest during the day) and riding back, stop-start around the South Circular, then down out of London with frozen hands, feet, etc.
James Baggott
I think Hell of the Ashdown, the year the roads weren't fit to walk on, let alone ride. Half of our group hit the deck several times, and we all bar one decided to abandon. Then the one guy that carried on enjoyed a beautiful day in the sun as the roads had thawed by the time we got back to the start. Grrr.
Paul Ruffy
Cycling in the middle of my lane to avoid the frosty leaves in the shadows to the left of the lane and a driver of a large black 'prestige' car taking offence. He then proceeded to make a dangerous overtake, gradually moving towards the verge and slowing to keep at my side until he ran me off the road. I slipped as I hit the icy leaves and went down on the grass verge and he — having stopped a few yards ahead — reversed to within inches of my bike. And before anyone asks, I was dressed like a parrot and lit up like a Christmas tree and it was mid-morning. I bought front and rear-facing cameras when I made it home.
Nadia Lewis
Thank you for reading 20 articles this month* Join now for unlimited access
Enjoy your first month for just £1 / $1 / €1
*Read 5 free articles per month without a subscription
Join now for unlimited access
Try first month for just £1 / $1 / €1