40% of British adults want cycles lanes on every road
Research by retailer Halfords reveals that 40% of adults want to see dedicated cycle lanes on every British road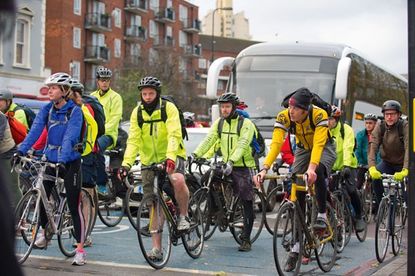 New research has shown that 40 per cent of British adults would like to see dedicated cycle lanes on every British road.
The research, undertaken for retailer Halfords, polled over 4,500 adults in May 2014 to gauge their opinion on what would encourage people to cycle more often in the UK.
Despite 40 per cent coming out in support for segregated cycle lanes, 28 per cent said that segregated routes would cause conflict between cyclists, drivers and pedestrians - proving that it is still a divisive issue.
According to the results, 30 per cent would like to see more places to securely park their cycles, 17 per cent would like to see tax benefits for cyclists and 19 per cent would like to see better facilities for cyclists in the workplace, such as showers.
Only one in 10 respondents wanted to see a lowering in speed limits for cars and better cycle safety products.
"Health, congestion, pollution, more liveable cites - whatever topic you want to choose, the bicycle can be a large part of the answer," said Chris Boardman, British Cycling policy advisor and co-founder of Boardman Bikes. "In fact, it's the only form of mechanised transport that actually contributes to our society - the UK gains £590 a year for every extra regular cyclist."
Halfords research: key findings
Dedicated cycling lanes on every road (40%)
More places to park and lock bicycles (30%)
Better facilities for cyclists at work (19%)
Tax benefits for cyclists (17%)
New York-style cycle 'super highways' (16%)
Compulsory cycling proficiency for all cyclists (16%)
Local cycle safety classes (15%)
Driving licence style accreditation for cyclists (12%)
Better cycle safety products (11%)
Lowering speed limits for cars (10%)
Thank you for reading 5 articles this month* Join now for unlimited access
Enjoy your first month for just £1 / $1 / €1
*Read 5 free articles per month without a subscription
Join now for unlimited access
Try first month for just £1 / $1 / €1