AFLD accuse Armstrong of breaching anti-doping rules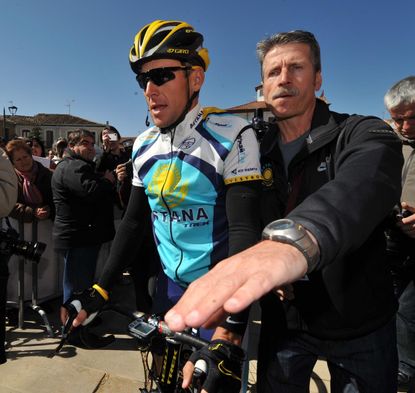 The French Anti-Doping Agency (AFLD) has said that Lance Armstrong may have breached international anti-doping rules when he underwent a surprise out of competition blood, urine and hair test on March 17 in the South of France.
According to a statement issued by the AFLD on Thursday lunchtime, Armstrong "did not respect the obligation to stay under direct and permanent observation of the tester as expected under the rules of the World Anti-Doping Code.
The AFLD issued their statement after studying the testers report in a meeting in Paris. They claimed that Armstrong did not stay under observation despite repeated warnings from the tester to do so. The AFLD added that it has yet to decide on launching disciplinary proceedings.
ARMSTRONG DENIES MISBEHAVING
In a statement issued on Tuesday, when news of possible problems first arose, Armstrong claimed all the tests done have since resulted negative and strongly denied he ?misbehaved?.
?I did not try to evade or delay the testing process that day,? Armstrong said in the statement.
?I had just returned from an all day training session, wasn?t sure who this French man at my home was, and as soon as the UCI confirmed that he was authorized to conduct the tests, I let him take all the samples he requested.?
?We asked the tester for evidence of his authority. We looked at his papers but they were far from clear or impressive and we still had significant questions about who he was or for whom he worked. I was there with Johan Bruyneel and two other people. We told the tester we wanted to check with the UCI to confirm who he was and to make sure he wasn?t just some French guy with a backpack and some equipment to take my blood and urine. Johan stayed with him and in his presence called the UCI to find out what was going on. We asked if it was OK for me to run inside and shower while they made their calls and the tester said that was fine.?
?The drug collection forms we both signed state that we started the testing just 20 minutes after I arrived home. In addition, the form asked the tester to state if there were any irregularities or further observations from the testing process and to that he wrote ?no?. I have learned that after the tests were all negative, the laboratory has now suggested that the 20 minute delay should be investigated.?
UCI CONFIRM FRENCH JURISDICTION
According to the AFLD, UCI President Pat McQuaid confirmed that the AFLD has the right to handle the case. However the AFLD did not specify when any investigation or disciplinary hearing would take place.
?In a letter sent to the Agency on April 8, UCI (International Cycling Union) president Pat McQuaid said an interpretation of the World Anti-Doping code and UCI anti-doping rules confers the AFLD has the right to open a disciplinary procedure against Lance Armstrong,? the AFLD statement said.
?The AFLD is competent to impose disciplinary sanctions to people who do not hold a French licence but train on the national territory.?
If Armstrong is eventually sanctioned by the AFLD, any punishment would only be valid in France.
RELATED LINKS
Dope testers give Armstrong a haircut
Armstrong stunned by tough Giro time trial
Armstrong and Catlin drop anti-doping programme
Cancellara express derails the Armstrong show
Armstrong and Astana train for Tour of California
Armstrong Down Under: Job done
Watch Armstrong make his comeback (video)
Contador says Armstrong will take the pressure off him
Armstrong in Adelaide... and Astana kit
Armstrong to get elite security team for Tour Down Under
Armstrong to ride Tour of Ireland?
Lance Armstrong press conference transcript
Lance Armstrong: Exclusive interview
Armstrong trains with Contador for first time
Armstrong to ride 2009 Tour de France
Armstrong: still no drug-testing program
Armsrong visits Paris but doesn't want to talk about Tour de France
Armstrong speaks to Cycle Sport
Armstrong vs Hincapie at Tour Down Under
Armstrong to meet Tour officials before deciding on participation
Armstrong still playing it cool over Tour
Armstrong says he could not have hoped for a different Tour
Contador to stay with Astana and Armstrong
Lance Armstrong's Tour de France comeback in doubt
Armstrong to ride the 2009 Giro d'Italia
Armstrong rejects offer to re-test 1999 samples
Armstrong knew about six month rule
French offer Armstrong re-test of his 1999 Tour samples
Amrstrong hopes UCI show 'common sense' for Aussie return
Armstrong comeback in Tour Down Under faces possible delays
Watch Armstrong in Vegas 'Cross race
Armstrong confirms Ventoux time trial for 2009?
Armstrong's comeback starts in Australia
Wednesday Comment (September 24)
Contador says riding with Lance could be difficult
UCI president rubbishes Armstrong Tour buyout claims
Bruyneel talks up Armstrong's chances
The Wednesday Comment, Armstrong Edition (September 10)
Tour de France: Lance can race in 2009
Contador: Lance could win eighth Tour
Lance confirms 2009 comeback
Armstrong: No smoke without fire?
Thank you for reading 20 articles this month* Join now for unlimited access
Enjoy your first month for just £1 / $1 / €1
*Read 5 free articles per month without a subscription
Join now for unlimited access
Try first month for just £1 / $1 / €1