After the Tour: The Alberto Contador interview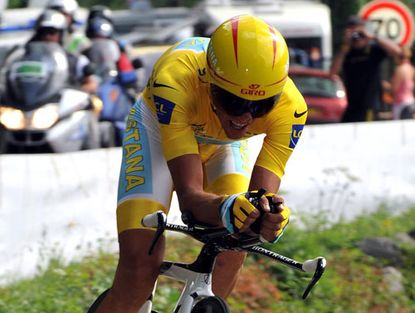 Cycle Sport's Big Read 2009 Three weeks after his second Tour de France victory, Cycle Sport caught up with Alberto Contador for this exclusive interview


This article appeared in the October 2009 issue of Cycle Sport
Pinto, Spain. August the 13th. It's three weeks after the Tour de France, and Alberto Contador is not supposed to be talking about what happened between himself and Lance Armstrong in the Tour. But for whatever reason, he is.
There was just one pre-condition set by Contador's entourage to his exclusive interview with Cycle Sport. Questions about American team-mates were off limits. Yes...yes... we agreed, with our fingers crossed.
It's just as well that we're only five minutes into the interview and it's clear that Contador is actually happy to talk about the Tour, and what happened behind the scenes in Astana.
Yes, there are points when Contador simply falls silent and stares ahead as if deciding that he can only go so far and no further. And no, he doesn't reveal what happened after each and every moment of a three-week power struggle.
But Contador does answer the one crucial question that was somehow, never tackled in July, despite all the media interest: how isolated, truly, did he feel in Astana?
"I didn't feel exactly that," Contador argues, before reeling off a series of circumstances that sound as if they were designed to do just that.
"But maybe there was a tendency [in the team] to give priority to some people's interests," he points out.
"And maybe what should usually have happened in a team, the way things usually develop [during a major Tour] just never happened."
"And maybe what would get said to the press [about the team] bore no relation to what was actually going on."
Quite a list, then.
"To tell the truth, it all made me feel quite inhibited," concludes Contador.
Inhibited is not the same as isolated, but the effect is almost the same. It still meant Contador had been unable to operate normally within a team that he'd been part of since 2007. Something, or somebody, was cramping his style.
It's strange, and almost sad, that Contador says he doesn't remember winning the Tour for a second time, the crowning moment of any professional's career, as a particularly pleasant experience. Instead he just wants to put this July behind him.
"I don't want to go through all that again," Contador says, "rather I want to be in a team where everybody is fighting 100 per cent to win the Tour."
And when it's put to him that that surely wasn't a problem in this year's Tour - after all, lots of people in Astana had wanted to be in yellow in Paris - Contador gives me a slightly forced smile, and falls silent. Even after winning the race by a country mile, he still can't quite see the funny side.
Contador agrees, though, that the Tour's route exacerbated the power struggle between himself and Armstrong. On a watered-down route, for one monotonous day after another, the general classification stagnated, while the tension steadily mounted.
"The route was definitely designed to create uncertainty," Contador says, "and that meant the overall classification didn't reflect how things were in reality."
"The team time trial [on stage four] had created some really big gaps with other rivals, while others who had done a good time trial in Monaco were bouncing around in the top ten overall."
"We'd always expected the TTT to have some effect on the overall, but not that much."
"However, in the Pyrenees, there weren't any really tough mountains stages, and for ages and ages, the overall stayed more or less stable."
"It was only when we got to Verbier that I could open up a definitive difference and get the jersey, even though the climb wasn't that tough."
"And it's true that by the time we got to the Ventoux, the time differences were enormous. But they didn't really matter any more."
The team time trial was also crucial for the power struggle inside Astana. Armstrong came within a whisker of the 84th yellow jersey of his career, just fractions of a second away.
And if Armstrong had taken the lead, it's only fair to ask if Contador would still have attacked at Andorra three days later.
"No, it wouldn't have been the most appropriate thing to do," Contador replies.
"But in the long run, it wouldn't have made any difference. When Andy Schleck attacked at Verbier [and Armstrong was dropped], I'd still have had to go after him."
In other words, Contador believes the end result would have been the same, regardless of what happened in the first week. And Armstrong's admission at the Verbier summit that he would settle for second in Paris seems to confirm that.
However, Armstrong was not in yellow at Andorra, and Contador says that ideally he would have liked to have attack earlier.
"I'd thought about going for it five kilometres from the line because I was in good shape, and you have to make the most of those days."
"But it wasn't in the team's interests that I attack and it was the first day in the mountains. We wanted to wait and see which other teams would go for it. But none did."
"So I finally went for it two kilometres before the line and the time I took ended up being very useful."
Contador occasionally comes across as a bit bland, but he's actually a master of understatement. His choice of words - "very useful" - is as devastating as one of his mountain attacks. And the time he took at Arcalis saw the balance of power in Astana and the Tour itself begin to shift in his favour.
It was also where the world saw that Armstrong was no longer automatically superior in the mountains of the Tour, for the first time since 1999. Given that Contador had already demonstrated his superiority in the time trials, it was all over bar the shouting - and there was a hell of a lot of shouting to come.
Armstrong may not be pleased to hear that while his fans were convinced he was Contador's most dangerous challenger this year, the Spaniard doesn't agree. "I think I'm stronger, physically, than Lance," Contador comments, "and so, for that matter, is Andy Schleck."
"In fact, I think that Andy is the rider who's going to give me the most problems in the future because he's got the most room for progression. Nibali and Wiggins can also move up a level."
It's only after mentioning these three that Contador gets round to Armstrong.
"Lance's big advantage is that he's hugely experienced, and he knows how to read a race brilliantly. Me and Andy Schleck are not so good at that. That could be a factor."
"But all of the people who finished in this year's top 10 have to be seen as challengers for 2010."
"There are others, too, who count, like Evans, Menchov and Robert Gesink, who didn't do so well this July. But just because you've had one lousy year at the Tour doesn't mean you're finished for good."
Contador agrees that Levi Leipheimer's third place in the 2007 Tour and second place in the 2008 Vuelta makes him a "clear favourite, too. But only under certain circumstances."
Which are?
"That he's not in the same team as Lance Armstrong. In another team, there's no doubt that Levi would have a greater chance to shine."
"In fact, any rider that wants to win the Tour should maybe forget about going to Armstrong's team."
"Take Leipheimer. He knows [at 35] he's not got a long time left to go for the overall. So there are other teams which would be better for him."
As for Contador's future team, that remains completely undecided.
"I want to move on," he recognises. "Astana is an option, but it would be better for me to go."
"I know it's be difficult for me to break my contract, but if I can change teams, that would be for the best. There are different options out there, but the question now is do I go to a team which already exists, or to one that I try to create myself."
Leaving Astana is a priority for Contador, even though the main source of his frustration - Armstrong - is leaving. But the team has been a scandal-magnet almost from day one. They were barred from starting the 2006 Tour, when Operacion Puerto blew up. In 2007, the whole team were booted out following Alexandre Vinokourov's positive. And ASO punished them by stopping them from participating in 2008, when Contador was the defending champion. With Vinokourov insisting that he'll be back with the team, the 2010 Tour could see them barred from the race for an incredible fourth time in five years. It's too much of a risk for Contador to stay.
Small wonder the man needs a break and a team riding100 per cent for him, but in his search for the latter, Contador is highly unlikely to get the former.
"I'd like to switch off my mobile when I got on holiday. But right now, I know I can't. There's too much to sort out," Contador says.
There have been all sorts of possible destinations mentioned for Contador if he somehow manages to get out of the last year of his contract with Astana. Caisse d'Epargne, Lampre and Rabobank have all been rumoured.
However, the team uppermost in Contador's mind right now would not appear to be any of these. Instead, he's got more than half an eye on Garmin-Slipstream.
"Technologically, Garmin are amazing," Contador says. "I've always been really impressed with their insistence on getting all the tiny details right."
"They did a spectacular Tour, Wiggins did brilliantly, and their team time trial was just incredible. They nearly beat us, and they only had five guys by the end of it."
Contador dismisses any possibility of a power struggle between himself and Wiggins at Garmin, because, he says, he is fully appreciative that the Briton is the established figure at the team and he would be the incomer.
"Obviously whichever team I go to, I want to be sure they'll be strong for the Tour."
"But I'm also aware that whichever team it is, there are riders there already in their line-up who can fight for all sorts of races. And that includes the Tour."
"It's also one thing for a team to be interested, another thing is what that team's actual situation is."
The Garmin situation is complicated by Team Sky's interest in signing Wiggins. If enough money changed hands, the possibility of Wiggins going to Sky, and the money raised paying off Contador's contract arises.
But Vaughters describes it as "very hypothetical."
"Unless Contador gets out of Astana, we're not even going to start thinking about Alberto for next year. We don't mess with riders' contracts with other teams," he told Cycle Sport.
Interesting times lie ahead for cycling's current greatest stage racer. Contador's team is teetering on the edge of ruin for 2010, should the widely predicted mass exodus to RadioShack and elsewhere happen. After the non-payment of wages this spring, not to mention the near-meltdown in the Tour and Contador's own desire to quit, it's no wonder he wants out.
But Contador's contract with Astana means he, personally, cannot leave the sinking ship, unless it goes under completely. And should Contador remain, there's still the ghoulish figure of Alexandre Vinokourov, back from his doping ban, to be dealt with.
And that's not all. In 2010 Astana have to find a new team manager, as well as a whole new raft of staff and riders to cope with any other shortfalls.
In other words, it's a disaster. Lance Armstrong may be out of Contador's hair, the Tour may be won, but the Spaniard's dreams of leading a team without any 'outside' distractions are still a long way from being fulfilled.
The Spaniard's biggest consolation is that he's been in worse predictaments than this one before, and come through. He's also succeeded in winning the most conflictive Tour since Bernard HInault and Greg LeMond in 1986.
The Contador of 2009 has a much clearer idea of what he wants than the Contador who won the Giro and Vuelta in 2008 or the Contador who took the Tour in 2007.
The only question now is: will he get it?
THE TIME TRIAL REVELATION
For many observers, the biggest surprise of the Tour de France this year was not Alberto Contador's climbing abilities - we'd seen those time and again since 2007.
Rather it was Contador's time trial victory at Annecy, ahead of World and Olympic champion Fabian Cancellara, which raised most eyebrows.
Contador's response to the question marks is simple: in fact he's always been a lot better time triallist than people realise, but it's only now that they are realising.
"I can see why they're surprised because they look at my body and think 'hmph, he's a climber', but in fact I've never been that bad a time triallist, and I'm just getting better with time."
There is some truth in this, and not just because Contador's first ever victory was a time trial in the Tour of Poland in 2003.
"This year alone," says Contador as he ticks off the results with his fingers, "in the Tour I finished first and second in the time trials."
"I also finished second and fifth in the Dauphiné's time trials, won the Spanish national time trial championships, finished second in the time trial in Castilla y Leon, won the time trial in the Tour of the Basque Country, won the prologue of Paris-Nice and won the time trial in the Tour of the Algarve."
"Last year I won time trials in Castilla y Leon and the Tour of the Basque Country and was second in time trials in the Vuelta and Giro."
"And people are still surprised?"
But the fact remains that only two riders were able to break the glass ceiling of a 50 kilometres per hour average at Annecy. One was Cancellara, the other Contador, in spite of the fact his radio had broken.
Contador argues that coupled with his impressive series of previous time trial results, other factors played out in his favour.
Perhaps the most intriguing of them is that Contador failed to go all out in the previous day's stage through the Alps as a way of ensuring he would be in top condition for the time trial.
"By following the Schlecks [on the stage to Le Grand Bornand] rather than going crazy, I was able to recover better," he argues. To be able to think about the following day's time trial whilst tackling the Columbiere and Romme shows a impressive amount of foresight on Contador's part. But he says that's what happened.
"Then I had other advantages. It's a three-week race, the time trial was in the third week, and my strongest card as a racer is that I recover well.
"Then there was a climb, I'd gone over the course several times, I knew exactly how to tackle the descent, and I knew that I had a possibility of winning because I'd clocked the best split times during the stage. So it all added up."
As for his race radio breaking, Contador said that ended up being an advantage, too - something for diehard fans of radios, like Contador's manager Johan Bruyneel, to think about.
"All I knew was that I had the best time at the second checkpoint. And when you know that, you always drive yourself a bit harder, dig a bit deeper. It paid off."
PAST GLORY
Contador was right at the centre of this year's Tour, but he has not even had time yet to see himself getting the final yellow jersey of the race on the Champs Elysées.
"They re-broadcast the whole of the Tour de France here during the first half of August, and I didn't see a single stage that time round, either," he says a shade remorsefully.
Contador has a stack of dvds from previous Tours in his house in Pinto, though, and amongst them are the two favourite episodes of his career so far.
"The two stages I like the most are when I attacked Rasmussen on the Peyresourde in 2007, and when I soloed away with [Discovery Channel team-mate Yaroslav] Popovych the same year on the Galibier - even though we finally got caught."
On the Galibier stage Popovych had attacked on the Col d'Iseran with a big group and then went away alone on the Télégraphe.
Two kilometres from the top of the Galibier, Contador bridged across and the two began to time trial down to the finish in Briancon.
With six kilometres left to race, the Discovery duo were finally reeled in, but as statements of intent went, Contador's move had been impressive.
A week later on the Peyresourde, Contador shed the entire group of favourites, except Rasmussen, with one attack. He then produced some major cracks in the Dane's armour with a second dig and briefly dropped him with a third.
Undeterred, two kilometres from the finish in Loudenvielle, Contador went for it again, and Rasmussen barely hung on. Two days later, the Dane was out of the race and Contador was en route to overall victory.
VIVA EL WIGGINS
Alberto Contador admits that he did not know much about Bradley Wiggins before this year's Tour.
But after what he saw this July, he's convinced the Briton could be on the podium next year, and perhaps one day win it - even if he thought that Wiggins finished fifth in Paris, not fourth.
"Wasn't he fifth?" Contador asks Cycle Sport.
Once corrected, Contador insists that "Bradley did an amazing Tour, he was the race's biggest surprise package and I was very impressed."
"In Astana we started paying Bradley a lot more attention after he was still up there in the Pyrenees," Contador says. "Then even more so after he attacked on some of the mountain stages."
"It's true that my Tour, in some ways, was always a bit ahead of his, because I was constantly dealing with Andy Schleck."
"But by the time it got to the stage to Le Grand Bornard, Astana as a team was obsessed with the idea of getting Wiggins off the podium. They saw Bradley as a big threat for Armstrong's third place."
For 2010, Contador believes Wiggins "still has a margin of progression at 29 years old, although not as much as Andy Schleck or Robert Gesink who are younger."
"The podium's still possible for Wiggins. And if the podium's possible, why couldn't he win it overall one day?"
Contador on...the World Championships
"I don't think it's going to happen this year [2009]. I'll decide when I get back from holidays, but it'd be better when I do the Vuelta again and then I can build up for the individual time trial title."
Contador on...next year's race programme
"It'll all depend on which team I race for. The number one obejctive remains the Tour de France."
Contador on...the Ardennes Classics
"I've done them a few times, but I've never really raced them well. I've always been tired because I like to start the year really strongly and by April I'm winding down. I'd like to go back, but building up for them properly."
Thank you for reading 20 articles this month* Join now for unlimited access
Enjoy your first month for just £1 / $1 / €1
*Read 5 free articles per month without a subscription
Join now for unlimited access
Try first month for just £1 / $1 / €1