Alberto Contador gets ready for 2015 season with successful Kilimanjaro ascent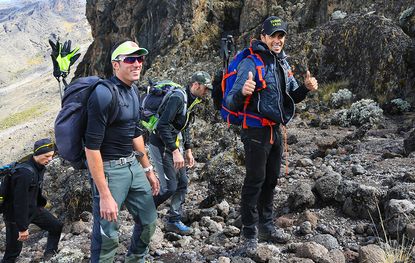 (Image credit: Tinkoff-Saxo)
Alberto Contador began a "challenging" 2015 season by climbing to 5895 metres up Kilimanjaro on Wednesday with is Tinkoff-Saxo team-mates.
"[It] has been a pretty good experience that marks the start of the 2015 season, probably the most challenging of my career with the Giro d'Italia and Tour de France dual objective," he said. "Now, I have to recover from this trip and focus on [riding]."
The Spaniard and recent Vuelta a España winner attended the pre-season camp in Tanzania with the Russian WorldTour team, including 72 staff and cyclists. Over six days, they followed the Machame Route on Kilimanjaro's south face to the Kibo Peak at 5895 metres or 10,065 feet.
After climbing from the lush rain forests to the Shira Plateau at 3810 metres, the weather turned rough. The team reported that it was the worst Tanzania had seen on Africa's highest peak in 10 years and that four members had to stop.
"The weather certainly didn't help us. For the first three days, it rained a lot and we didn't have time to dry our wet clothes and equipment like tents and sleeping bags," Contador explained.
"Of course, the real test was the final climb to the summit on the last day. We went from the last camp located at 4600 metres to the highest point of Kilimanjaro. That day we woke up at 11:30pm at night and aimed at reaching the summit at sunrise, but it was difficult to fall asleep. Before we embarked on the final climb to the top, it was really windy and difficult to climb. But luckily, the wind died out little by little and we decided to give it a try. Only after passing the 5400-metre mark I noticed some discomfort in my stomach but it quickly disappeared."
Contador climbed to the summit in a small group with team-mates Robert Kiserlovski and Michael Valgren, and a guide. He was the first to reach the peak at 4:30am.
"We had difficult moments. Although I was lucky that the altitude didn't affect me, there were team-mates who had to turn back, others needed help to get to the summit. Some that had to return to the camp without remembering what had happened.
"But that was also one of the goals of the expedition, to face situations that involved fellowship and helping each other in difficult situations. I think we achieved that goal, although it wasn't easy."
He announced in October that in 2015 he will try to achieve the Giro d'Italia/Tour de France double. He is one of the few top stars to attempt it, since others have made different plans. Nairo Quintana (Movistar) will skip his Giro defence and race the Tour. Vincenzo Nibali (Astana) will reportedly return to defend his Tour title. Sky's Chris Froome indicated that the Giro/Vuelta could be on his 2015 programme.
Tinkoff-Saxo's camp
The view up to the summit of Mount Kilimanjaro
A bit of local help is needed to carry the team's equipment
Climbing through the rocky terrain of Africa's highest mountain
Contador, Pires and Gomes
The team take on some nutrition in their camp
Team manager Bjarne Riis
Bjarne Riis with Ivan Basso
Alberto Contador reaches the summit at 4:30am
More on Alberto Contador and Tinkoff-Saxo
Tinkoff-Saxo's team-building trip up Mount Kilimanjaro hits bad weather
British sports director Sean Yates will also join the Tinkoff-Saxo team-building trek in Africa
Thank you for reading 5 articles this month* Join now for unlimited access
Enjoy your first month for just £1 / $1 / €1
*Read 5 free articles per month without a subscription
Join now for unlimited access
Try first month for just £1 / $1 / €1