Alex Dowsett's Hour Record hopes not over, says Rowsell
Madison Genesis rider Erick Rowsell, who shattered his collarbone in 2012, says Alex Dowsett could recover in time for his Hour Record attempt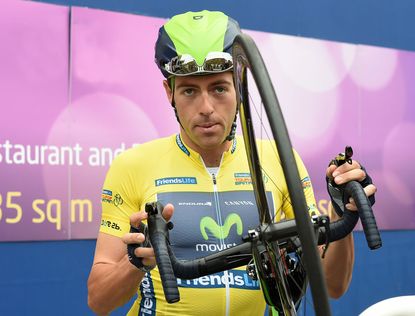 Alex Dowsett's Hour Record attempt suffered a setback on Tuesday when the Movistar rider broke his collarbone, but all hope of returning for February 27 is not lost, according to Madison Genesis rider Erick Rowsell.
Rowsell, brother of World and Olympic track champion Joanna, broke his clavicle in five places in 2012 and says that as long as Dowsett suffered a clean break, there is a chance he could be back on his bike within days.
>>> Fitness: Recovering from collarbone break
Dowsett's 'Perfect Hour' attempt is scheduled for the last Friday in February, with the aim of breaking both the record and the barriers to sport for children with hemophilia, from which Dowsett suffers.
"Every broken collarbone is a bit different," Rowsell told Cycling Weekly. "When I broke mine a few years ago it was a really serious break and that took a long time to heal. It was at the end of the season, so I just took a bit of time off to let it heal.
"At the other end of the scale my sister broke her collarbone about a year ago and she was back on her bike and racing in about a month.
"I spoke to Joanna about it yesterday and she said that she was back on the turbo within a week of the operation. She had quite a clean break and had it operated on really quickly.
"Once you've had it operated on and pinned into place, you're good to go, as long as you follow all the guidance and recover properly."
Dowsett underwent surgery today (January 15), posting a picture of his x-ray on photo-sharing app Instagram.
One thing Dowsett has in his favour when it comes to a quick recovery is that his Hour Record attempt takes place on the smooth boards of the Lee Valley VeloPark.
This means his collarbone will not have to deal with the imperfections of the road, a factor that Rowsell's sister found benefitted her speedy comeback.
"I did have a bit of pain afterwards, especially going over bumps and potholes on the road," he continued. "But if you're on the track you don't have any of that.
"Again, speaking to Joanna yesterday – her injury probably relates to Alex's more than mine – she said it was actually easier for her to ride on the tri-bars afterwards because she could rest her elbow on something solid rather than grip the handlebars and have that pressure.
"Knowing Alex, and the kind of rider he is, he doesn't mind a good turbo session. I'm sure he'd be more than happy to sit on the turbo for hours on end, so if that's the kind of thing he can do I'm sure he'll still be okay for [February 27]. If the injury is more serious, then only time will tell."
Thank you for reading 20 articles this month* Join now for unlimited access
Enjoy your first month for just £1 / $1 / €1
*Read 5 free articles per month without a subscription
Join now for unlimited access
Try first month for just £1 / $1 / €1