Fitness: Recovering from collarbone break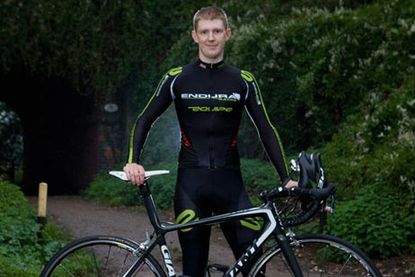 AT this year's European road championships, the GB U23 men's team had their eye on a podium spot. But it wasn't to be, due to a huge crash on the last lap that wiped out a number of riders and left Erick Rowsell with a severely broken collarbone.
Talk to any pro cyclist, and while they will obviously do anything to avoid crashing, they understand that if you want to win bike races, you have to be prepared to put your body on the line.
Erick Rowsell, 22, is no different. "If you're racing your bike against others, who want to win as much as you, then there are going to be times where there is contact and you fall off," says Rowsell, who is one of eight Endura riders to graduate to the NetApp-Endura merged team next year.
Unlucky break
If you're lucky, breaks can be quite simple. Unfortunately Roswell's was anything but. "My collarbone break wasn't straightforward - it broke in five different places. I had an operation on it, had a metal plate put in it, and seven pins holding it together. It was quite nasty."
With such heavy injuries, it must have been one heck of a tumble? "Well I can't remember the crash at all. It was such a bad one that it knocked me out completely. So I've lost all memory of the actual crash and getting to hospital afterwards. I've also lost my memory from before it as well.
All I can remember is the start of the race, and the first two laps, but after that, I can't remember anything at all. Apparently the crash happened within five to 10 kilometres to go.
I haven't seen the crash back but I have heard bits and pieces from some people who were in the race and they told me it was one of those crashes where you go round the corner, you all funnel in, and a few people in front of me touched wheels and came down, and I went straight into it.
The helmet was completely smashed into pieces, and I hit my head pretty hard and the fact that I lost so much memory, shows I must have been in a very bad way."
Broken bones and torn muscles heal. Knocks to the head can be life threatening. The biggest problem we face as cyclists when we hit our heads is that we can never be certain how severe the impact has been. Just because there is no blood present, or the fact that we might feel fine, doesn't mean that there isn't a serious issue.
"I went to the hospital straight after the race, and I had all the scans done on my head to check that there was no real damage, such as internal bleeding, swelling etc," says This was really important, because although you may feel fine, there could be serious problems. After the scans, I went in for the operation to fix my collarbone."
Psychological impact
A crash and injury plays many tricks on the mind and body. One of which is the obsession to get back riding again, in the belief that every minute spent off the bike will eat into our fitness levels.
While we all get twitchy about having time off our bikes it is even more critical for a pro whose career rests on their ability to train and race. "The moment I came round from my operation, when I was in the hospital bed, I started thinking how am I going to get back in time for the end of the season. It was a really awkward time of the year for it to happen.
It wasn't close enough to the end of the season for me to say, 'OK, perhaps we'll leave it for this year,' but it wasn't quite long enough for me to take a good four weeks out, train and be ready for the last part. I wanted to start racing, but I needed to be sensible and not rush anything. But it was constantly on my mind.
"I was off my bike for four weeks in total. And I didn't do anything bike related. A lot of people are able to get back on the turbo quite quickly, but I made a decision not to touch it. It was my own choice. After speaking to a few people, such as team-mates and management, they advised me to not be too concerned about any more racing this year.
I could've really pushed it, got back on the turbo within 10 days, and tried to get back racing, but all that was left to race was a few one-day races at the end of the year, which aren't really worth rushing for. So we thought, take it nice and slow, rest and rehab properly and come back better.
"For me, I was quite methodical about my injury and rehabilitation.
I think, once I had accepted my injury and that I wasn't going to race again this year, I calmed down and there was no rush. And all I want to do is to let it heal properly. Not go out and risk hitting a hole, and falling back down to square one. I think this is where a lot of amateur riders get caught out, and end up returning too quickly, and damaging themselves further."
'Acceptance' is a word that is vital when overcoming injuries, and one that Erick uses often. Failing
to accept your injury, and you will struggle to overcome it. It doesn't mean you are accepting that the injury is your fault.
But what it does mean is that by accepting you have an injury, you understand it is you who is now in control of what the outcome will be. According to sportsmedicine.about.com:
"By taking responsibility for your recovery process, you will find a greater sense of control and will quickly progress in recovery, rather than dwelling on the past or blaming the injury on an outside factor." When cyclists fall foul of an injury, they often neglect the psychological impact it can have and fail to realise that it's just as important as the physical side. What's worse is that not many people know how to overcome the psychological battles, which can lead to frustration, anger and even depression.
Stages of an injury
Sport psychologists Taylor J and Taylor S (1997) identified and designed a framework to help identify psychological problems and phases of post injury and stated that "adaptation was likely to occur as the athlete comes to accept the injury and recognises the inevitably of what might lie ahead."
Below is their interpretation based on their 1997 study, Psychological Approaches to Sports Injury Rehabilitation.
Swipe to scroll horizontally
| | | |
| --- | --- | --- |
| Immediate post injury | Lack of control/ Disruption of goals/ Pain and discomfort | Acceptance of injury/ Recognition of inevitability of injury |
| Following diagnosis | rRealisation of severity of injury/ Recognition of rehabilitation/ Sense of hopelessness/ Doubts about full recovery | Understanding diagnosis/ Education about the rehab process/ Examples of injured athletes who have recovered |
| If surgery is requires | Realisation of seriousness of injury/ Unfamiliarity of surgery/ Impact of injury on future participation | Understanding the benefits of surgery/ Education about the surgery/ Successful repair of injury |
| Third quarter of rehab process | Physically tired/ Emotionally drained/ Frustration over the length of rehab process | Focus on positive aspects of rehab/ Ensure adequate rest/ See progress toward complete recovery |
| Approaching to return to sport | Awareness of the time and effort invested/ Facing the possibility of failure | Focus on quality of rehab/ Recognise their readiness to return to sport/ Remember their desire to return to sport |

Rest and recovery
"Your readers must remember that resting doesn't do you any harm at all," explains Erick. "If you ride a bike a fair bit, and take a break, obviously you won't come back as fit, but you are always going to have that base in you somewhere.
It never fully goes. So don't panic if you do get an injury. Making sure you come back free from it is far more important. Then you can work on your high-end fitness again.
"I was off the bike for four weeks, and I was just doing a few simple exercises to try and loosen up the shoulder. Then it was a case of getting on the turbo for a few days, just to make sure I could turn my legs and hold onto the bars.
My shoulder didn't feel too bad, but my legs felt pretty awful and heavy, but that soon disappeared. Once I got through that - although it was painful - I had a go on the rollers working a bit more on balance and control while not having to worry about hitting potholes and other things. That was all done within about a week, and then I decided to go out on the road.
This is all with the pins in my collarbone, remember - it's all got to stay in there for another 12 months. "One thing I did have to do was to keep an eye on my diet. When you're riding, you're burning off a lot of calories. As soon as you stop and if you carry on eating as you normally would, you pile on the pounds. There are two sides to it, though.
One part of you thinks, well this has just happened, plus I wasn't going to race any more this year, so I wasn't too bothered about putting on extra weight. You need that time to enjoy yourself once you've had a crash and not worry about calories.
Then there's the other side, that you know you can't go too off with your diet, as it will make everything that little bit harder in the long run. Plus, the right foods help make you feel better and can aid recovery. So I went through the sweets at first, and then tightened it up."
Blank out the negatives
At such a young age, having already been through his fair share of injuries (Erick fractured his vertebra when he was 19), and isn't short of some advice.
"The best thing to do, is to try and blank your negative feelings when back out on the road after a crash, as it could knock your confidence. But that is hard to do when you can constantly feel it. When I went back out on the road, I was definitely more cautious, being more wary around corners etc. But it soon fades away as you cycle more.
"My advice I would give: you need to accept that these things happen. But you can't let it put you off cycling. If you do injure yourself and you're off your bike for a couple of weeks, then don't stress out too much. You can always come back and enjoy it again.
Get someone to help you who know what they're talking about when it comes to rehab. The last thing you want is to just sit there in a sling doing absolutely nothing. And when you are able to lift your arm, you can't even do that.
"Personally, as soon as it wasn't hurting me all the time, I got my arm out of the sling and tried to use it a bit more. Nothing stupid such as heavy lifting, but things like lifting cups, using the TV remote. I wouldn't advise every reader to do that, but if you feel you can use it, then try. But if it hurts, then wait another week or so.
"Falling off is part and parcel of cycling. Every pro bike rider goes through crashes and I accept it and understand that I'm probably going to break it another couple of times. Once you overcome that, you will feel much more confident."
Roundel - A study at the 64th annual meeting of the American Academy of Othopaedic Surgeons, examined injuries of 91 urban cyclists and 165 licensed amateur road racing cyclists. Results showed that in both groups the collarbone was the most frequently fractured bone.
Fracture facts - How a broken collarbone is treated
Collarbone (clavicle) fractures are classified according to where the break occurs. More often than not, most occur around the middle of the bone. Breaks in the arm or legs are usually fixed by surrounding them in a plaster cast in order to keep them steady.
However, the clavicle is subject to all sorts of forces and the geometry is much more complex. Even if you were to encase your shoulder in plaster, it would be unlikely to hold the bone in position. So it is down to your muscles, which in fact do a good job of keeping the bone in place, and there is a good chance that a fractured clavicle will form a good union with no assistance.
However, if a bone snaps and twists, or it goes out of position and overlaps, pins may be needed to pull and fix it back into position. This is called a mal or non-union.
Initial treatment
Providing it's clean and there's no wound, for the first week you must keep your arm in a sling. A sling will keep your shoulder complex still and help the bone to begin healing. When the clavicle breaks, your posture can be affected. A figure-eight harness needs to be worn, which wraps around the shoulder and is tightened between the shoulder blades.
This will help maintain posture and position the arm at a better angle - wearing this can vary, depending on the extent of your injury. The next step is to rest, and avoid putting excessive pressure on the arm - turbo riding is possible, providing you refrain from putting pressure on the bars.
A full range of motion will return between six and 12 weeks after the day of injury. However, the bone won't fully heal for a further year, but this isn't noticeable after a couple of months.
This article was first published in the November 1 issue of Cycling Weekly. You can also read our magazines on Zinio and download from the Apple store.
Thank you for reading 20 articles this month* Join now for unlimited access
Enjoy your first month for just £1 / $1 / €1
*Read 5 free articles per month without a subscription
Join now for unlimited access
Try first month for just £1 / $1 / €1