ANC-HALFORDS: Malcolm Elliott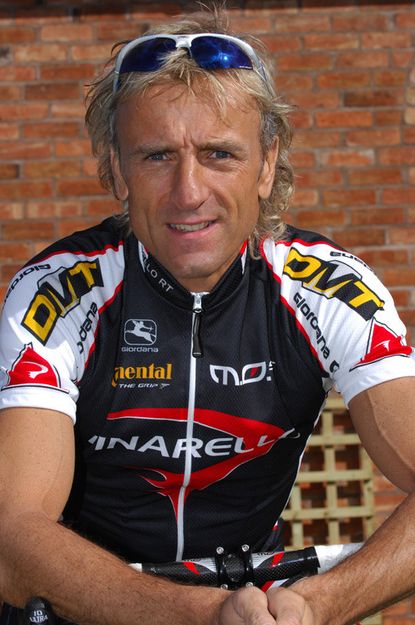 Get The Leadout Newsletter
The latest race content, interviews, features, reviews and expert buying guides, direct to your inbox!
Thank you for signing up to The Pick. You will receive a verification email shortly.
There was a problem. Please refresh the page and try again.
Swipe to scroll horizontally
Malcolm Elliott came closest to giving ANC-Halfords a stage win at the Tour when he came third in a sprint at Bordeaux.
It was almost a fortnight into the race, before they?d even reached the Pyrenees. ?By then I?d stopped short of having ideas about winning a stage. I thought ?Maybe, if I am lucky, I could get in the right place and the right time and perhaps capitalise on it.?
But as soon as he crossed the line behind 7-Eleven?s Davis Phinney and Dutchman Jean-Paul Van Poppel he thought: I should have won that.
?There was a crash as I was coming up. I had momentum and I was carrying it and I thought that momentum would take me there. But Van Poppel took his hands off the bars to move someone out of the way and that caused a ripple. A couple went down and that killed my speed.?
The rest of the Tour was about survival. ?I was suffering, just like everyone was, and I?d have a streak of envy towards those who got out of the race and were getting a plane home.
?In every major tour I rode I continually thought ?I?ll pack tomorrow, just get through today and go home tomorrow.? But you get to the finish, eat, sleep and get up in the morning and think ?Well, I?ll start today?. The only way to get out is to be injured or pull over to the side of the road and stop. You can?t announce at dinner ?I?m off home tomorrow?.
?I was like it in every major tour but I finished them all, which is quite a good ratio. It was my coping technique, the only way I could get through. If you starting thinking about the next two weeks it?s too much to take in one go.
?But if you climb off in the feed, within five minutes you regret it and immediately you are an outsider. You?re superfluous, they want you away. That?s a shit feeling that, much worse than suffering on every day.?
For Elliott, who had a reputation as a playboy on account of his blond hair, good looks, and penchant for rolling the sleeves of his jersey up to extend his suntan that is at odds with his serious-minded account of the Tour, the 1987 race came as a natural progression.
?To me it signalled the start of something new for ANC. I wasn?t thinking ?Right, I?ll do the Tour and get a contract with a foreign team.? It wasn?t a stepping stone, I thought we?d be in there for the long haul.
?Perhaps the Tour came too early for us but once we were in we had to get on with it.
?The problem with it is that you are basically working in a country where everyone is on holiday for the month and they are really enjoying their holidays. You?d race past a lake and they?re there sunbathing and eating ice creams.
?I used to think I?d rather wake up and be in prison, sleeping on a solid board, eating bread and water than do this.?
Swipe to scroll horizontally
"I'm not coming on this crappy little race again"
Elliott was one of the calm figures in the team who was patient when it came to organisational problems but at Millau even he was stretched to the limit.
?We were all in a dormitory with makeshift partitions six feet apart on these little camp beds. It was just our team there. Where the others were, I don?t know, but that made it worse because we felt like we were the only ones. The Tour went to some remote places and used every hotel bed for miles around but that didn?t make it any better when you were two partitions down from Capper?s snoring and farting.
?There?s a quote in the book [Wide Eyed and Legless] that I said ?I?m not coming on this crappy little race again?. I don?t remember saying it but it summed that day up.?
Elliott has fond memories of Capper, even if he wasn?t able to offer a lot of advice. ?He didn?t know anything about cycling really but he was enthusiastic. Phil [Griffiths] could tell him where he was going wrong and he took criticism quite well.
?It was frustrating when his sons came out. They?d be in your way or sitting where you wanted to sit and by that stage I thought ?What are you even doing here??
?When Capper went I assumed he?d just gone to take care of business. I never saw him again, which was very strange. Odd not to cross paths.? Elliott was one of those contracted to ANC and, eventually, he got the money he was owed.
?Capper was a unique figure, you could always tell what he?d had for lunch ? and probably last night?s dinner ? by looking at his shirt.?
PICTURE: Elliott today ? still racing, still winning.
Swipe to scroll horizontally
Adrian Timmis ? I Rode The Tour For Free
Thank you for reading 20 articles this month* Join now for unlimited access
Enjoy your first month for just £1 / $1 / €1
*Read 5 free articles per month without a subscription
Join now for unlimited access
Try first month for just £1 / $1 / €1
Get The Leadout Newsletter
The latest race content, interviews, features, reviews and expert buying guides, direct to your inbox!
Sports journalist Lionel Birnie has written professionally for Sunday Times, Procycling and of course Cycling Weekly. He is also an author, publisher, and co-founder of The Cycling Podcast. His first experience covering the Tour de France came in 1999, and he has presented The Cycling Podcast with Richard Moore and Daniel Friebe since 2013. He founded Peloton Publishing in 2010 and has ghostwritten and published the autobiography of Sean Kelly, as well as a number of other sports icons.