ANC-Halfords: Who was Tony Capper?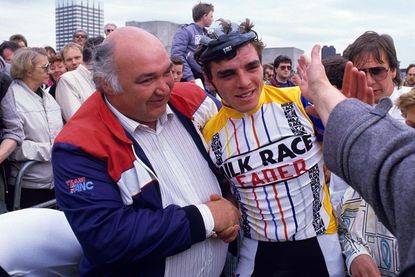 (Image credit: Watson)
Get The Leadout Newsletter
The latest race content, interviews, features, reviews and expert buying guides, direct to your inbox!
Thank you for signing up to The Pick. You will receive a verification email shortly.
There was a problem. Please refresh the page and try again.
A larger than life character who wore his heart on his sleeve and his lunch on his shirt, Tony Capper was a man who aimed high and made a success of almost everything he attempted.
He was like a magpie, attracted by sparkling colours and dancing lights. He saw something, he wanted it. Capper was a gambler. Just as he couldn't walk past a fruit machine without slipping a few coins into the slot, so he couldn't pass up an opportunity to take on the establishment, beat the odds. He had an appetite for life that didn't just show itself on his waistline but in his vision of the future. He took his ANC-Halfords team manager Phil Griffiths to see the Tour at Alpe d'Huez in 1985 and decided he'd be a part of it. All those calories he consumed sure gave him energy and drive.
Looking at photos of him from 1987 it's impossible to put an age on that 18-stone frame. He could have been anything between late thirties and late fifties. Griffiths splits the difference and puts him in his very late forties in 1987, which would mean he's pushing 70 now, wherever he is.
When Capper took one of ANC's team cars and drove away from the Tour de France in the final week without saying goodbye, most of the riders never saw him again. Griffiths met him once more, at a liquidation hearing to wind up Capper's company, Action Sports, six months later.
Capper had been a policeman who left the force early. He set up a taxi firm in Stoke called Tony's Taxis, but quickly worked out a way to make the business more lucrative. Each small firm could only make one or two journeys at a time, depending how many cars it operated. By forming a hub to link all the independent taxi companies, City Radio Cabs could pool the jobs and was not forced to turn down work.
A few years later he sold the business to the Potteries Motor Traction Company and it was some years before they discovered that City Radio Cabs had not been solely Capper's to sell.
Running the taxi firm had sparked another idea. More and more frequently cabs were being hired not to ferry people but parcels. Tony's Transport was born and after tying up with a few other companies - just as Tony's Taxis had linked up with other cab firms - the haulage firm ANC was born. The company grew fast, enjoying growth of between 80 and 90 per cent when eight or nine had been predicted. Again he'd had spotted an approaching wave and surfed it.
Capper's involvement in cycling began with a letter from the British professional Micky Morrison appealing for sponsorship. In 1984 Capper paid Morrison a small amount of money and, when he was racing in the Isle of Wight, Morrison invited his new benefactor to witness what he was paying for.
The Isle of Wight race, held on a closed-road circuit, with its colourful bunch and big crowds appealed to Capper's eye, as did the chance to drive his Ford Granada fast on both sides of the road. He was backing a man who could win or lose and he fell in love with the excitement.
Hooked, he immediately wanted the biggest and the best and persuaded ANC's franchisees to sponsor a team.
The 1985 season was wearing on and ANC was still without a win. At an event in Aintree, Liverpool, Capper met Griffiths, who impressed him by predicting exactly what would happen in the race. When he was short of a manager a few weeks later Capper rang to offer him a job.
Within a few months the pair were at Alpe d'Huez to watch the Tour de France. Capper wanted to see what it was all about and as the riders arrived at the Alpine ski station he said with conviction: 'In two years time we'll be here.'
"Suddenly Capper's two-year plan to reach the Tour didn't look so outlandish"
At the end of 1986 Capper sold ANC to shipping and haulage giant British and Commonwealth. Acknowledging Capper's plaything, he was given a golden handshake and a substantial sum of cash to continue with his cycling team. A sports management company, Action Sports, was formed. Riders who'd been on the team in 1986 remained contracted to ANC, while new signings did their deal with Capper's company.
To get around regulations restricting the size of professional teams in Britain, Capper effectively paid for three squads - ANC-Halfords, Lycra-Halfords and Interent. It meant he had a bigger pool of riders to choose from when the team got invites to European races. In spring 1987 ANC-Halfords made quite a splash with Malcolm Elliott third in Amstel Gold and Paul Watson sixth in Fleche Wallonne.
Suddenly Capper's two-year plan to reach the Tour didn't look so outlandish.
All the while he wheeled and dealed, trying to attract new sponsors, sign better riders, habitually spending the budget by the end of the Milk Race in early spring and then going back to the franchisees for more money to see out the season.
His philosophy was to help the riders win the big domestic race of the year by taking them to race in Europe. Then, once the Milk Race had been won, he could go back to ANC and ask for another twenty or thirty thousand to get to the end of the season. Having already delivered results, ANC was happy to pay.
But in 1987 the Tour de France's £37,000 entry fee shot a bigger than usual hole in the finances. And, perhaps because Capper was no longer the man in charge at ANC, it may have been harder to secure more money.
As riders quit the Tour, Capper invited guests, sponsors, potential sponsors and his wife and family to fill the hotel rooms left vacant. His wife smoked. His teenage sons had a knack of asking inappropriate questions, saying the wrong thing at the wrong time to tired riders who simply wanted to suffer in silence. Perhaps Capper was stung by this reaction. He should have paid the riders greater respect but perhaps he felt that as he had taken them to the Tour he, and his family, should have been cut a bit of slack. Maybe he took it personally or maybe he just felt he had failed.
Independently wealthy, there is no question Capper could have bailed out Action Sports and the ANC team, but he chose not to. Instead he went home and never got in touch again.
He'd gambled the team's budget on getting to the Tour de France. The £37,000 he'd paid would have comfortably seen the team through to the end of the year had they not gone to France but Capper didn't want to stay at home, he wanted to go to the top, make a splash, attract more investment, roll the dice, hope for at least a five and a six.
Instead there were no more pay cheques and ANC folded virtually on the spot, revived only to ride the Kellogg's Tour of Britain, other domestic races and the Nissan Classic in Ireland.
After that there are only rumours. Some say he moved to the Isle of Man, some say the tax man caught up with him and handed over a large bill relating to the sale of ANC. Another story is he tried to regain control of the ANC company, or take up a franchise in Bristol. It seems he met his match in Alicante when a Dutch businessman took him to the cleaners over a harbour development and he ended up with nothing. Believed to still be alive, he's either in the West Country or the Potteries or the Isle of Man, depending on who you talk to.
It is sad to think that this roguish Del-Boy character ended up with little or nothing. His physical appearance gives away a lot about his character. Jovial, larger-than-life, playing the game to the full but acting only in the best of intentions and without an ounce of malice. He enjoyed the entrepreneurial spirit and was bitter at British industry's failure to embrace the Tour de France and back his team.
But he had a lax approach to paying people on time, perhaps because money was not an issue to him as he had plenty of it. He worked on the rule that people would only ask so often for what they were owed. Most asked once, some twice, some three times but few asked four or more times. He thought nothing of it but would only pay when it was absolutely necessary. With such a policy it's no wonder some of them were angry and felt let down.
Whatever his failings, however his riders feel about him, he still got them to the Tour de France. How many other British team owners can say that?
And with the Tour coming to London, Tony Capper, it's tempting to wonder what he makes of it all. If he turns on the television to watch the prologue, wonder whether he'll look at Millar, Cavendish, Wiggins and co and think: "We could make a heck of a British team out of that lot. Sign 'em up."
NEXT PAGE
Phil Griffiths - The Man Who Held The Team Together
Thank you for reading 20 articles this month* Join now for unlimited access
Enjoy your first month for just £1 / $1 / €1
*Read 5 free articles per month without a subscription
Join now for unlimited access
Try first month for just £1 / $1 / €1
Get The Leadout Newsletter
The latest race content, interviews, features, reviews and expert buying guides, direct to your inbox!
Sports journalist Lionel Birnie has written professionally for Sunday Times, Procycling and of course Cycling Weekly. He is also an author, publisher, and co-founder of The Cycling Podcast. His first experience covering the Tour de France came in 1999, and he has presented The Cycling Podcast with Richard Moore and Daniel Friebe since 2013. He founded Peloton Publishing in 2010 and has ghostwritten and published the autobiography of Sean Kelly, as well as a number of other sports icons.