Anna Meares becomes most decorated female sprinter in history
Australian sprinter adds eleventh world title to her palmares after winning the keirin in Paris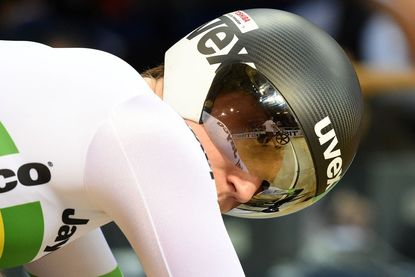 Australian Anna Meares won the keirin world title in Paris today, taking her total tally to eleven. Along with her two Olympic golds it makes her the most decorated female sprinter in history.
Meares took time out after the London Olympics and missed the 2013 world championships in Minsk, Belarus. She returned to the world stage last year in Cali, Colombia but was off the pace set by Kristina Vogel who won three world titles there.
Although she took bronze in the team sprint in Paris she looked underpowered in the sprint and was in tears in the track centre when she was knocked out. That loss no doubt fuelled her desire and she took an impressive win in the keirin on the final day by leading from the front.
Meares won her first first world title in 2004 with the 500m tt. She also won the Olympic title in that discipline that year. But from then her progress in other sprint events was slow, in part down to the rise of Victoria Pendleton who dominated women's match sprinting from 2007 to 2010. It didn't help that the 500m tt was scrapped from the Olympic program after 2004.
Pendleton and Meares become fierce rivals after some rough tactics used in 2006. This however raised the profile of the sport, peaking in 2012 when the two embarked on two standout battles. They met in the final of the 2012 world championships in Melbourne. In amongst the sprinting was a crash for Pendleton and a relegation for Meares. The Briton won in Australia and set the scene for London.
After Pendleton got the better of Meares on her home ground, Meares returned the favour in London, beating Pendleton in the sprint with a move she planned some sixth months in advance. Meares had employed the services of a male Australian sprinter. He would mimik the tactics of her rivals as the two raced against each other in training.
In the final race, Meares exposed Pendleton's dislike of brinkmanship - prefering a straight line sprint - by track standing on a steep part of the London track and forcing Pendleton to lead. A move she had been practicing for months.
With Vogel looking less convincing than last year, and Becky James' future dependent on her recovering from injury, Meares's chance to add a third Olympic title in 2016 just took a major step forward.
MEARES' MEDAL TALLY
Olympic titles - 2
500m TT - 2004
Individual sprint - 2012
World titles - 11
500m TT - 2004, 2007, 2010, 2012
Individual sprint - 2011Team sprint - 2009, 2010, 2011
Keirin - 2011, 2012, 2015
Thank you for reading 5 articles this month* Join now for unlimited access
Enjoy your first month for just £1 / $1 / €1
*Read 5 free articles per month without a subscription
Join now for unlimited access
Try first month for just £1 / $1 / €1