Are Britain's roads getting more dangerous for cyclists? What can be done about it?
With still much to be achieved in improving the safety of Britain's road for cyclists, we asked Cycling Weekly readers what they thought could be done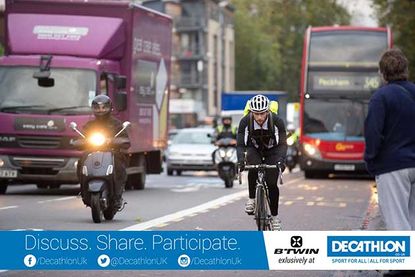 In September, the Department for Transport issued statistics that showed that the number of cyclists killed or seriously injured on Britain's roads rose by five per cent between 2015 and 2016.
Almost every day, there are news reports of cyclists who has been killed or injured as a result of a collision on British roads.
Several police services throughout Britain have recognised that there is a problem with the way cyclists are treated by other road users, and have introduced 'close pass' operations. These initiatives see drivers receiving education and possible fines for overtaking cyclists too closely.
West Midlands Police's pioneering Operation Close Pass has seen a reduction in cyclist deaths and serious injuries in its area fall by 20 per cent in a year, showing that preventative road user education really can work in reducing casualties.
Changes in the law relating to sentencing of offending road users are also on the way, with tougher penalties - including life imprisonment – for those convicted of causing death by dangerous and careless driving, as well as a new category of offence being introduced of causing serious injury through careless driving.
>>> Eight years in prison for driver who killed teenage cyclist while nearly three times over drink drive limit
However, despite these significant changes, road safety campaign groups say that there is still a lot more to be done to improve the safety of cyclists and other users of Britain's roads. The lack of consistently safe infrastructure for cyclists across Britain is one concern.
We recently asked Cycling Weekly readers what they thought about current road safety for cyclists, and present a selection of their answers in association with B'Twin.
Do you think Britain's road are getting more dangerous for cyclists? What can be done about it? Let us know in the comments section below
We're besotted by the car in this country. The laws favour it and the roads are tailored to it. The social attitudes and norms are so conditioned that people do not equate their actions in a car to the reality. We're a small country with an increasing population — surely you'd think the government would invest in a mode of transportation that was smaller, less polluting and actually 'good' for their voters?
Richard Hill
Drivers should be forced to pay road tax, have insurance, stop running red lights, being drunk, driving on pavements, using their phone at the wheel and wear a helmet.
James Stephen
I think it's more of a society issue. More and more people are becoming discourteous, disrespectful and just not nice people. The number of ignorant motorists, cyclists and pedestrians staggers me at times. Unfortunately, in the UK, cyclists seem to be seen as fair game. I've seen some shocking comments on social media recently, scary stuff. Everyone should be camera'd up; since I started wearing GoPro on my helmet I may look odd but it seems to act as a bit of a deterrent — close passes appear to have almost halved.
Lee Thompson
Drivers should be made to take a bike out on roads before passing a driving test. Maybe then they will get to see the problems for themselves.
Robert Miller
Roll out Operation Close Pass everywhere — there can be no objections to this, if people genuinely have concerns over safety!
Kevin Blackburn
Watch: Five commuting tips
Where I live in the Scottish Borders my biggest concern is the shocking state of repair of the roads. On both A-roads and minor roads there are large numbers of potholes, badly patched repairs and generally poor road surfaces. This can be extremely unpleasant to cycle on and often necessitates changing road position to avoid these hazards. I've also had a couple of incidents lately on fast A-roads of oncoming cars overtaking other cars while I'm approaching and visible to them. I'm left having to squeeze into the side of the road to avoid colliding with the oncoming overtaking car. I will probably now buy a GoPro so I can record such reckless driving and take the footage to the police.
Nick Scott
Roads are dangerous. So why oh why do I see so many cyclists without helmets or lights and then they'll have earphones in listening to music! Utter madness. If we want drivers to be more considerate, then we must do all we can to help ourselves.
Paul Davis
I've ridden more days than not for 30 years... and I think attitudes have improved, to be honest. The roads are so much busier, yes, but I do think that drivers are more aware now, generally allow more room when overtaking, and are more accountable. Of course, there are exceptions.
Paul Oz
Thank you for reading 20 articles this month* Join now for unlimited access
Enjoy your first month for just £1 / $1 / €1
*Read 5 free articles per month without a subscription
Join now for unlimited access
Try first month for just £1 / $1 / €1