Operation Close Pass hailed a success as West Midlands Police see a reduction in cyclist casualties
The operation is hailed as a success after a 20 per cent reduction in incidents in the first year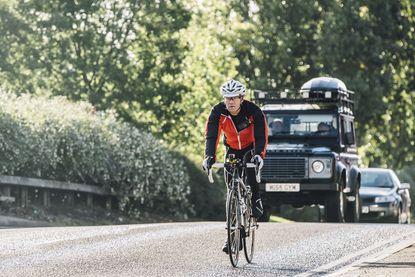 (Image credit: Daniel Gould)
A year since launching Operation Close Pass, West Midlands Police have announced a 20 per cent reduction in the number of cyclists killed or seriously injured on the county's roads. As part of the operation more than 200 drivers have been stopped and received an educational input.
In that same period the force have also prosecuted more than 350 drivers by using what is called third party reporting - the use of video evidence supplied by victims of close pass offences and other members of the public.
>>> This Icelandic company has come up with an ingenious way to make motorists slow down
In the 12 months from August 2016, 92 cyclists were killed or seriously injured in the West Midlands, down from 115 in the preceding year. It is thought the force's two-pronged approach has been instrumental in this reduction in cyclist casualties.
"It has been a tremendous success," West Midlands Police traffic officer PC Mark Hodson told Cycling Weekly.
"When we launched we said that if our Killed and Seriously Injured [KSI] numbers dropped a little bit, or if other forces looked at us and said maybe they should do that, we would call it a success.
"Twelve months ago the protection of vulnerable road users didn't make the agenda at all, now it's the top of the agenda, it's a bigger thing and that's what we are most pleased about."
Operation Close Pass utilises plain clothes officers on bikes equipped with video cameras to target offending drivers. When a vehicle passes too close another officer stops it and the driver given an education input pointing out the error of their ways. Only the most serious offenders are prosecuted.
As they soon as they launched the scheme in conjunction with Birmingham City Council Cycle Revolution Hudson and colleague PC Steve Hudson knew it would have the desired effect.
"Between us we have 25 years traffic experience and we're both massively interested in driver behaviour, and once we had done it a couple of times we knew it could really make difference.
"It's about changing driver behaviour, it is not about prosecutions, it's not about new laws, it's about about changing people's attitudes."
Hodson also believes the the operation is more effective now the West Midlands Fire Service provide the educational input.
"They're brilliant at it. They do the education exactly the same but people associate them with saving lives rather than the baggage we [the police] come with, so they are much more receptive to what is said."
Last week 28 other police forces from throughout the UK attended a seminar to discuss the operation and it is hoped the scheme will spread nationwide, with the College of Policing devising best practice.
"I believe there are 22 forces out there doing it to some extent," Hodson continued. "With a lot of them it is driven by individual officers, but for me when the College of Policing says it is good that is when all Chief Constables and PCCs (Police and Crime Commissioners] will say they have to do it too.
"Even if everybody had a third party reporting scheme as effective as ours I seriously think you could replicate our KSI reduction across the country," Hodson concluded.
West Midlands Police's figures come hot on the heels of the Department for Transport's announcement of a review into cycle safety.
Thank you for reading 20 articles this month* Join now for unlimited access
Enjoy your first month for just £1 / $1 / €1
*Read 5 free articles per month without a subscription
Join now for unlimited access
Try first month for just £1 / $1 / €1