Armstrong doctor: Lance remains a hero to every cancer patient
Lance Armstrong's cancer doctor expresses his disappointment in discovering the former cyclist's doping, but hopes people can forgive him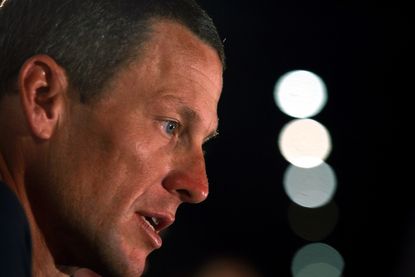 (Image credit: Yuzuru SUNADA)
The doctor who treated Lance Armstrong during his cancer therapy has said that the former cyclist remains a "hero" to every cancer patient and that he hopes the public can forgive him for using performance enhancing drugs throughout every one of his seven Tour de France victories.
Dr David Agus, who is also a best-selling author, has treated the likes of the late Apple founder Steve Jobs in his career as well as Armstrong and told the BBC's In Short programme on Wednesday about the disappointment he felt after the Texan had lied about his use of performance enhancing drugs.
"I went before US congress and I talked about him in his favour and said 'you know the only people being harmed are cancer patients when we put down Lance,'" Agus said.
"I truly believed he was innocent and I think in one warped way he believed so too in his mind, which is why he told me and everyone he knew that he was innocent. And obviously there's something else going on there.
"But he was a hero to every cancer patient and he'll remain such aside from the cycling issues."
Dr Agus also said that he hoped that public perception of Armstrong was starting to change. The former US Postal cyclist was stripped of all seven of his Tour victories in 2012 after the USADA report into his doping practices was published, and Armstrong later admitted to using drugs in an interview with Oprah Winfrey.
Maximise your recovery window
But his former doctor insists that with all cycling issues aside, Armstrong continues to be a role model to cancer patients around the world after his decision to setup the Livestrong foundation after his own recovery.
"It was very disappointing and disheartening first of all that a friend that you trusted, that the truth was the opposite," Agus said.
"The other side of it though, I saw him six or eight months ago and he tweeted out a picture of the two of us having a glass of wine and there were hundreds and hundreds of retweets and not one of them was negative. So he said in his tweet that 'I'm back in the fight against cancer'. The hope is that he can continue to the good he did before.
"This is a kid who wasn't well educated and a wild partier and the day he finished cancer therapy he could have turned left and gone back to cycling and done that but he turned right and gave a good portion of his proceeds and most of his time to fighting cancer.
"I hope so [the perception is changing]. We need the good that he was doing. You need aspirational role models in the cancer field because there aren't that many. So the fact that he stood up and was so public and transparent about his cancer and at the same time had a good out come makes him this aspirational role model in the cancer world."
Thank you for reading 20 articles this month* Join now for unlimited access
Enjoy your first month for just £1 / $1 / €1
*Read 5 free articles per month without a subscription
Join now for unlimited access
Try first month for just £1 / $1 / €1