ARMSTRONG IN ADELAIDE... AND ASTANA KIT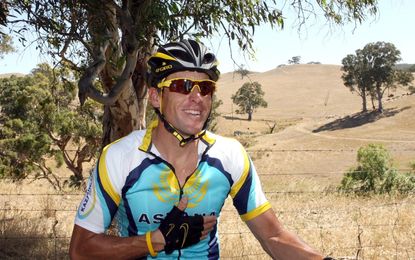 Lance Armstrong has arrived in Adelaide, Australia, for the 2009 Tour Down Under and his official comeback to the sport of professional cycling.
The seven-times tour de France winner has already hit the roads training, and has now ditched the black LiveStrong kit in favour of his team Astana colours. It's an odd sight - a high profile American wearing the strip of an eastern European squad.
A year ago it would have seemed like a ludicrous proposition that Armstrong would have come out of retirement and joined the team, yet here we are...
Armstrong has publicly stated that he is not out to win the Tour Down Under, but that won't stop the world's media paying him most of the attention in the UCI World Calendar season opener.
The six-stage Tour Down Under runs from January 20-25 and is based entirely in and around Adelaide, South Australia.
Smile for the cameras: Armstrong in Adelaide
Hitting the road again
Armstrong poses with team-mate Jesus Hernandez
RELATED LINKS
Armstrong to get elite security team for Tour Down Under
Armstrong to ride Tour of Ireland?
Lance Armstrong press conference transcript
Lance Armstrong: Exclusive interview
Armstrong trains with Contador for first time
Armstrong to ride 2009 Tour de France
Armstrong: still no drug-testing program
Armsrong visits Paris but doesn't want to talk about Tour de France
Armstrong speaks to Cycle Sport
Armstrong vs Hincapie at Tour Down Under
Armstrong to meet Tour officials before deciding on participation
Armstrong still playing it cool over Tour
Armstrong says he could not have hoped for a different Tour
Contador to stay with Astana and Armstrong
Lance Armstrong's Tour de France comeback in doubt
Armstrong to ride the 2009 Giro d'Italia
Armstrong rejects offer to re-test 1999 samples
Armstrong knew about six month rule
French offer Armstrong re-test of his 1999 Tour samples
Amrstrong hopes UCI show 'common sense' for Aussie return
Armstrong comeback in Tour Down Under faces possible delays
Watch Armstrong in Vegas 'Cross race
Armstrong confirms Ventoux time trial for 2009?
Armstrong's comeback starts in Australia
Wednesday Comment (September 24)
Contador says riding with Lance could be difficult
UCI president rubbishes Armstrong Tour buyout claims
Bruyneel talks up Armstrong's chances
The Wednesday Comment, Armstrong Edition (September 10)
Tour de France: Lance can race in 2009
Contador: Lance could win eighth Tour
Lance confirms 2009 comeback
Armstrong: No smoke without fire?
Thank you for reading 10 articles this month* Join now for unlimited access
Enjoy your first month for just £1 / $1 / €1
*Read 5 free articles per month without a subscription
Join now for unlimited access
Try first month for just £1 / $1 / €1