Armstrong surprises field with late attack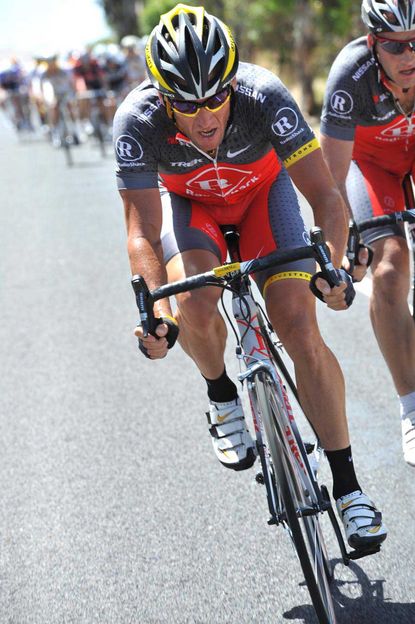 Lance Armstrong laid his cards on the table today as his team tried to break HTC Columbia's vice like grip on the leader's ochre jersey.
The American's audacious attack had the field in panic as a full scale chase in the cross winds split the peloton and only brought him back with three kilometres to go.
Armstrong had slipped the field along with team mate Tomas Vaitkus at around 16km to go. The pair had jumped off the front after RadioShack had lined out the field in an effort so hard it burned off a few of their own riders.
The pair built up a maximum lead of 23 seconds before the riders behind got organised and brought them back. "Tomas just went and then kept going and kept going," Armstrong said. "He was going so fast that I was having trouble staying on the wheel, so I figured that either we'd have the team there, which would have been the best outcome, or just a few other guys with us."
"When we turned back the gap was already so big that we didn't have a choice but to keep going."
The effort put the lead under threat. Armstrong started the day just 20 seconds down on leader André Greipel so there was little doubt that the move - albeit relatively unplanned - was a serious attack on the German.
But the RadioShack duo couldn't hold on. They got brought back and then found themselves fighting for position as the lead group got smaller and smaller as the cross winds took their toll. "It seemed to be getting even windier, and there was constant fights for position," said Armstrong. "Then what happens, you get pushed to the back a little bit, and then guys sit up in the last two [kilometres]. I got around a few guys, stayed in contact and then ......."
Armstrong eventually lost 17 seconds as gaps opened up in front of him, meaning he's now 47 seconds down on Greipel with just one hard stage to come tomorrow. Although he sounded like a man who'd missed his chance when interview after the stage, he admitted to being more than happy with his form, "It feels different than last year, more comfortable, both pedalling and bunch positioning. It's already a big advantage, and yeah, my condition is already a little advanced, and my weight is lighter."
"But I still don't think that I have the legs to go with the best guys tomorrow. I think you'll see the two Spanish guys Luis Leon [Sanchez] and [Alejandro] Valverde go strong, and Cadel will go strong, there'll be a few others, but I'll be somewhere just off that."
Tour Down Under 2010: Race reports
Tour Down Under, stage three: Cardoso takes win ahead of Valverde
Tour Down Under, stage two: Greipel takes win number two
Tour Down Under, stage one: Greipel takes back sprint crown Cancer Council Helpline Classic: Team Sky off to perfect start as Henderson wins


Tour Down Under 2010: Related links




Downing adapts to embrace new challenge
Hayman admits to nerves before Sky's debut
Tour Down Under news round-up (Jan 16)
Armstrong leads thousands on Twitter ride in Adelaide
Team Sky ready for first race
Armstrong warms up Down Under
Armstrong in Australia: "I'm in better shape than last year"
Team Sky gets ready for Tour Down Under
Tour Down Under 2010: Start list
Lance Armstrong to ride 2010 Tour Down Under
Cadel Evans and BMC to ride Tour Down Under
Tour Down Under teams confirm rosters
Davis wins 2009 Tour Down Under
Tour Down Under 2010: Photo galleries
TDU stage three photo gallery by Graham Watson
TDU stage two photo gallery by Graham Watson
TDU stage one photo gallery by Graham Watson
Cancer Council Helpline Classic
Armstrong in Adelaide


External link





Tour Down Under official website
Thank you for reading 5 articles this month* Join now for unlimited access
Enjoy your first month for just £1 / $1 / €1
*Read 5 free articles per month without a subscription
Join now for unlimited access
Try first month for just £1 / $1 / €1