Armstrong's special Giro bikes unveiled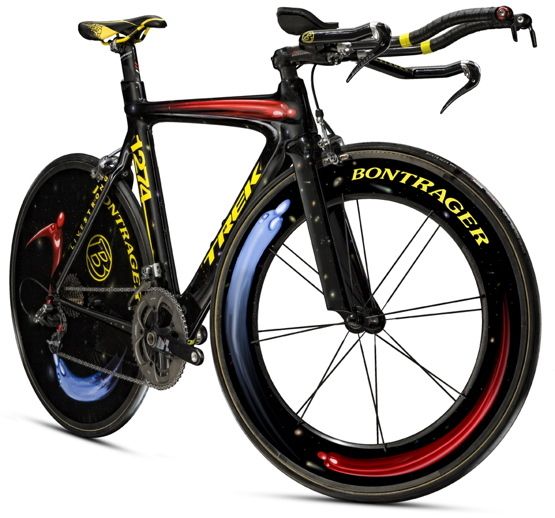 Lance Armstrong has unveiled the freshly painted road and time trial bikes he will use for the Giro d?Italia.
The seven-time Tour de France winner likes custom bikes and in recent years has teamed up bike sponsor Trek with various graphic artists to create unique bikes for each major race.
Shepard Fairey decorated Armstrong?s yellow road bike for the Giro d?Italia. It is decorated with series of ancient patterns that reflect Italian architecture. The bike also includes the number 1274, the number of days between Lance?s last Tour de France win and the day of his comeback.
Armstrong?s time trial bike was decorated by New York artist Kenny Scharf and has a modern ?lightspeed? design. The top tube and wheels are decorated with flying faces that strangely look like someone wearing a red or blue nose.
The bikes will be auctioned off on October 2 (the day Armstrong was first diagnosed with cancer) when the Stages exhibition is in New York.
Armstrong will ride the bikes for the first time on Wednesday when he arrives in Venice for the Giro d?Italia. He is currently in Rome, where he will visit cancer patients in hospital and meet with the Italian Foreign Minister.
The 2009 Giro d'Italia starts on Saturday, May 9 and runs until May 31. For more information on the race, see our full 2009 Giro d'Italia preview.
Armstrong's time trial bike
Yellow and black of Armstrong's LiveStrong foundation dominate his Trek Madone road bike
For a full gallery of pictures, go to the Supertouch website>>
RELATED LINKS
2009 Giro d'Italia: The Big Preview
Lance Armstrong: Rider Profile
Armstrong working on his own team for 2010
Leipheimer wins Tour of the Gila, Armstrong second