ASTANA ANNOUNCES DAMSGAARD ANTI-DOPING TESTING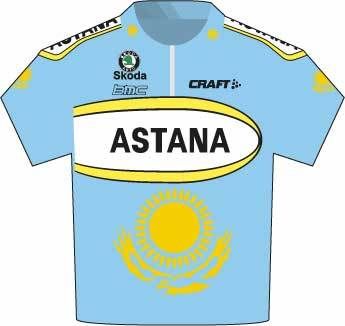 The Astana cycling team was plagued by doping scandals during 2007, but in an attempt to clean up their act and secure invites to major races in 2008, new team manager Johan Bruyneel has announced a strict in-house anti-doping system supervised by Rasmus Damsgaard.
The Danish anti-doping expert currently runs CSC's in-house testing system, and according to a press release issued by the Astana team, will now also test the Astana riders for EPO, growth hormones and homologous blood transfusions by taking urine and blood samples during the season.
Astana has called the anti-doping programme ?Healthy Choice?, and claim they will also educate the team?s riders about the anti-doping laws, with lectures and meetings with individual team members.
The team claims it will also support independent research to help improve testing methods for autologous blood transfusions. The blood and urine testing will carried out by WADA-accredited labs that will give the results robustness should they later be challenged.
Former Discovery Channel boss Johan Bruyneel has never been at the forefront in the fight against doping, but now seems to have changed his stance after taking over at Astana.
?A zero tolerance is a minimum and we want to go even further. If we continue to tolerate actions like we have seen in the last few years we will only chase away sponsors from our sport,? Bruyneel said in a statement.
?Dr. Damsgaard will have carte blanche while overseeing our riders during the 2008 season and we are requiring that he performs random independent in-house doping controls. We realize that this will be a great cost to our Team - about 300.000 euros - but it?s the only way to prove to the world that we run a clean team, and that clean cycling really exists.?
?Every rider who has signed a contract with our team has agreed to follow our anti-doping program. I cannot imagine what more we can do. Each rider has clearly stated they had not been involved, or suspected of any involvement contrary to all national anti-doping legislation, and, if necessary, a rider will provide a DNA sample.
"I have told Dr. Damsgaard that he can start his work when our team will gather for the first training camp from December 10th ? 17th in Javea (Spain). I will welcome him with open arms and I know the riders will too.?
You can read an exclusive interview with Astana directeur sportif Sean Yates in this week's Cycling Weekly.
RELATED LINKS
Yates joins Astana
Astana officially sign Bruyneel
Astana suspend racing
Thank you for reading 20 articles this month* Join now for unlimited access
Enjoy your first month for just £1 / $1 / €1
*Read 5 free articles per month without a subscription
Join now for unlimited access
Try first month for just £1 / $1 / €1