Bad luck for Endura at Tour of Med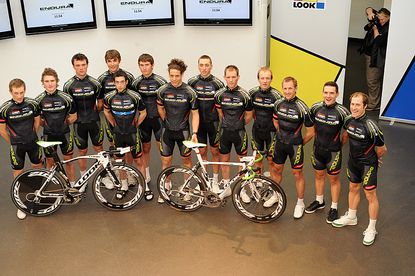 Endura Racing's Alexandre Blain came close on the 170km second stage of the Tour of the Mediterranean until sent off course by a race official.
The final signing to the Scottish team's 2010 roster has started the five day race well but was the victim of ill-fortune on the run-in to Trets, leaving Francaise Des Jeux's Finnish sprinter Jussi Veikkanen to take the stage.
"He was sitting in a group of five and was right on the sprinter's wheel," said team manager Garry Beckett. "He was feeling so good, but they were sent off course. And then they docked him 50 seconds! He was not a happy Frenchman last night."
Race commissaires saw sense and reversed the penalty decision, but Endura's James McCallum was forced to abandon after a hair-raising crash on a descent that Beckett witnessed from the following team car.
"He was flowing nice on the descent but I think there was a ridge in the tarmac and it threw him off balance," he explained. "The back wheel locked up, he straightened it and then ran out of road. He was properly airborne. He went through bushes and saplings and must have dropped 15 or 20 feet. The bike impacted on a tree but he was sitting there looking at the scenery when we got down there.
"When you see one of your boys disappear over the edge, it gives you an instant knot in the stomach," he added. McCallum escaped with minor cuts and abasions and a wrecked bike.
Weather conditions in the South of France have been rough, adding to the already tall task facing the team, racing the likes of Garmin, Astana and Rabobank.
"It has been tough on a couple of the younger lads," said Beckett. "It's a big race but they are hanging in there. Wilko [Ian Wilkinson] and Blain are both going strong.
"It is still bitterly cold. Rob Hayles said he has never had a bidon freeze solid and that's that was happening yesterday."
Today's stage is a short 115km to Six Fours with FDJ's Veikkanen currently holding the leader's jersey by four seconds from William Bonnet (BBox Bouygues Telecom).
Friday - Stage 3 Greasque - Six Fours 115km
Saturday - Stage 4 La Londe Les Maures - Biot 160km
Sunday - Stage 5 La Ciotat - Toulon Mont Faron 126km
Thank you for reading 20 articles this month* Join now for unlimited access
Enjoy your first month for just £1 / $1 / €1
*Read 5 free articles per month without a subscription
Join now for unlimited access
Try first month for just £1 / $1 / €1