Bauer and Endura power to victory in Chester Tour Series round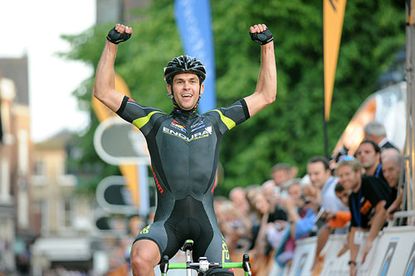 Tour Series 2010 round nine photo gallery by Andy Jones>>
Endura's Jack Bauer powered to a solo victory in Chester's round nine of the Halford's Tour Series on Monday evening. The New Zealander's win headed a 1-2-3 for the Endura team with Ian Wilkinson and Rob Hayles leading in the chasing pack and sealing the team award on the night.
Chester's historic walled city centre rocked to the Tour Series's sound system and with blue skies and pleasant evening temperatures it was a perfect formula to bring out large crowds to line the circuit from every possible vantage point.
The racing was fast and frantic from the off with Kristian House making the first significant solo attack and took the first Boardman sprint of the evening.
House was then soon reeled in by the chasing pack led by Endura and Motorpoint only for a break to go away consisting of Yanto Barker (Pendragon LeCol Colnago), Ed Clancy (Motorpoint Marshalls Pasta), Rob Hayles (Endura) and last year's Chester round winner Darren Lapthorne (Rapha Condor Sharp).
The quartet held the lead up until the final quarter of the race before the field all came back together with around six laps to go. Then on the cobbles leading up to the start finish straight, Bauer made his race winning attack. House and Elliott tried to follow and hold his wheel but the Endura rider got the gap which he extended over the closing five laps to finish alone.
The sprint behind was taken by Wilkinson and Hayles from Yanto Barker and House. Motorpoint's Malcolm Elliott and Andy Tennant came in sixth and seventh and with Ed Clancy in thirteenth place it meant they took second place in the team competition awards and so hold a two point advantage from Endura with one round to go.
Rapha's chances on the night were dashed in a final corner pile up which saw both Darren Lapthorne and Zak Dempster involved along with numerous other riders. It was Dempster and Pendragon's Casey Munro who came off worst and were attended to for some time by medics before being taken away by ambulance. Stephen Adams (Sigma Sport) and Andrew Magnier (Cyclepremier.com Metaltek) were able to run with their bikes to the line.
Cycling Weekly caught up with a jubilant Endura team just before the evening's presentation with race winner Bauer speaking for the team saying, "We planned to do exactly that, send me away solo, so it's cool to actually have it work out. But then for the other two, Hayles and Wilko to clean up in the sprint - our plan for once - it worked!
RESULTS

Tour Series 2010, round nine: Chester

Team Winners on the night
1) Endura Racing
2) Motorpoint Marshalls Pasta
3) Team Raleigh
4) Kuota road.cc
5) Rapha Condor Sharp
6) Pendragon Le Col Colnago
7) Team Corley Cycles
8) Sigma Sport Specialized
9) CyclePremier.com Metaltek
10) Team Ireland
Individual Winner - Chester
1) Jack Bauer - Endura Racing
2) Ian Wilkinson - Endura Racing
3) Rob Hayles - Endura Racing
4) Yanto Barker - Pendragon Le Col Colnago
5) Kristian House - Rapha Condor Sharp
6) Malcolm Elliott - Motorpoint Marshalls Pasta
7) Andy Tennant - Motorpoint Marshalls Pasta
So the series now looks like this with just Woking's round 10 to go on Thursday 24th June.
The Halfords Tour Series Standings (after nine rounds)
1) Motorpoint Marshalls Pasta 79pts
2) Endura Racing 77pts
3) Rapha Condor Sharp 73pts
4) Sigma Sport Specialized 53pts
5) Pendragon Le Col Colnago 52pts
6) Team Raleigh 49pts
7) CyclePremier.com Metaltek 43pts
8) Team Corley Cycles 33pts
9) Kuota road.cc 25pts
10) Team Ireland 8pts
Boardman Bikes Sprints Competition Results
1) Kristian House - Rapha Condor Sharp 11pts
2) Rob Hayles - Endura Racing 9pts
3) Darren Lapthorne - Rapha Condor Sharp 6pts
Boardman Bikes Sprints Competition Standings (after nine rounds)
1) Graham Briggs - Rapha Condor Sharp 55pts
2) Kristian House - Rapha Condor Sharp 43pts
3) Liam Holohan - Team Raleigh 41pts
Tour Series riders take to the streets of Chester
Let's get serious: Ed Clancy and Rob Hayles head the break
Yanto Barker at the front of the break
Jack Bauer solos to take the win in Chester
Ian Wilkinson and Rob Hayles come in second and third, giving Endura a 1-2-3
Malcolm Elliott and Andy Tennant come home in sixth and seventh for series leaders Motorpoint-Marshalls Pasta
Series leaders Motorpoint-Marshalls Pasta on the podium
Related links
Tour Series 2010, round nine photo gallery by Andy Jones
British Race Calendar 2010: Includes links to reports from all previous round of the 2010 Tour Series
Thank you for reading 5 articles this month* Join now for unlimited access
Enjoy your first month for just £1 / $1 / €1
*Read 5 free articles per month without a subscription
Join now for unlimited access
Try first month for just £1 / $1 / €1