BBC presenter Jeremy Vine's 'near miss' cycling video causes heated social media debate
BBC Radio 2 and Crimewatch presenter Jeremy Vine receives flood of comments on Facebook and Twitter after posting a video of a cyclist's near-miss with a car in London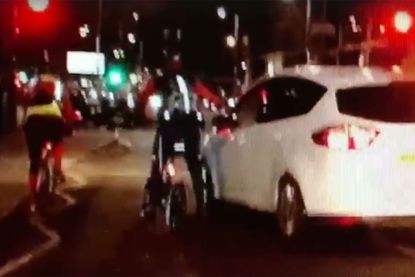 BBC radio presenter and journalist Jeremy Vine has been flooded with messages via social media after posting a video on his Facebook page that shows a cyclist having to swerve out of the way of a car in London.
Regular cyclist Vine posted the video on Wednesday (January 4), after he cycled in the capital on Wednesday morning and captured the incident on his bike-mounted Cycliq camera.
The footage shows another cyclist in front of Vine riding in the left-hand lane of Hammersmith Road in Kensington as the driver of a white car pulls over from a right-hand lane, causing the cyclist to swerve out of the way. The cyclist is clearly visible, with lights and reflective clothing.
>>> Driver in 'road rage' clash with Jeremy Vine charged with motoring offences
The cyclist then knocks on the passenger door window of the car to ask the driver what they are doing. As the traffic pulls away, the driver beeps their horn continuously as they drive behind the cyclist.
Almost immediately after posting the video, Vine received negative comments, with several users saying that Vine was 'endangering his career' by posting the video.
Others questioned the cyclist's road position – riding in the centre of a lane, which is entirely legal – and said that the rider, not the driver, was at fault. Several users also aired their grievance at cyclists riding 'two abreast'.
There are also many messages from those saying that the driver is at fault, and several people recounting similar incidents as cyclists in London.
Vine thanked users for posting messages clarifying the rules of the road to those that doubted the cyclist was riding legally and supporting his publication of the video, saying: "Thanks so much guys, I think carefully before I post things and I hope everyone can learn from them, including me".
A serving police sergeant commented via Twitter that Vine should log the incident via the Metropolitan Police's newly-introduced 'Report a road traffic incident' online portal.
It is not the first time that Vine has posted a video online showing the behaviour of drivers in London in relation to cyclists. In September, Vine posted a video of him being abused by a driver after an incident in Kensington. The driver – 22-year-old Shanique Syrena Pearson – was subsequently charged with driving without reasonable consideration to other road users, failing to licence a vehicle and using threatening, abusive or insulting words or behaviour.
Thank you for reading 5 articles this month* Join now for unlimited access
Enjoy your first month for just £1 / $1 / €1
*Read 5 free articles per month without a subscription
Join now for unlimited access
Try first month for just £1 / $1 / €1