TV presenter Jeremy Vine posts video of disturbing road rage encounter with driver
BBC Crimewatch presenter Jeremy Vine says that the 'road rage' incident took place in London on Friday, and information has been handed over to the police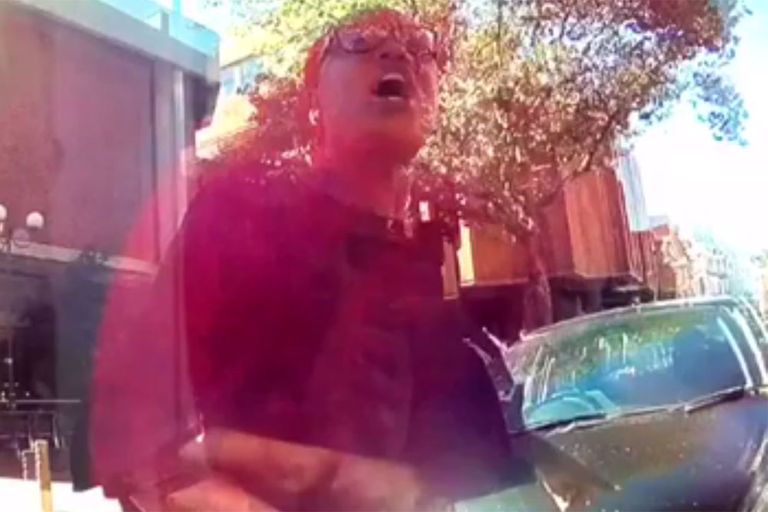 https://www.facebook.com/1691455784407633/videos/1841782049375005/
Television and radio presenter Jeremy Vine has posted a video of an encounter with a road rage driver in London as he was commuting by bike.
The newly-appointed BBC Crimewatch presenter is a regular cyclist in London, and has forward- and rearward-facing cameras mounted on his bike. Vine said on his Facebook page that the footage was captured on Friday.
"I hate to overload our hard-working London police with footage from my commute," wrote Vine. "But I feel the person you see on the tape will at some point hurt someone very badly - either with her car or in a direct personal assault. See what you think."
The video shows a black Vauxhall pulling up behind Vine as he cycles down a narrow street in Kensington. The driver beeps the horn of the car, causing Vine to stop.
The driver then gets out of the car and starts shouting at Vine. During the expletive-laden rant, the driver says that she will "knock him off". Later on, the same driver is seen stopping at a junction to get out of the car and continue the tirade.
>>> Sonar device helps police catch drivers who pass too close to cyclists
Vine reports that the driver kicked him during the incident, but this is not recorded in the video footage. According to Vine, the driver made a hand gesture like a gun and pointed at him before driving off.
Vine later re-tweeted a message from another user apparently showing that the vehicle in the incident is not currently taxed. The incident has been reported to the Metropolitan Police, along with Vine's footage.