Benefits of cycling to work outweigh damage caused by pollution, study claims
In just one per cent of cities in the world is it worse for your health to cycle to work than it is to take alternative forms of transport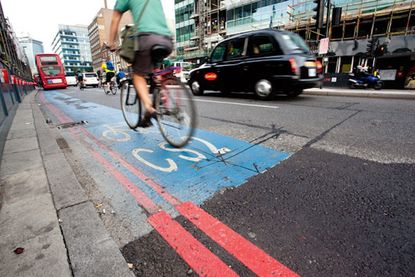 A study by Cambridge University scientists has shown that you gain more health benefits from cycling to work than you sustain damage from the air pollution.
The levels of air pollution, especially in the UK's biggest towns and cities, is often cited as a reason why people do not take two-wheeled transport to work and is blamed for causing 10,000 deaths per year.
The study, published in Preventative Medicine, claims that only one per cent of cities around the world would have air pollution levels high enough to negate the benefits of active travel.
>>> Benefits of cycling: reasons to get on your bike
Dr Mark Tainio, who led the study, says that even in Delhi, where pollution levels are ten times higher than London, people would need to cycle for over five hours per week before the pollution risk outweighed the benefits of physical exercise.
"The good news is that across the world, in 99% of cities it is safe to cycle up to two hours a day," said Dr Audrey de Nazelle from the centre for environmental policy at Imperial College London, one of the study's authorsm, in the Guardian.
"That's because physical inactivity is such a public health issue – it is not that pollution is not detrimental."
>>> Richmond Park cyclists be warned, Putney has already exceeded its annual pollution limit
The authors were keen to point out, however, that some workers, such as bike messengers, would be exposed to so much pollution that the benefits of their cycling are wiped out.
In Dehli, for example, the point at which there is no further health benefit from cycling stands at 30 minutes, with the time it takes for pollution to outweigh the health benefits is 45 minutes.
Thank you for reading 20 articles this month* Join now for unlimited access
Enjoy your first month for just £1 / $1 / €1
*Read 5 free articles per month without a subscription
Join now for unlimited access
Try first month for just £1 / $1 / €1