Bike Smut comes to Look Mum No Hands on Friday April 29
In its final year, the Bike Smut festival is coming to Look Mum No Hands on Old Street at the end of April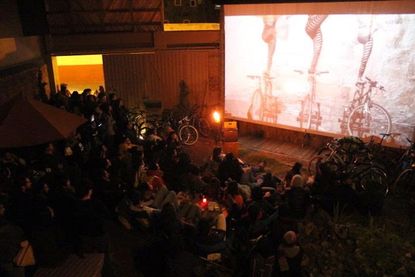 Bike Smut is billed as a collection of short erotic films, which celebrate human-powered transportation and sex-positive culture and says it aims to "spread some love and put the fun between your legs".
The Bike Smut film festival is in its ninth year, which has been announced as its final one in its current form, with a plan to change how it's distributed in future, although Bike Smut does not currently release DVDs or put its videos on-line.
It's put on by Poppy Cox, who hails from the West Coast of the US, but now lives in Berlin. She says: "In both sex and cycling you and your partner/bike work to make each other feel awesome. You put your trust in one another to take you to new and magical places. I think also the bicycle's connections with the liberation of women is super important."
She promises a mix of fun, short films, games, performances, beer, terrible puns and a totally new way to look at your bike. There's more info here (opens in new tab).
The show has travelled around the US and Mexico, but last visited the UK over two years ago, so if you want to experience it, this is your last chance. The show on Friday April 29 takes place at Look Mum No Hands' Old Street Café, starting at 9pm. Advance tickets priced at £9.10 are available on Eventbrite (opens in new tab). It's open to over-18s only, so Look Mum No Hands asks you to bring ID with you on the night.
Thank you for reading 5 articles this month* Join now for unlimited access
Enjoy your first month for just £1 / $1 / €1
*Read 5 free articles per month without a subscription
Join now for unlimited access
Try first month for just £1 / $1 / €1