Plans to ban bikes from Oxford Street criticised by former London cycling commissioner
Andrew Gilligan proposes cycle lane in middle of pedestrianised zone or scrapping of scheme altogether.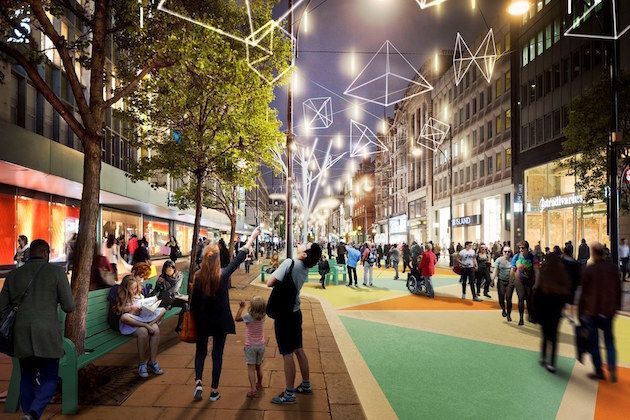 (Image credit: TfL)
Former London cycling commissioner Andrew Gilligan has criticised pedestrianisation plans that could see cyclists forced to dismount and walk along Oxford Street.
Under plans put out to consultation by Transport for London (TfL), Europe's busiest shopping street will be transformed into a pedestrian boulevard by Christmas next year, with cyclists having to find alternative east-west routes, although north-south routes crossing Oxford Street will remain open to traffic.
TfL says that it is "developing proposals" for a cycle route to the north of Oxford Street, however former London cycle commissioner Andrew Gilligan has attacked the decision to exclude cyclists from the pedestrianised zone.
>>> Cyclists who ignore no-cycling signs will be fined £50 in Windsor and Eton
Writing in the Guardian, Gilligan, who was the capital's cycling commissioner between 2013 and 2016, says that it will be near impossible to develop a parallel cycle route north of Oxford Street, and says that the result will be cyclists riding through the pedestrianised zone.
"Large numbers of cyclists will ignore the ban," Gilligan writes. "Oxford Street will become London's biggest unofficial example of the notorious failure that is 'shared space'.
"That won't be good for pedestrians, or for the image of cycling. There will be near-misses or worse, arrests, fines, stories in the Daily Mail.
"For the avoidance of doubt, I do not approve of anyone disobeying the rules. But it's what happens when you make proposals for a road that totally ignore one of its main user groups."
Watch: Top five commuting tips
Gilligan goes on to argue that the pedestrianisation proposals should either include provision for a cycle lane in the middle of the wide street, or should be scrapped altogether.
"Allow bikes, but design out the conflict by installing a clearly-defined and separated cycle track that lets both pedestrians and cyclists know where they're supposed to be," he continues.
>>> Dangers of cycling in London highlighted by film of a month's worth of commuting (video)
"You could still roughly treble the space given to pedestrians, which should be more than enough. Instead, Britain's one-time cycling flagship is telling the rest of the country, wrongly, that cyclists and pedestrians can't co-exist in an 80ft-wide street. It's a troubling message to send."
Gilligan has been a vocal critic of TfL's cycling plans since current Mayor Sadiq Khan took office in 2016, for example criticising Khan for his apparent focus on quietways (cycling routes on quieter roads) rather than expanding segregated cycle superhighways.