Cyclists who ignore no-cycling signs will be fined £50 in Windsor and Eton
Thames Valley Police will hand out fines to cyclists who ride in no cycling areas in response to recent incidents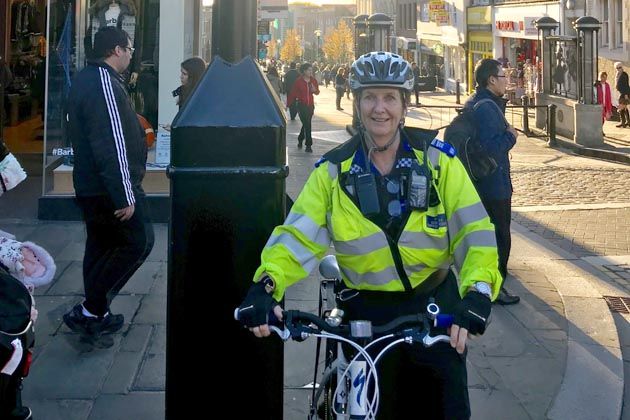 (Image credit: Thames Valley Police)
Cyclists who ignore no cycling signs or ride the wrong way down one-way streets in Windsor and Eton, Berkshire, risk being handed a £50 fine from Wednesday (November 1).
Thames Valley Police announced the move after several recent incidents involving cyclists, notably a four-year-old boy who broke his arm, lost a tooth and received other injuries after being hit by a cyclist on Peascod Street, Windsor.
The rider involved – 21-year-old Richard Manners – was warned about not cycling in the same pedestrian area the day before the incident took place. He was subsequently handed a 27-week prison sentence after pleading guilty to causing bodily harm by wilful misconduct when driving.
>>> It's official: Cycling to work will help you lose weight as effectively as going to the gym
PCSO Lizzy Davidson of the Windsor Town Centre Neighbourhood Policing Team, commented: "There have been a number of near misses and also the incident involving the four year-old boy who was badly injured on Peascod Street and it's clear that cyclists need to respect the no cycling zones and we are aware that the public have been increasingly concerned about this issue.
https://www.youtube.com/watch?v=R24SZ-18bgk
"We have been engaging with cyclists and the public over the past month to warn them, but if cyclists continue to break the law by riding a bike where they shouldn't, or the wrong way down a one way street, they will be stopped and handed a fifty pound fine."
Davidson said that children who cycle in no-cycle zones will have their details taken and be fined in the presence of their parents.
"We hope that cyclists take heed of the warning and stop putting others in danger in no cycling zones, however if they don't take the warning we will be fining them."
Thames Valley Police published CCTV footage of the incident involving Manners on YouTube.