Blog: Maratona dles Dolomites riders joined by Bradley Wiggins
Sir Bradley Wiggins joined riders – including a group of Cycling Weekly readers – tackling the 2017 edition of the annual Maratona dles Dolomites gran fondo in Italy, as Ian Parr recounts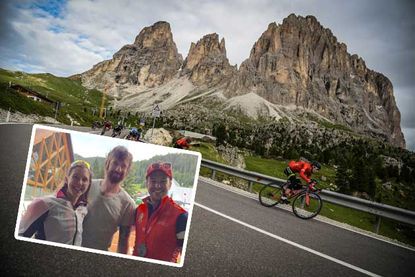 Bradley Wiggins made his Maratona dles Dolomites debut this year on July 2 and it was great to see him enjoying a more relaxed ride in tough mountains than in previous years. It felt something of an honour for us to have the first ever British Tour de France winner in our midst for this Maratona, which only added to the buzz in the days leading up to the event.
The weather suited those of us who'd travelled from the British Isles as there was a distinct chill in the air and the consensus was that the lower temperatures made the climbs much more tolerable.
The important thing was it remained dry, which was a big relief as there had been thunder storm after thunder storm up until the Friday. Last minute preparations had been very soggy affairs indeed.
The Maratona never fails to impress. Excitement builds in the days leading up the event, but it's at breakfast time on the Sunday when emotions really start to work overtime. By the time we're in our start pens the anticipation is electrifying with helicopters above and TV cameras focused on us.
The release of tension at the gun is palpable as we file over the start line to live music, hot air balloons taking off and the cheering of the crowd. We know we're on our way in the biggest and best sportive Italy has to offer.
Wiggins really made the MC work hard with short answers to a number of very light and chirpy questions as he was introduced to the 9,000 strong field, and went on to make the day for some as he had chats with some of our riders on the way around.
"I really enjoyed it although it was very tough" were his words as he crossed the line after completing the middle course. He was being generous to the person holding the mic as it had just been a gentle spin for our Brad.
Winner was Tommaso Elettrico in 4 hours and 37 minutes.
Fastest man from our party was Martin Shaw from Basingstoke with 5h16m and fastest woman, Lucy Richie from Aberdeenshire with 7h01m. Well done to Martin and Lucy and, indeed, to everyone.
Every year there are special stories and a couple from this year are worthy of mention.
Katie Hill had a nasty crash before the 2016 edition and was so disappointed to miss out after training hard. This year she came back fit and had the bonus of meeting Brad who had a chat with her.
Ben Raincock crashed on the descent of Gardena, classically knackering his derailleur and thought his race was over until a mechanic stopped and managed to give him a single gear of 54/17. Ben decided to continue and take on the long course gaining so much respect as he struggled on to finish in a respectable 7h45m including the long stop.
Thanks go to Davide Cassani, manager of the Italian national cycling team who's always on hand with help and advice. Davide works with Enervit who supply much of our fuel on the day. Thanks also to Matilde Pozzi from Enervit.
If you're interested in riding the Maratona in 2018 pop an email to Ian Parr: wdcyclesport@gmail.com
Thank you for reading 20 articles this month* Join now for unlimited access
Enjoy your first month for just £1 / $1 / €1
*Read 5 free articles per month without a subscription
Join now for unlimited access
Try first month for just £1 / $1 / €1